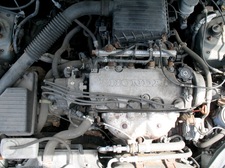 Martin emails:
I have a 2007 SUV with ~80,000 mi and some of the exhaust system is starting to crack open. This includes a crack in the pipe that connects the main engine exhaust to the catalytic convertor. It's a time bomb that I need to deal with soon, preferably yesterday. I had it in for other service at the dealer and they estimated a repair at $1000. Now here's the tricky thing: they said the catalytic was fine, but that they couldn't save it there. The service manager off-the-record mentioned that a good 3rd party exhaust place might be able to save the catalytic and re-use it, which would cut the cost of the work in half.
So... where can I find such an exhaust system expert???
The winters here -- and the all the muck and salt -- are hard on car exhaust systems. And we can say from firsthand experience (alas), the fix is often expensive.
So, have a shop where Martin might be able get this fixed right -- and at a fair price? Please share! And bonus points for a sentence or two about why you're recommending that shop.
Earlier on AOA: Capital Region Recommended Mechanics (this hasn't been updated in a long time)
Hi there. Comments have been closed for this item. Still have something to say? Contact us.