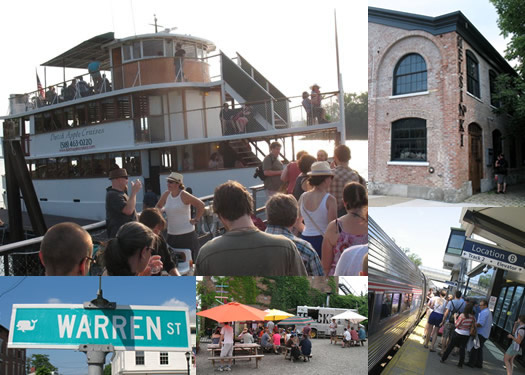 Update: Sold out!
We're a little more than two weeks away from the All Over Albany Rail, River, Hudson II adventure, and plans for a great day are shaping up nicely.
If you've been meaning to get your tickets, now would be a good time. Last year's event sold out, and space for this year's trip is limited.
In addition to the Amtrak trip, Dutch Apple sunset cruise, cocktail party at Helsinki Hudson, and other fun surprises, Sweet Sue's of Troy will be catering the trip home.
Here's a look at the menu she's planning:
+ Moroccan Lamb Sliders with Taziki and Arugula
+ Chicken Salad w/ Walnut Cranberry, Dill
+ Mustard Egg Salad
+ Tuna Salad w/ pickled Onion
+ Summer Rice Paper and Lettuce Wraps with Sesame and Nori (V,GF)
+ Merlot Poached Pears and Plums with Almonds, Cherve, and Apricote Vinigarette (V,GF)
+ Chilled Strawberries, Honey, Pine Nuts and Mint with Spinach Chiffinod (V,GF)
Oh, and homemade strawberry shortcake.
The price for the entire day -- round trip tickets, tastings, party, and dinner -- is just $65 per ticket, thanks to our sponsors. You'll find them listed below.
Need more incentive? Here's a look at last year's trip.
Sponsors

This event is possible thanks to the following sponsors:
+ Amtrak®
+Capital District Physicians Health Plan
+ CDTA: The Capital District Transportation Authority.
+ Hudson Development Corporation
+Albany County Convention and Visitors Bureau
+ Downtown Troy Business Improvement District
+ Columbia County Chamber of Commerce
+ The Honest Weight Food Co-op