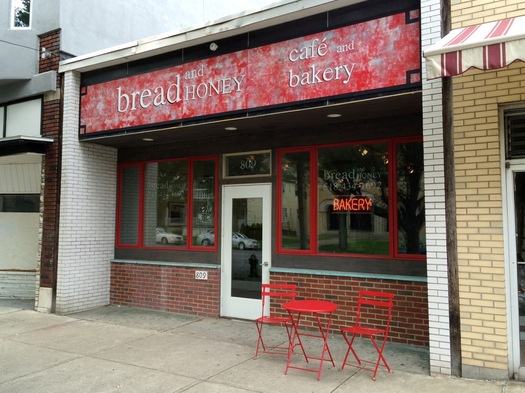 AOA is taking things a little easy this week for summer break. So we thought it'd be a good time to catch up with some local businesses we've covered during the last year (or so) and find out how things are going.
First up is Bread and Honey in Albany's Pine Hills neighborhood. Owner Naomi Davies opened the artisan bakery in March of 2014 after a major renovation of the storefront at 809 Madison Ave. She has a background in construction management (and dance before that), and consulting on the new Honest Weight location had sparked the idea of opening a bakery.
A quick clip from 15 months ago:
"I learned so much about retail and food, just being with people who really cared about what they did and how they did it," she said recently as we stood in the bakery space. "And getting to know how they work, I saw an opportunity for a bakery here in Albany that could provide good, fresh, artisan breads. And I was craving a great bagel."
We got a chance to catch up with her last week -- and it was some real talk about what's it like to run a small, local business.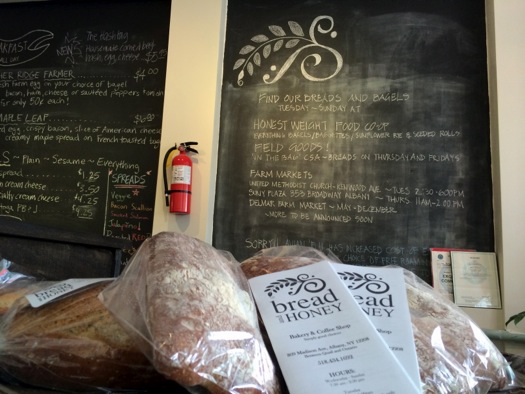 So, how have things gone since you opened?
It's been a roller coaster. Because I've had to learn retail. I've had to learn Albany. And I've learned a lot about baking (laughs). Wholesale. Farm markets. So, there's been a lot of ups and a lot of downs. And I think I'm leveling off.
Wholesaling is very good. Farm markets are good. Retail has been the biggest challenge, selling out of the bakery here at 809 Madison. I've learned that Thursdays through Sundays are busy days, which means I have a part-time business and full-time rent. So, I've had to continue to borrow from myself, which has to end this month. I can't subsidize the business any more and I'm really hoping that I'm on a real solid footing and I can start getting people through the door to buy retail. I have a few very, very loyal customers who I know come out of their way to buy here. I'm really grateful for that. But I need to make that more.
Recent press has really helped. Because it's tough for a small business to afford marketing. So recent press has really helped with people come in who say, "I live around the corner and didn't know you were here," for example.
Taxes are a tremendous challenge. Most commercial leases are what's called "triple net," so we're paying rent and schools taxes and property taxes. And just as I pull ahead as I am now, I know that school taxes are coming in September. And they're a fortune -- last year $4,200 just in school taxes, another $2000 in property taxes. As much as they need to be paid, I see no relief in the city of Albany.
So, as a I begin to pull ahead, I'm hit by the taxes. There's not state or local relief for businesses like this. I'm always somewhat annoyed when I hear the news about casinos and hi-tech companies. Yes, we need the hi-tech companies, I get that, but then there are the corner stores that get no relief whatsoever.
So, as a I begin to pull ahead, I'm hit by the taxes. There's not state or local relief for businesses like this. I'm always somewhat annoyed when I hear the news about casinos and hi-tech companies. Yes, we need the hi-tech companies, I get that, but then there are the corner stores that get no relief whatsoever. I have payroll taxes that are 7-10 percent on top of the payroll. I pay a legitimate payroll here. So I see all the taxes that come along with that.
It would be a marvelous thing if there were some relief for businesses that start up and invest, as I did, in the city. I knew those expenses were there, but the ability to get there and meet those expenses is a challenge.
What's something that you've learned as part of this experience that you wouldn't necessarily have expected?
The patterns of customers. I speak to other small businesses, like Brakes on Lark Street and Honest Weight, which isn't exactly a small business any longer, but I talk with other vendors -- and the market is unpredictable. I can do well one Thursday and terrible the next Thursday, for no apparent reason.
Weather keeps people at home. They'll come out in the snow, but nobody comes out when it rains. So I've become absolutely obsessed with the weather forecast because it affects the business. And I had no idea how strongly. It can mean the difference between five customers and 45 customers -- it's that dramatic a difference.
And then sometimes there's just no reason. Some days we're mobbed, and we're not prepared, and we don't know why. Thankfully, I hear it from other small businesses so I know it's just not my inability to judge or predict or project. So that's been a big one.
When someone orders a dozen bagels here, it's a big deal. The margins are low, so the volume is critical. So really, 3-4 days a week I have the volume that carries seven days a week. And what I need to do, and I'm not sure how, is to boost that. I'm trying to find a way to communicate with Saint Rose to develop a small business program, for good, quality, safe places that they can encourage, or at least tell students that they exist, to come to. Because the ones that discover this place do come back. And, of course, Saint Rose is a big economic driver.

Naomi Davies (right) conferring with crew members Josh Nichols (left) and Rock Loftfield (center).
So, things like that. But I'm chief cook and bottle washer. So my time and ability to do that is stretched. I still work seven days a week, some part of the day. It might be two hours on a Sunday -- it's 14 hours almost every other day. I have a good crew, but I know I'm stretching them to the limit right now.
Looking for trained staff is also a challenge. I've gone from training absolutely everybody who walked through the door to now aiming for trained bakers that can come in and learn the way I do things, not learn from the ground up, how to scale and measure.
I'm hoping to have a big turnaround in September to take the bakery to the next level. But that is dependent upon some negotiations that I'm trying to have now with potential people that I can bring in, so we'll see how that goes.
Is there one particular frustration that you've faced that if you could just wipe that away, it would make a difference for you?
I think six months ago I'd have said staffing, finding good people that I can train and will stay. I've learned that Albany can be a very transient place -- it's sometimes a place that's a stepping stone for people coming from further north and west in the state to going somewhere else. So I've learned that Albany is transient -- that would have been my answer six months ago. Now, I'm hopefully stabilizing my staffing.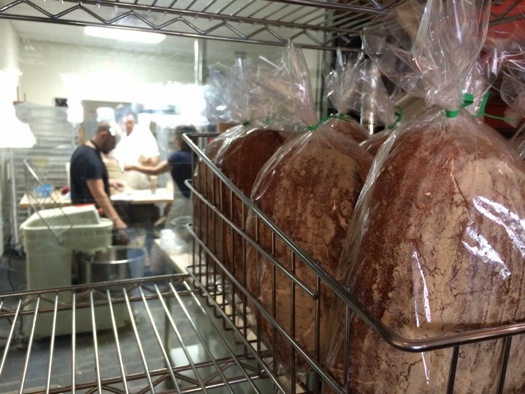 Now, my answer would be getting to decision makers about policies, some incentives for small business like this, in the city of Albany. That would be my current hurdle that I'd love to know where do I go with that -- where's the voice.
Is there something that's happened to you, or some development, that's felt like a win?
I've got to say two wholesale customers that have been really loyal and constant, and very forgiving when I've had ups and downs -- Honest Weight Food Co-op really stands by their mission to support small, local business. They listen -- you know, they're demanding -- but they understand when there's a problem. And more recently Field Goods has become a big wholesale customer.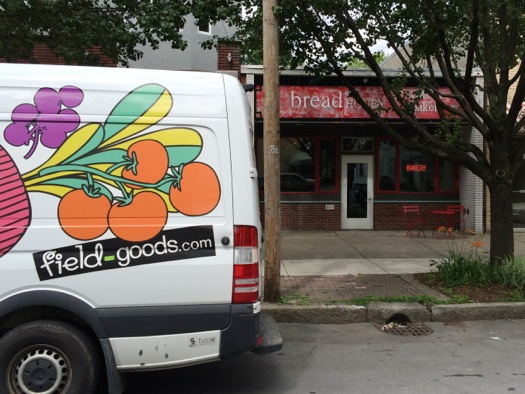 It's volume like that that really helps me. So the wholesale and the farm markets I think I have a handle on. The Saturday Delmar farm market is fantastic. It's a retail window on a Saturday that I wouldn't otherwise have. And the Delmar customers are very loyal, too.
So those have been real wins, to be able to succeed at those two venues, has been tremendously big for me, because they're very demanding customers. They know their stuff! I will be interrogated for 10 minutes about what is in a loaf bread. And it's great, I love it. So that is really satisfying to know that I can answer where exactly my 12-grain mix comes from, what's in it. I love that. I love that I've succeeded in those venues with high demands.
So how to create that at the store here, that's my next big challenge, to bring that in through the front door.
What is next, what do you see happening?
What I'd like to see happen is for the word to spread. Because word of mouth, publicity, is great. That is a a catalyst. That engages people who then say, well, I've heard about this place, let's meet there on a Saturday morning. So to achieve more of that is huge, that's huge as a next step into August when the students return. And then to keep the locals coming in -- I think the locals tend to stay home when the school year beings (laughs). I need to encourage them to keep coming out and keep supporting the business as they do.
I'm very grateful for all the repeat customers. On any given day -- my register tracks all of this -- it's about 50-50, new customers and returning customers. So that is fantastic balance. So that's right, it just needs to go from 25 to 50 customers a day.
And my offerings need to step up a little bit. I'm hoping to bring in a person that will help me do that. Because I can't be the front end, it requires a different skill set up front. I'm hard working, baking away [in the back]. I think I need somebody to step up the retail offerings that would bring people in, do some special events, Friday night events, for example. That would help. And I'm hoping I can pull that off sometime in September.
Anything else?
If the plan to implement bicycle lanes on Madison Avenue were implemented, it would make a massive and instant difference to commercial business. Because right now Madison Ave is merely, it might as well be a highway, it's a blur. The bicycle lanes would slow down the traffic. It would encourage more people.
I already get customers that will bicycle up through the park and come here and bicycle back. If there were actual bicycle lanes, imagine what that would do. It would be an instant difference, I know it. And it would slow down the traffic in the morning, so people won't be gunning it down to their offices.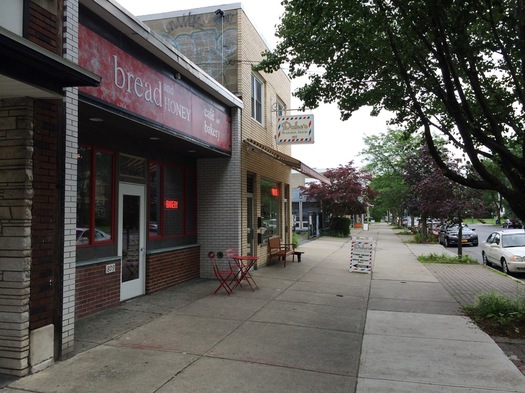 So, I don't know where or how those decisions are made to prioritize capital expenditures. But I think one thing that's missing from the neighborhoods -- some neighborhoods have it, like on New Scotland there's a real sense of place on those few blocks of commercial from Quail up to Ontario. Mitigating the speed of the traffic going through here could create another great sense of place here. It could create the same things. So, I think whoever the decision makers are in prioritizing the planning should really look at where those commercial entities are that help create neighborhood and place. And where people can say, oh, I can safely walk out, let's get the bikes out.
A sense of having arrived somewhere is really, really important -- rather than just a place that you pass through. Just street furniture, put some bicycle racks out there, some benches.
I think it would be a really worthwhile investment. Because if there were small physical improvements, then the business owners will rise to the occasion and do what they can -- stay open late one night, join in 1st Friday. And then maybe people in the neighborhood might say, well, yeah, I can go over there and get my hair cut and a cup of coffee and drop off my dry cleaning, you know. Or while I'm doing my laundry I can go up and see what's happening over there.
So, creating a sense of place by having those bicycle lanes, slow down the traffic, get more people more choices of how they get here, it would be massive.
This interview has been lightly edited and condensed.
Update: Be sure to see Naomi Davies's follow-up comment below.
Find It
Bread and Honey
809 Madison Ave
Albany, NY 12208
Hi there. Comments have been closed for this item. Still have something to say? Contact us.