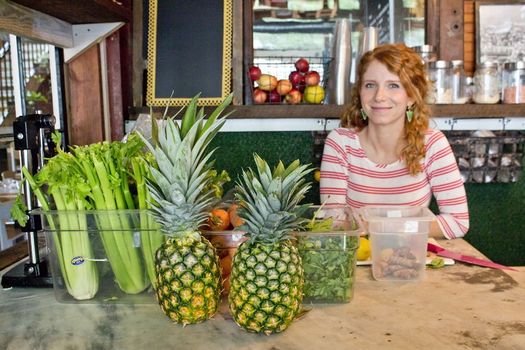 By Lauren Hittinger
AOA is taking things a little easy this week for summer break. So we thought it'd be a good time to catch up with some local businesses we've covered during the last year (or so) and find out how things are going.
Next we're revisiting Collar City Hard Pressed (CCHP). When we first interviewed owner Jessica Garrity, now Jessica Quijano, she was running her business solely at the Saturday Troy farmers' market. Since then, she has moved to working full-time for her juice and smoothie business, taking up residence on Broadway in downtown Troy.
A snippet from March 2014:


"I found myself basically obsessed with fresh juice and smoothies and was suddenly annoyed that there wasn't a place in my neighborhood where I could get any. I kind of hate leaving my neighborhood on the weekend so just thought it was only fair that we had a juice place here downtown. I also recognized that juicing was a pretty trendy business and thought downtown Troy would be a great place to get to work."
I caught up with Quijano to see what it's like to be running a small business on her own, and to get the scoop on the different reactions to a juice bar in downtown Troy.
What has happened over the last year?
A lot has happened! I opened in here last August -- so, going on a year. That was a major deal. It was really great to open when I did, because it was still kind of busy in the fall. Winter was definitely a slower season, I think for everyone around here. But it's been nice because then I was able to really ramp up for spring and summer. I've seen so many new customers and so much new business. Having the winter be the time when I was learning everything the hard way was kind of good timing.
And a lot is new -- I have really ramped up social media and I have a website now. People can order online through Yelp. I have three people who work in here.
What's different since you were just at the farmers' market?
I have a lot more relationships with farmers and suppliers in general -- local people. It's been a tough year, since stuff is coming up later based on weather. Seasonally I try to go right to the farmer to get stuff. Of course, not for things like pineapples and bananas. So I'll never be 100 percent organic or local, just because for some ingredients it just really doesn't make sense.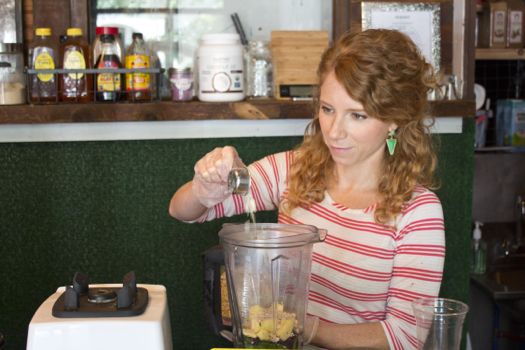 And I've done stuff with Sage and RPI to get in front of students, and their faculty and staff have been down here a lot. Collar City Candle works with me to make candles based upon all of the different drinks. I have a phone line in here and people can text in their orders ahead of time. I have a good relationship with Empire Zero, the composting company. All of our juice pulp either goes directly to a farm and is used for animal feed or it is composted through Empire Zero. It's never thrown away.
What have you learned since opening the physical shop?
Oh my god. (laughs) Well, I've had professional jobs. But I've never done anything on the back end of business. Most of my work experience was in writing, or marketing, or sales. And that's all beneficial, but that's not the meat of what you're really doing. I've learned a lot. Everything as far as managing all my own books, and I've hired three employees this year. I just had never done any of that, so I basically learned it all as I went.
The other thing about being in here is Troy is it's such an interesting place. I'm in contact with a lot of other local businesses, and the flow of business can be really unpredictable. It's such a walkable neighborhood and if for some reason people aren't walking around, because of weather, or something's blocking streets, it can affect you.
The positive thing about having my store right here is all of the businesses are so collaborative and everyone really does support each other. So it was a very warm welcome. For me opening in here it was probably easier than it would be for other people because of the farmers' market and Vic [Christopher] and Heather [LaVine], my landlords, have been so great.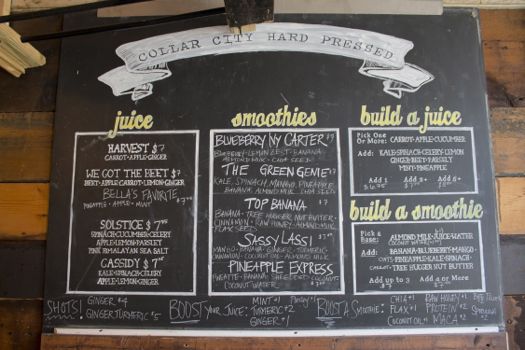 What has surprised you?
The timing is a surprise to me. I'm open 8 to 4, but the majority of people come here between 10 and 2, no matter what. I thought there was more of an early morning type of thing.
The other thing that has surprised me is how many customers will come every single day. I am getting a lot of new customers, and I can see that coming from Instagram, Facebook, and Yelp. But a lot of people come several times a week. I didn't think I'd see the same people getting the same things all the time. It's nice, though.
The other thing that really surprises me are the people that come in that are afraid of food. For example, there have been times at the farmers' market where people ask me, 'Do you put pills in the juice? How do you get it that color?' This is the color that your food should be. This is real food. It's nice to be able to show people in a positive way that literally just eating carrots, beets, and apples can be really delicious and it looks beautiful, and there's not anything added. At least once a week someone is surprised I'm not doctoring the juice up. It's been nice to see people try new things and then really really like it and then start adding other more adventurous things like bee pollen. It's nice to see people expand.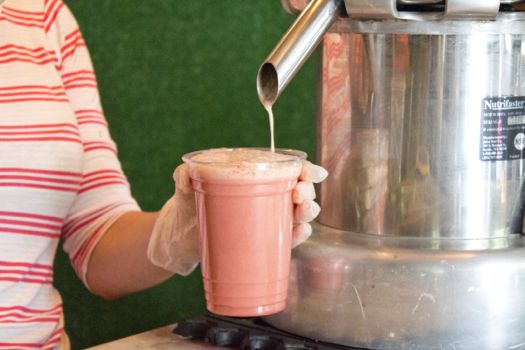 What has frustrated you?
Well, that same thing. Everything that I just said. There are days when you're like, 'Really? You really think I'm putting dye in here?'
Everything in my store is repurposed, and I compost and work with farms and I'm trying to do all of these right things, and I think that you care as a customer. But you're telling me you would be drinking this if there were red dye in it?
It's frustrating when someone walks in, looks at the menu, and tells me they don't like any fruit or vegetables. I don't know what to do in that case. I really work to get the person to try something that would just taste delicious, but sometimes it's just not for everyone, I guess. All that aside, if I get the person to try something, they usually like it.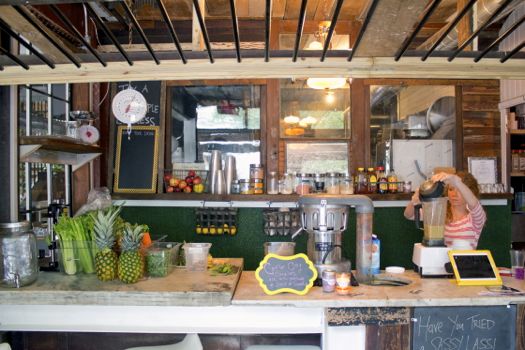 What's something that's felt like a win?
I've seen so many new customers and seen such a difference in the amount of people that know the name of my place and recognize the brand. I never did a lot of promotion or press, so it was a little bit slower in the beginning with people knowing the place and recognizing CCHP. Now if someone asks me where I work and they say that they know the place or love it here, that's awesome to me, especially when you're not in this neighborhood.
What's next?
Well, there are a couple top secret things in the works. The main thing is continuing to try to make as local connections and source the best product that I can. I would also like to be open more often. And I'm collaborating with some of my neighbors here on some cool stuff.
And pretty soon I'll be thinking about delicious fall and winter concoctions, like the pumpkin pie smoothie.
This interview has been lightly edited and condensed.
____
Lauren Hittinger writes about shopping, crafting, and living well on a small budget at The Thrifty Ginger.
More follow-ups from this week:
+ Bread and Honey
Find It
Collar City Hard Pressed
215 Broadway
Troy, NY 12180
Hi there. Comments have been closed for this item. Still have something to say? Contact us.