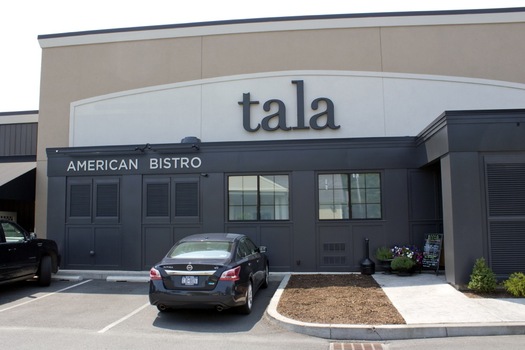 By Lauren Hittinger
Lauren has set out to survey a handful of brunch spots around the Capital Region for a short series.
I'll admit it. I am one of those people that tends to pass over suburban eateries, especially if they're located inside of a strip mall or plaza. In that way, I have become an urbanite, gravitating towards the downtown areas in the Capital Region. The only problem with this perspective is that you can miss out on some interesting places that are still locally owned.
An example of such a place is Tala, a Mazzone Hospitality restaurant located on New Loudon Road in Latham. I'm glad I abandoned my city preferences and visited this modern, bistro-style restaurant as part of my brunch investigation. Plus, as this was the suburbs, there was no Sunday morning test of parallel parking skill.
Food
Tala's menu really does live up to its bistro name. There are some typical brunch items on the menu, like French toast and the traditional eggs benedict, but many of the choices have interesting twists or ingredients. The pancakes are made with blue corn and served with pecan butter, and there's an "Eggs in Purgatory" pizza, which combines poached eggs with a flatbread pizza.
The lunch choices also maintain an elevated air, with a lobster roll and flat iron steak among the options. If you're a vegetarian, you'll unfortunately be mostly relegated to the sweet, carb options on the menu. And you should be aware that this brunch will probably run you a little more than some other low-key options, since many menu items are in the $9 - $16 range.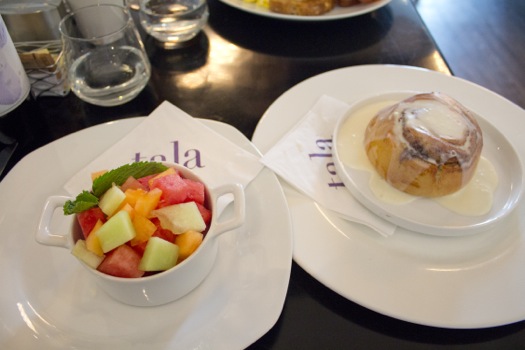 Between my brunch date and me, we tried a fresh fruit cup, cinnamon bun, and "The Ushe" -- a plate of eggs, bacon, sausage, and potatoes. The cinnamon bun, which is baked in-house along with the other few pastry options, was light and chewy. The glaze was not sickly sweet, so I was perfectly happy to eat my fill without an accompanying stomach ache. The fruit cup wasn't anything special, and featured a few types of melon with a sprig of mint. It was fresh and delicious, but I was a bit surprised it wasn't more interesting, given the rest of the menu.
The Ushe, AKA "the usual," was a royal sampler of breakfast foods. The eggs, which we ordered scrambled, were deliciously seasoned with salt and pepper from the kitchen, and the oven-roasted potatoes had a nice hearty flavor. The sausages were big, house-made patties that were crispy on the outside with moist and soft insides. Lastly, there were thick pieces of bacon and hearty slices of pre-buttered bread. The dish was a great mix of breakfast foods, but we were a little put off by an oil slick that gathered in the middle of the plate. We presumed it was from the meats, but it ended up drifting into the various meal components.
Booze situation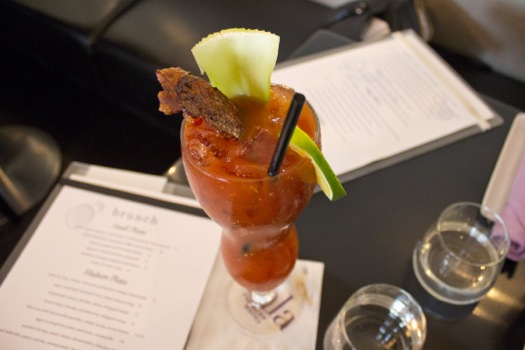 If you need to unwind from a hectic week with a brunch cocktail, you're covered at tala. They make some serious drinks, in price, volume, and ingredients. For brunch, they focus on mimosas, Bellinis, and a variety of Bloody Marys. We ordered the house special Bloody Mary, for $12, which was a towering glass of morning cocktail. It certainly was a fun presentation, with garnishes of celery and bacon. I liked that you could also add on stuffed olives, more bacon, shrimp, or spice asparagus. The strong tomato juice flavor shone through, and the drink had a bright little kick to it.
Of course you don't have to drink alcohol at brunch. For those looking for a different type of buzz, the coffee was bold without being bitter. We appreciated that it was not too hot when being served and that the coffee mugs offered substantial portions. Juice, tea, and other hot beverages are available.
Ambiance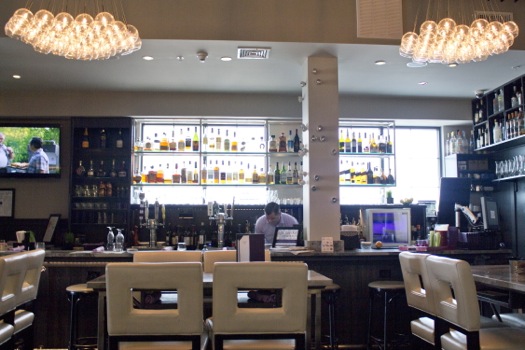 This restaurant just feels nice. Not in an overwhelming, 'Where is my suit jacket?' sort of way, but it still might make you think about whether you're using the appropriate fork. Luckily, brunch is always a little bit laid back, so I didn't have to worry too much about my manners.
Tala has a fairly small footprint, with one long dining room, along with an outside patio. The décor is well thought out, and you don't feel like you're in a plaza in Latham, rather a modern and hip restaurant.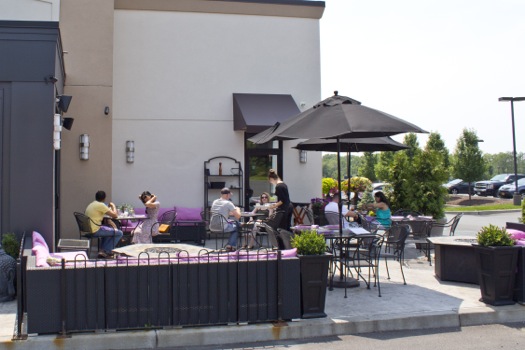 When I visited on a Sunday morning, it was not very busy, although most other diners opted to sit outside. It was a mix of younger couples and groups of middle-aged individuals. The service was extremely attentive, and everyone we encountered was notably friendly and warm.
Ideal for...
Tala is a great brunch for taking out your parents and/or grandparents. Not even the most picky New England grandmother could find fault with the well-decorated interior and carefully selected menu. And the cocktails will come in handy when you start getting questions about your career choices and personal life.
Lauren Hittinger Hodgson is a freelance writer and contributor to AOA. She lives in Troy with her husband and dozen almost-dead houseplants.
More brunching about: + Iron Gate Cafe + Carmen's Café
+ City Beer Hall