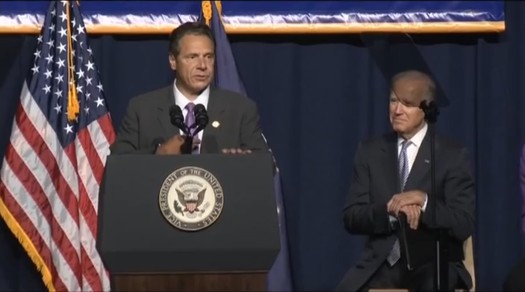 Updated
Andrew Cuomo announced Thursday that he will be pushing to raise the state's minimum wage to $15 an hour. The announcement accompanied word from the governor that the state Department of Labor has accepted the wage board recommendation that the minimum wage for fast food workers increased to $15 an hour.
Cuomo's push to raise the overall state minimum wage isn't that surprising (even if he had downplayed the push for $15 earlier this year). He had tried to get the legislature to accept an increase to $10.50 ($11.50 in NYC) during the last legislative session. And the fast food wage board plan was pretty clearly an attempt to out maneuver the opposition in the legislature. (State Senate Republicans -- the most likely road block to the minimum wage increase -- criticized Cuomo's handling of the fast food wage increase Thursday.) [NYT] [Politics on the Hudson]
Invoking the memory of both FDR and his father, Andrew called the proposed increase as matter of economic justice. "You cannot support a family on 18,000 a year in New York State, not to mention having a decent living," he said with Joe Biden looking on in New York City. "Every working man and woman in the state of new york deserves $15 an hour as a minimum wage and we're not going to stop until we get it done."
The state's current minimum wage is $8.75 and it's set to increase to $9 an hour at the end of this year. Cuomo said the proposed increase to $15 would be phased in along the same schedule as the fast food wage increase -- full effect by the end of 2018 in NYC, by 2021 everywhere else in the state -- and eventually affect 2.2 million workers in New York State.
There is, of course, a wider context for this push. The "Fight for 15" rallies organized by labor groups around the country earlier this year seemed to play a key role in planting the idea of the $15 an hour level. Zooming out even further, there's the issue that wage growth in the United States has been stagnant, even as the unemployment rate has been falling. [NYT] [Economist]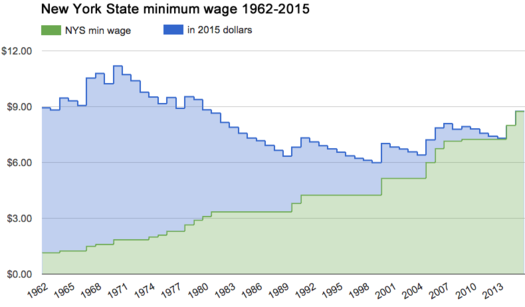 A minimum wage consistent across many industries in New York State dates back to 1962. Here's how it's increased over time, with a comparison in 2015 dollars for some perspective. (Inflation calculations via the federal Bureau of Labor Statistics calculator.)
One of the major arguments against raising the minimum wage is the assertion that it will end up in fewer jobs. Cuomo tried to push back against that idea Thursday, arguing that the households that will benefit from the higher minimum wage will spend their new earnings, which will in turn stimulate the economy. But the fact of the matter is -- as laid out by this interesting NYT article in July -- that no one really knows what an increase of this size will do to the economy. It's uncharted territory.
Another part of this to keep an eye on is how differences between regions, particularly upstate and downstate, affect the debate. Because there is a huge gap in the cost of living between those two regions.
There's a figure called "regional price parity" (it's kept by the federal Bureau of Economic Analysis). An area with prices that match the national average has a RPP of 100 -- higher, more expensive; lower, less expensive. NYC's RPP is 122. For the Albany metro area it's 99.1. For Buffalo it's 93.8.
So a $15-an-hour minimum wage doesn't mean the same thing for New York City as it does for Albany (or, even more so, a place like Utica). And while the Cuomo admin's proposed two-region phase-in schedule is an attempt to address some of this difference, the gap will still be there.
More on AOA related to the minimum wage:
+ How much does it cost to have "a secure yet modest standard of living"?
+ New York State set to raise fast food minimum wage to $15 per hour
+ A few ways of thinking about the minimum wage
screengrab: Cuomo admin livestream
Hi there. Comments have been closed for this item. Still have something to say? Contact us.