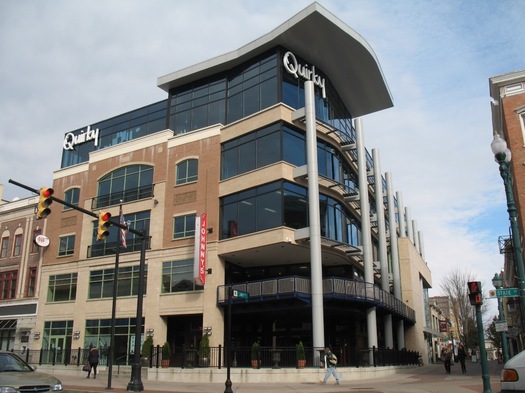 Updated
Quirky -- the consumer products invention company with a large office in downtown Schenectady -- announced Tuesday morning that it's filing for bankruptcy, and says it's working to "facilitate a sale of substantially all of its assets." [Quirky]
The company's office in the City Center building on State Street in downtown Schenectady has served as a customer service operation for Wink, a service for connecting "smart home" appliances (Quirky spun off Wink as it own company). So here's the key local part of the bankruptcy announcement:
With respect to assets related to the business of Wink, Inc., the Company has entered into an agreement with Flextronics International USA Inc. for the sale of certain assets at a purchase price of $15 million. The sale will be subject to higher or otherwise better offers. The Company will look to conduct an auction, if other bids are received, and will be seeking court approval to have the sale close within approximately 60 days. The bankruptcy filing does not impact the Wink experience for users nor how Wink operates day-to-day. Wink's engineers and designers will continue to enhance the Wink platform to provide new, meaningful ways for customers to interact with their smart home. The Wink HUB and Wink Relay will continue to be available at The Home Depot and Amazon. Wink's customer support team will continue to provide the same quality assistance.
Patrick Mahoney, a PR manager for Wink, said today via email that "the Schenectady team is not impacted by this process." And though the company doesn't share office-by-office numbers, he said that Wink overall has 80 employees.
David Buicko of the Galesi Group, which owns the City Center building, told the Daily Gazette today he's confident Wink will stay in Schenectady. [Daily Gazette]
When Quirky's arrival in Schenectady was announced in March 2014, it was touted as A Big Deal that would bring attention and jobs to the city. But there have been rumblings since this past spring that the company was in serious trouble. And this summer founder Ben Kaufman publicly admitted the company was essentially out of money -- he left the company shortly after that. And the word out of the Schenectady office was that things were very shaky (though the company still bought an $8,000 ice cream machine). [Business Insider] [Fortune] [NY Mag] [Daily Gazette]
Earlier on AOA: What is this Quirky in Schenectady?
Hi there. Comments have been closed for this item. Still have something to say? Contact us.