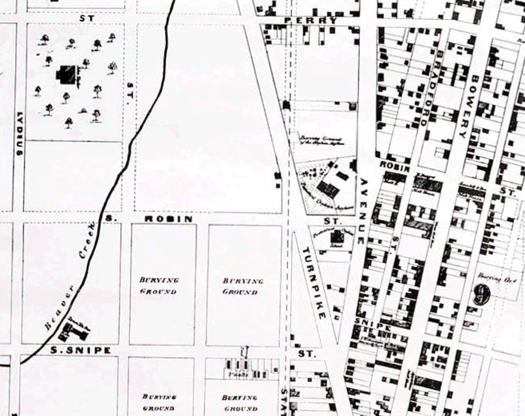 Albany is old. Like, really old. (Well, as far as American cities go.) And so there are a lot of old maps of Albany.
Of course, one of the interesting things about old maps is seeing what's changed in the city in the time since. And we always find it fun to pick out street names that have changed.
So, here are a handful of notable Albany streets that changed names over the centuries...
State Street was Jonkers Street, Prince Street, and Deer Street
State Street is one of those streets that pretty much just seems like it should be name that. It's the street that runs alongside the state capitol building. So, obviously, it's State Street.
But here's the thing about that: The street that is State predates the (a) capitol building by more than a century. (And for that matter, it predates the State of New York.) So in the 17th century it had the name Jonkers Street, thanks the city's Dutch heritage (the name is from Jonkheer, a sort of honorific for a young member of the nobility). Then it was Prince Street during Albany's English phase. Then it was changed to Deer Street as Albany (and the United States) exited its English phase. And then it became State Street in 1814, shortly after the first New York State capitol building was built.
Washington Ave was King Street and Lion Street
Washington Ave had been King Street until 1790, when the city changed the names of a handful of streets that referred to English nobility titles. The city went through animal phase of street naming, so as mentioned above, Prince Street (now State Street) became Deer Street and King Street became Lion Street. And it became Washington Street (later Washington Ave) in 1815.
Madison Ave was Wolfe Street and Lydius Street
Madison had been called Wolfe Street in the 18th century, named after James Wolfe, a British hero in the Battle of the Plains of Abraham against the French near Quebec during the French and Indian War. It was then changed to Wolf Street in 1790 (again, as Albany moved from its English to animal street phase). It would later become Lydius Street, named after a prominent Dutch minister named Johannes Lydius. And in 1867 the Common Council changed the name to Madison Avenue (which apparently didn't go over well with people of Dutch heritage in the city). One of the historical quirks of Madison Ave is that the streets right of way once extended far west of the city -- and if follow its line on a map out into the Pine Bush, there's a Madison Ave Extension and a(n East) Lydius Street today.
Central Ave was The Bowery
The part of Central Ave near where it runs into Washington Ave was once called The Bowery. The name was an the anglicization of an old Dutch word "bouwerij," which meant farm. The thoroughfare led to the turnpike that traveled to Schenectady and, presumably, went past many farms. In the 1867 the name was changed to Central Avenue.
(The Wikipedia article on Central Ave mentions the name was changed so as to disassociate it from The Bowery in NYC. That sounds possible -- the NYC neighborhood was going through some rough times then.)
Livingston Ave was Lumber Street
Livingston had been called Lumber Street during much of the 19th century. And that made a lot of sense, because the street ran down the hill into the head of Albany's then booming lumber district along the river and Erie Canal. It was changed in 1879.
One quirk about the history this street name: The Livingston Avenue Bridge that still spans the Hudson River today drew its name from Livingston Avenue (obviously). But the original bridge (not the one there today) in the spot preceded the street being named Livingston Ave. And when it opened in 1866, it didn't have a name -- it eventually became known as The Upper Bridge, and then the Livingston Avenue Bridge. (That link is to a post on Hoxsie about the bridge's long, contested, and somewhat unclear history.)
A few other streets with changed names
+ The 1790 un-English-titling also included a switch from Queen Street to Elk Street and Duke Street to Eagle Street.
+ Albany's bird-themed streets once included a Snipe Street (now Lexington Ave, it once ran through what's now Washington Park roughly to where New Scotland Ave connects with Madison), a Pigeon Street (now Lake Avenue), a Swallow Street (changed to Knox Street), and a Sparrow Street (now Ontario Street).
+ Albany's animal phase also include a Tiger Street (now Lancaster Street), a "Buffloe" Street (now Hudson Ave), a Hare Street (now Orange Street), and a Mink Street (Myrtle Avenue). Yep, for a while there it was animal streets running perpendicular to the river, and the bird streets running parallel.
There's a great table of the city's many street name changes in this 1904 edition of the Proceedings of the Common Council.
Pearl Street
One more thing: You know what hasn't changed over all these years? Pearl Street. It shows up on a map that dates all the way back 1695.
Say Something!
We'd really like you to take part in the conversation here at All Over Albany. But we do have a few rules here. Don't worry, they're easy. The first: be kind. The second: treat everyone else with the same respect you'd like to see in return. Cool? Great, post away. Comments are moderated so it might take a little while for your comment to show up. Thanks for being patient.