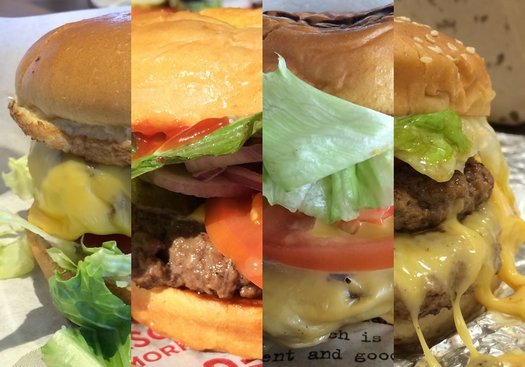 We have a string of burger-related posts this week -- let's call it a fast-casual theme week.
There's been a recent boomlet of new-school burger chains in the Capital Region. Smashburger, Burger 21, and BurgerFi have all opened locations here during the last year or so, with at least one other chain still planning an arrival. And, of course, there's Five Guys, which has been here for years.
These are all fast food places, but their pitches are something sort of along the lines of Chipotle -- fast food with the aim of higher quality and nicer experience.
So we thought it'd be interesting to get a group of tasters together to tour four of these chains all in one day to compare the burgers (and fries!) one after another.
Tasters
We got some of the Tournament of Pizza (RIP, TOP) band back together for this little tasting tour:
+ Albany Jane from Albany Eats. She somehow survived being a judge in every single Tournament of Pizza.
+ Daniel B. from FUSSYlittleBLOG, a man of many food opinions and, of course, a former TOP judge.
+ Jon from Jon in Albany, who really impressed us with his discerning palate during his time as a TOP judge.
+ And Kate Welshofer, local anchorlady. We love her weekly Youtube videos, and we thought it'd be fun to have her along. She also turned out to be a discerning -- and tough! -- burger taster.
A quick note about scoring
This tasting tour was all pretty casual. We ordered burgers, ate them, and the judges wrote down some scores and notes. The scores for each category are 0-20 (each taster representing a possible 5 points), higher being better. So the highest possible score for a burger was 60.
This wasn't a competition -- the scores were mostly just a way of helping to organize and state preferences. There's bound to variation among burgers at the same place. And, of course, taste is very subjective. Your mileage will almost certainly vary.
BurgerFi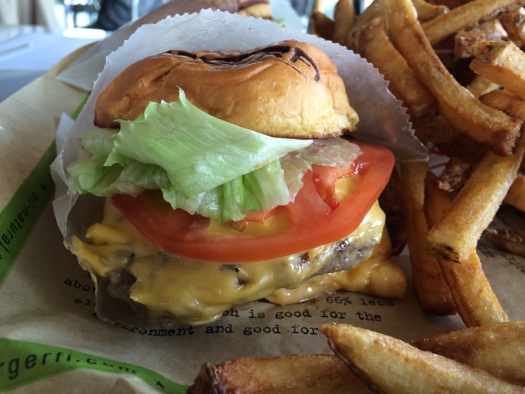 Our first stop of the day was the first BurgerFi in the Capital Region, on Route 9 in Latham. (BurgerFi is short for "burgerfication.") BurgerFi follows the now pretty-standard fast casual setup: order at the counter, get an electronic tag-coaster-thing (technical term), and then the food is brought to the table.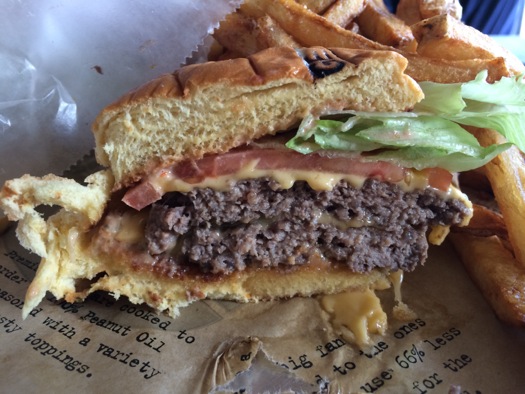 We ordered "BurgerFi Cheeseburgers" -- double Angus burgers, double American cheese, lettuce, tomato, BurgerFi sauce.

Bun
Tasters immediately noted the BurgerFi logo branded on the bun, which was something different. They said the bun -- a Martin's potato roll -- was "very soft, pillowy" with some toasting to balance out the softness. A few remarked that the texture tended toward "doughy," and after a few bites it ended up "a soggy mess." Multiple judges noted the bun had a bit of sweetness.
Meat
Tasters called the well-done patties "densely compacted" and "juicy." The tasters seemed a bit split on flavor. One really liked the taste of the patty, another called it "moderately beefy," and another found the beefiness lacking. One taster wanted more seasoning.
Toppings
The burger's combo of lettuce, tomato, cheese, and sauce struck one taster as being "like the Big Mac's slightly more refined cousin -- who went to private school, but isn't a snob about it." Another noted there was plenty of "nicely melted" cheese -- but that taster wasn't a fan of the sauce, highlighting its mustard note. Another judge liked the "piquant" sauce. The lettuce and tomato mostly didn't detract.
Burger 21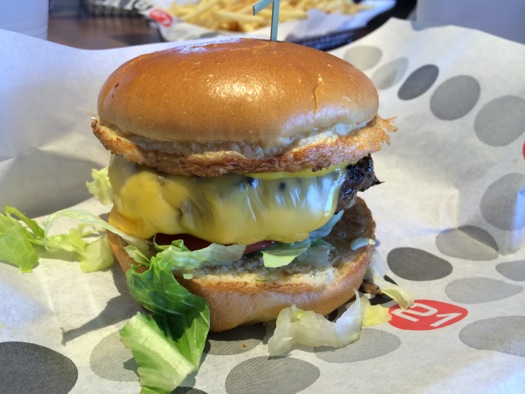 The next stop was just down Route 9 at Burger 21, which opened last year. Of the four burger chains we visited, Burger 21 was most like a traditional sit-down restaurant. You order at a front register, though there's not a conspicuous menu board there (there were pamphlet menus to peruse). The food is then brought to your table. And the staff made a point of mentioning that customers aren't expected to bus the table afterward.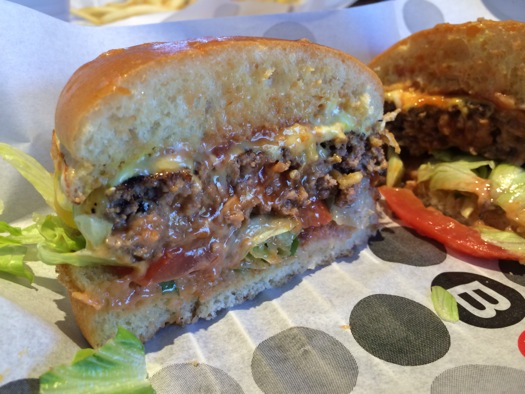 We ordered "Cheesy Burgers" -- lettuce, tomato, American cheese, on a toasted brioche bun.

Bun
The tasters weren't big fans of this bun. They noted it was lightly toasted, a texture that didn't hold up when paired with the meat and toppings. And while one taster said the bun had a "beautiful" domed top, it was ultimately too much bun for the burger.
Meat
Multiple tasters said the meat was very juicy -- "almost a buttery fat content." A few tasters noted a well-done patty, and another a "gorgeous bit of pinkness" in the center. Beyond the richness of the fat content, this patty didn't seem to light up many of the tasters. One called it "kind of pathologically average."
Toppings
Tasters detected ketchup, mayo, and mustard -- in large quantities. One called the toppings "messy," another "a little saucy," and another just said there was "too much of it." The lettuce and tomato got a "really good" from one taster.
Smashburger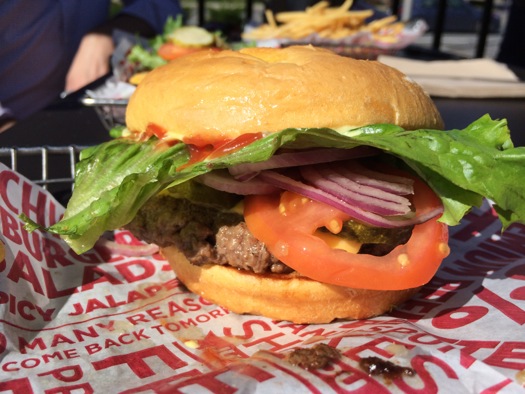 Next up: Smashburger on Wolf Road, which was packed around 1 pm when we stopped by. It's standard fast casual -- order at the counter, get a number card, food is delivered to the table.
We ordered "Classic Smash" burgers -- American cheese, Smash Sauce, ketchup, lettuce, tomato, pickles, onion on an egg bun.

Bun
Tasters noted the toasting, which they seemed to like, and density, which they seemed to not like (one called it "spongy"). One taster described a "very moist crumb" and remarked the bun had a "crazy yellow color."
Meat
Smashburger is known for the crust on its burgers that forms after they're smashed (thus the name) on the flat top. But our tasters had an uneven experience. Noted one: "The charred crispy brown bits on the edges are really good -- I just wish there were more of it." And another taster commented that the signature crust appeared to be largely missing, though the taster still thought the patty had good beefy flavor. Another taster said the patty had a flavor that was "vaguely institutional" (so, not a fan).
Toppings
Tasters noted the strong presence of red onion -- they called them "overpowering" and "very hot". Two tasters removed the onions after a few bites. The pickles won praise. And the other toppings got generally favorable, if not necessarily enthusiastic, reactions.
Five Guys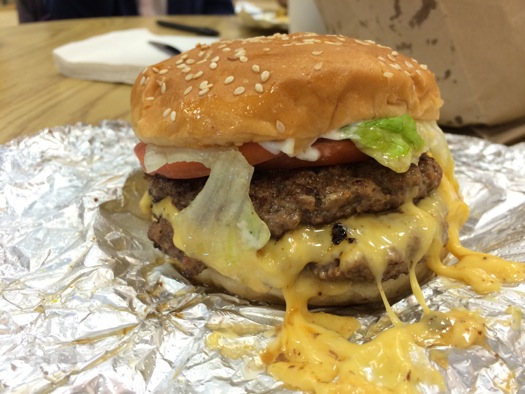 Last stop: The Five Guys in Colonie Center. The first three chains on this tasting tour are relative newcomers to this area, but Five Guys has been here for years. You've probably been to one. The interiors -- and menu -- are relatively spare. You order at the counter and then pick up your food in a brown paper bag at the counter after your number is called.

We ordered cheeseburgers, which at Five Guys come with two patties (as opposed to the "little cheeseburger" that comes with one patty). We got lettuce, tomato, onion, ketchup, mustard, and mayo as toppings.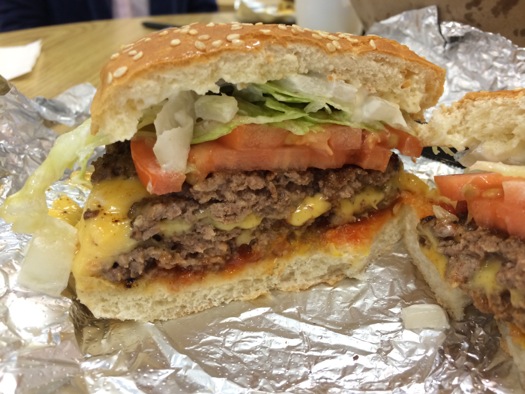 Bun
Tasters described it as "soft and squishy" with a "classic look." Judges liked the sesame seeds, and generally thought the bun had good flavor with a little sweetness. A few judges would have liked more toasting. But overall, the reaction was generally positive.
Meat
One taster called the Give Guys patties "the most fast food(y) style burger of the lot ... a solid average burger." A second said the patties had good flavor, but not much crust. And another commented that it was "tasty" and still enjoyable even after a day eating other burgers. But one taster thought their patties were "on the dry and chewy side" and noted what appeared to be a tiny bit of bone in the grind.
Toppings
One taster thought the cheese added richness and body, but dominated the flavor of the burger. The tasters really liked the lettuce, calling it "crisp." One thought the tomato "decent," but the onions were overpowering. And multiple tasters thought the burgers had been over-sauced with mayo.
____
So, those are the results of the burger tastings. We also ate french fries along the way -- because of course we did -- and we'll post the tasters' scores and comments about those tomorrow, along with comments from each judge about their favorites.
Earlier on AOA:
+ Drawing: What's your favorite burger in the Capital Region?
BurgerFi advertises on AOA.
Hi there. Comments have been closed for this item. Still have something to say? Contact us.