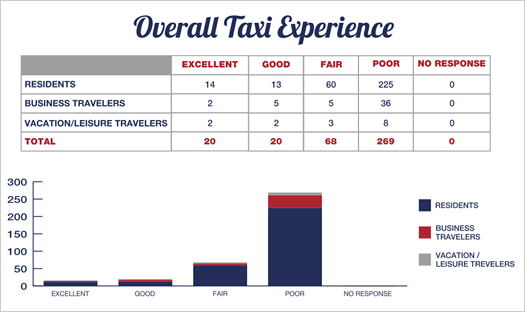 A quick addition to the conversation earlier this week about local taxi service and the push for services such as Uber and Lyft... Here's the final report from the Albany County Convention & Visitors Bureau's Taxi Experience Survey that started last fall -- it's embedded in full after the jump.
Given all that people have said so far on the issue, the results aren't surprising. (That graph/table above is clipped from the report.) And some of the individual comments and anecdotes shared highlight the deep dissatisfaction many people have with local taxi service -- about the condition of the cabs, about customer service, about even just understanding what the fare is going to be. Though the results also include some praise for local companies. The ACCVB says it collected more than 377 responses to the survey.
Of course, there's going to be a self-selection issue with the results. If you had a bad taxi experience, you're probably more likely to look for an outlet to complain. But even so, that these sorts of complaints are a recurring theme points to the need for a shake up in the current situation.
Hi there. Comments have been closed for this item. Still have something to say? Contact us.