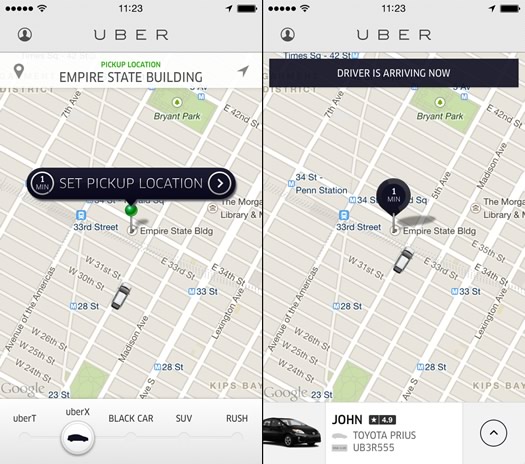 The ongoing campaign to open the way for taxi-app services such as Uber and Lyft to operate in Upstate New York got another push this week when Uber publicly backed the campaign at the Capitol, framing it in part as a jobs and economic development issue. [NYT]
A bill that addresses insurance and regulatory issues for these sorts of "transportation network" companies has been floating around the state legislature since last session. Lyft has been pushing for legislation like this since at least this past spring. And this past summer Andrew Cuomo made comments that sounded like he supported some sort of statewide regulation. [NYS Senate] [NY Observer]
We touched on the taxi service/Uber/Lyft situation a bunch of times already. So here are a few more bits and thoughts prompted by Uber's actions this week...
The current situation is broken
Stories of odd, confusing, or just plain bad taxi experiences in this area are so common that it seems like everyone has a story of that type. It's a problem for people who count on taxis to fill a portion of their transportation needs. It's a problem for other businesses that rely on taxi services to serve clients/customers/associates. And it's a problem for the the whole area as it tries to build a rep as a hospitality destination alongside projects like the in-construction Albany convention center.
So, the desire to see a new player (or players) shake up the taxi scene is totally understandable.
But why are things broken?
One of the key questions in this whole discussion is: Why is the situation broken?
If it's a straightforward matter of bad management or lack of effort on the part of local taxi companies, then new competition -- whether it's a taxi-app service or some other sort of player -- might be the fix.
But it's also possible the situation is more complicated. Taxi companies have said lack of consistent demand is a problem in this area, and the pie is already being cut into too many slices. And the Capital Region's municipal structure -- many small municipalities all packed together, with many popular trips crossing multiple boundaries -- provides a layer of complication that other metros with one geographically-dominant municipality don't have. [Biz Review]
So, as public officials look at this issue -- which is happening behind closed doors, even though it should be a public conversation -- the focus shouldn't be catering to the desires of Uber and Lyft, but rather trying to solve the problem as a whole. Could that solution include companies such as Uber? Sure. It could also include regionalization and a common set of rules for all companies that offer taxi (and taxi-like) services. [Biz Review]
How much demand is out there?
As mentioned above, local taxi companies have said a lack of consistent demand is a problem. But given how many people have had bad taxi experiences here, there's good reason to wonder how much potential demand is out there if people just felt more confident about the service. Anecdotally, we've encountered multiple instances where people would have taken a taxi in this area, but purposefully avoided doing so because of past bad experiences and instead arranged other transportation. It's not necessarily fair to generalize based on some personal experiences, but given how widespread stories of bad taxi service are here, we suspect many other people have had similar experiences.
The potential demand question is important not only because it touches on the degree to which the current taxi situation is not serving the needs of the Capital Region, but also on the potential for how much the industry can grow here. Which brings us to the next point...
Jobs -- and these jobs aren't necessarily like other jobs
During its event this week at the Capitol, Uber framed its proposed push into Upstate New York partly as a jobs issue. And it released projections -- based on its experience in other markets, it said -- for the number of jobs its service would involve here: 13,000 across upstate and 700 here in the Albany area.
But scratch at those numbers a little bit and it becomes clear these aren't necessarily the sort of jobs that get touted when people talk about economic development. Uber projects $80 million in net fares for upstate during the first year -- that's about $6,100 per job. And it projects $430,000 in combined monthly net fares for the Albany area during "peak season" -- that's a little more than $600 per month per job. And that's before the driver's expenses -- gas, car payment, insurance -- are taken into account. (There was an interesting first-person account in Philadelphia City Paper earlier this year that highlighted what sort of money can be made as an Uber driver.) [City Paper]
Of course, the way this would probably shake out is that some people would drive a lot, and others just a little. And to some that flexibility is a significant feature of the setup, not a problem -- the ability to make a little cash during open spaces in their schedules will be a boon.
There's also the issue that the taxi app companies have contended that drivers who work for them don't really work for them so much as alongside them. This arrangement moves a lot of the risk -- financial and otherwise -- from the taxi app company to the drivers. It's become a point of conflict in places like California. And some critics see these sorts of "uber for..." business arrangements as a wedge further separating people with stable employment and those who are constantly struggling to gain foothold as the ground below their feet erodes. [Washington Post] [Governing] [Medium]
Uber will probably get what it wants
Uber is a behemoth, reportedly worth something like $50 billion. And in its many regulatory battles, it tends to get what it wants. Just this past summer it won a public fight with NYC mayor Bill DeBlasio. (And maybe the upstate push is part a plan to outmaneuver New York City and its regulations, which currently restrict Uber to a more traditional hired-car type of service. ) [Investors.com] [Bloomberg] [NY Mag] [Politico NY]
So, whether it and other services like it get the OK to expand into Upstate New York probably isn't so much a matter of if, but when and how.
Earlier on AOA
Hi there. Comments have been closed for this item. Still have something to say? Contact us.