Sean Desiree's gotta be one of the most interesting people we've met over the last year. She's both a talented vocalist/multi-instrumentalist/producer, producing music under the name bell's roar, AND a talented furniture maker, working as South End Pallet Works.
There's a new bell's roar EP arriving next week, and Desiree's playing a show at the Low Beat this Friday night to celebrate.
So we figured this would be a good time to see what's up with both...
bell's roar
This past summer Desiree signed with Firebrand Records, one of the founders of which is Tom Morello from Rage Against the Machine and many other projects. She says she got connected with the label via Ryan Harvey, another Firebrand co-founder and a friend she's known for years.
"I think signing to a label is kind of scary. You never really know the amount of control you have," Desiree told us this week. "So I made sure that, for example, they can't delay my album. Or if some sort of thing arises, I have the option of talking about it and preventing it. And so being that it's not a traditional label, it's basically Tom Morello helping other artists who are likeminded get some attention and have some support, I wanted something like that that's more artist friendly."
Firebrand is dedicated to "the global release and distribution of radical, socially conscious music." And activism is an element of Desiree's work as bell's roar.
"Just talking about issues is really important," she said. "There seems like there are many people in the world that are just kind of content or complacent with the state of the world, either because it actually benefits them or they just can't deal with it. When I think about writing music, I'm not like, oh, let me write this activist song. I'm writing a song that connects to my identity and my experience in the world."
Desiree said that can be hard sometimes: "You sort of want to fit in, or you want to sell music, you don't want to rub people the wrong way. If you speak on some issues it might isolate you from some people. But having that as a concern is not beneficial, and it's not allowing you to create music that speaks to you."
The EP being celebrated at Friday's show Second Chances, Vol. 1 -- includes some remixes of her previous songs. She said she had been working on a full length album when the songs for this EP bubbled up as a surprise product of working with Joshua Gruft, who also appears on it.
"I love making music by myself, first and foremost. But it's interesting what comes out of a collaboration, and that's something I've always been interested in, seeing where it goes."
The show at the Low Beat is Friday, November 6 at 8 pm at The Low Beat. Prince Harvey will be opening the show. Second Chances, Vol. 1 is set for a November 13 release
South End Pallet Works
Sean Desiree says things are going well with South End Pallet Works, through which she creates furniture from reclaimed wood, much of it pallets. Her current aim to is create pieces with a more streamlined design. And she's also working to incorporate different patterns, mainly from African cultures.
"The idea is to use some of the profits to donate to some organization that I'm using the pattern from, so I'm not just taking from the culture, I'm also giving back."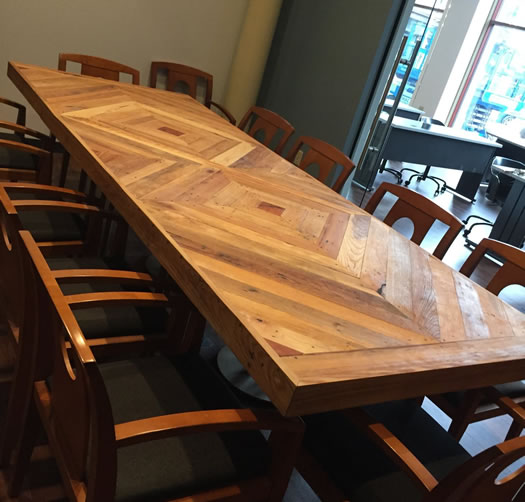 Desire made this conference table for the Tech Valley Center of Gravity. She said she had never made a piece that big before. As she said she thought at the time: "I don't know if I can do it, but I'm going to say yes and then figure it out." / photo: Bob Bownes
She's also joined the Tech Valley Center of Gravity in Troy, which has a wood shop. "Having access to basically every tool I need is really helpful for making the work look even more professional."
South End Pallet Works grew out of Desiree wanting a barn-style dining room table, but being frustrated by the price of one. So she decided to figure out how to make a table for herself. That approach has continued to push her forward.
"Whenever someone asks me to make something, I generally say yes -- and then figure it out. Someone asked me just recently if I make radiator covers and I'm like, oh, I had never thought about that. Then I challenged myself to do it."
That DIY spirit is also part of bell's roar.
"If it's something that I want enough badly, I will be like, I'm just going to do this," she explained to us. "With music, it's something I just love to do. And I can't pay someone, or rely on someone, to do it for me. So if I want this album to be completed, if I wanted to have a finished product to the vision that I have, then I have to learn to play different instruments, I have to teach myself how to make music videos. And I make my own CD covers, or whatever. I don't have any money, but I'm just going to be motivated enough to do it."
Part of the process is gathering the courage -- and the space -- for yourself to fail sometimes, and for that failure to just be between you and your work. To know that it doesn't have to be humiliating.
And the other part: "Keep trying."
Earlier on AOA:
+ South End Pallet Works
+ Holiday gifts: Sean Desiree
Hi there. Comments have been closed for this item. Still have something to say? Contact us.