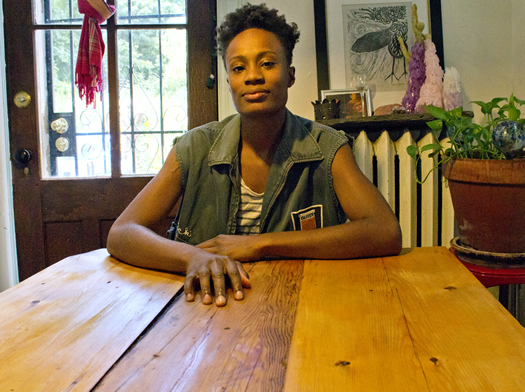 Gifts and giving are on most everyone's mind this month. So we thought we'd ask a few people to share some thoughts on presents, past and present.
Next up: Sean Desiree shares her holiday gifts and causes.
Sean is a self-taught furniture maker who uses reclaimed wood at her business, South End Pallet Works. She's also a performer under the name bell's roar.

What gifts would you like to get this year? Â 
No money is needed. Â I'm hoping for things people don't want anymore. Â A chop saw or any other woodworking tools would be amazing. Â I'm also in need of musical things like a drum kit, bass guitar, interface, etc.
What gifts would you like to give this year? 
Handmade plant holders made out of glass bottles and wood for everyone. 
What charity or cause do you want to support? Â 
The Ali Forney Center is the largest and most comprehensive organization in the nation dedicated to housing LGBT youth. AFC serves youth aged 16-24, and provides emergency and transitional housing, street outreach, a drop-in center, medical and mental health treatment, a vocational/educational program, and a counseling project for the families of LGBT youth.
The Sanctuary Fund is a Holding Our Own donor-advised fund for women and families who need to leave their homes without notice, as a result of a disaster, a divorce, domestic violence, and beyond.
What is your most memorable gift from childhood, holiday or otherwise? 
Easy -- it's a kitchen play set. I would spend hours talking to myself and making fake things with my friends.  
____
More holiday gifts:
+ Comedian Ethan Ullman
+ Rachel Person from Northshire Bookstore
+ Musical theater teacher and performer Brandon Jones
+ Katie O'Malley Maloney from Katie O' Weddings & Events
+ Illustrator Elizabeth Zunon
+ Musician Sean Rowe
+ Heather LaVine from The Confectionery
+ Lecco Morris from the Chefs Consortium