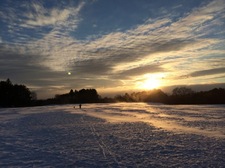 With winter approaching, we found this interesting: It's an Atlantic article by Kari Leibowitz -- who's in a PhD program for social psychology at Standord -- about her research into how people in Tromsø, Norway (inside the Arctic Circle) keep their spirits up during the long, dark winter.
One way is that they embrace the concept of koselig (Norwegian word for "cozy") and revel the chance sit by the fire and snuggle in blankets.
Another way: mindset -- specifically they just don't think of winter as something through which to suffer. A clip:
... I also believe the cultural mindset of Tromsø plays a role in wintertime wellness. I found myself the happy victim of mindset contagion after Fern told me she refused to call the Polar Night the mørketid, or "dark time," preferring instead to use its alternative name, the "Blue Time" to emphasize all the color present during this period. (Plenty of people with a positive wintertime mindset might still refer to the Polar Night as the "dark time," but Fern's comment was indicative of one of the ways she purposefully orients herself towards a positive wintertime mindset.) After hearing this, I couldn't help but pay more attention to the soft blue haze that settled over everything, and I consciously worked to think of this light as cozy rather than dark. And rather than greeting each other with complaints about the cold and snow, a common shared grumble in the U.S., my Norwegian friends would walk or ski to our meet-ups, arriving alert and refreshed from being outdoors, inspiring me to bundle up and spend some time outside on even the coldest days.
We would say this generally matches our own experience upstate. The more we embrace winter -- and get out and do things -- the better it seems. Few things can put you back in a good frame of mind during February like an evening skate on the frozen pond.
Earlier on AOA:
+ Ask AOA: How do you shake off the winter gloom?
+ Underrated things about a snowy day
Hi there. Comments have been closed for this item. Still have something to say? Contact us.