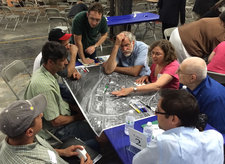 The Rezone Albany project's next neighborhood specific workshop is for the South End. Blurbage:
The South End Design Workshop is a three-day visioning, zoning and form-based coding discussion that will inform the City's ReZone Albany initiative. This workshop will focus on the area around Albany's South End, gathering input from members of the public in order to arrive at a collaborative solution. The Warehouse District Workshop began the process in May, followed by the Central and Manning Design Workshop in August. ...
This is your community. You are the expert. Who knows the community better than someone who lives and/or works here? ReZone Albany is a rare chance for you to be a part of creating positive change, impacting the growth of your City for years to come. We need your ideas, input and feedback to ensure that the vision reflects community values and aspirations.
The South End presentations are at the Capital South Campus Center:
+ Tuesday, December 8 from 6-8 pm for the hands-on design workshop
+ Thursday, December 19 from 6-8 pm for the work-in-progress presentation
We've stopped into the two previous workshops -- for the Warehouse District and Central Ave -- and they've been interesting, both as a way to learn more about the Rezone Albany project and just to hear the thoughts of the national consultants about various parts of the city. The South End workshop is the last of the currently planned events of its type.
The products of these workshops are being rolled into proposed mixed-use zoning district that will help direct what sorts of development goes on there in the future.