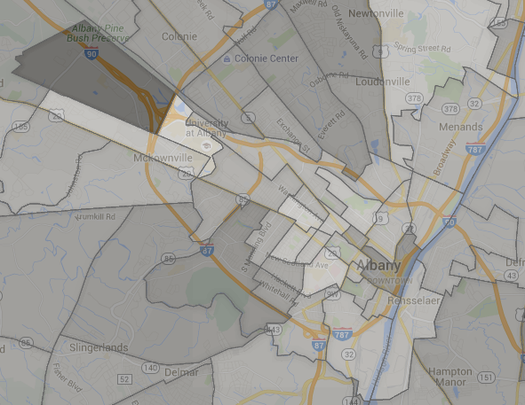 Which Capital Region neighborhoods are the most expensive in which to rent? Which tend to have households with the highest incomes? Which neighborhoods have populations that skew younger or older?
Those are some of the questions for which we can get an answer from new numbers released by the Census Bureau recently. This new data -- the American Community Survey 2010-2014 -- includes estimates for 210 census tracts in the Capital Region core counties. So we can focus not just on a city or town, but sections as small as neighborhoods.
There are a lot of things you can do with these numbers, and we're hoping to dig into them, but we figured we'd start out with putting together a handful of Capital Region maps that look a range of general topics, from income to age to whether people own or rent.
An important note
The numbers from the American Community Survey are estimates not actual counts, so there's going to be some smudginess. And even though the five-year estimates include tract-level estimates, some of the figures include relatively large margins of error. So we've included those margins along with each number. And it's important to keep these margins in mind, especially when comparing two or more tracts.
The bottom line here is that, like a lot of stuff of this type, these numbers are more like a place to start than a place to end. They can help us get a sense of the state of things and provide some insight into what sorts of questions to ask.
Maps
They're above in large format -- click or scroll all the way up.