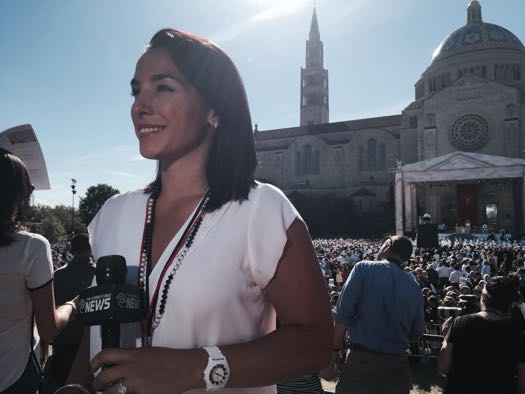 Gifts and giving are on most everyone's mind this month. So, once again, we thought we'd ask a few people to share some thoughts on presents, past and present.
Today's thoughts on gifts and giving come from Karen Tararache. Karen is an anchor and reporter for Time Warner Cable News. She's also the co-founder of Studio Six Theatre Company in New York City.
What gifts would you like to get this year?
​More time. This is a combination of not being able to sit still and just being too busy.
Most Monday through Fridays I wake up at 4:30 am to go to Fit Strength & Conditioning in Albany. I love the people there and how positive I feel after a grueling workout. As a result, my body is always sore and exhausted. Then there's work, our adorable Beagle-Jack Russel mix Zenyatta (my husband named her after the horse who was named after The Police album), cooking, cleaning, laundry, social events, and I'm finally hitting the pillow, usually, around 9 pm. Weekends I'm up at 3 am to anchor the early morning news and the rest of the day I'm semi-functioning in a zombie-like state.
I wouldn't trade it for anything except to have it all PLUS an extra five hours each day.
What gifts would you like to give this year?
The gift of life. My husband and I were just married in May and would like to start our own family next year.
What charity would you like to support?
Baking Memories 4 Kids. I met the founder of the organization, Frank Squeo, when he surprised the late state trooper David Cunniff's children with an all-expense-paid trip to Disney World and Legoland in Florida. One of Cunniff's children has spinal muscular atrophy. The organization sells baked chocolate chip cookies to raise money for children with life threatening or terminal illnesses to take a trip and create new memories. It's a momentary escape from their daily struggles.
What is your most memorable gift from childhood?
Being an only child, I got a lot of gifts but the best was the support I received from my parents when I decided to pursue theater and a career in the arts.
What is your wish for the new year?
Help for those who need it, justice for those who deserve it, and overall more patience and understanding with one another.
____
Earlier on AOA:
+ Holiday gifts: Truemaster Trimingham
Hi there. Comments have been closed for this item. Still have something to say? Contact us.