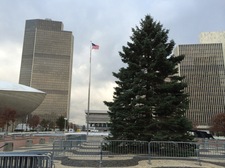 Prompted by a question from Hollie earlier this week we asked about where you got your real/live Christmas tree this year and how much it cost. A bunch of people answered in the comments -- thank you!
We figured it'd be useful to boil down all the answers for a few bits of info:
+ The average price people reported paying was $39.50. (That was for a range of tree sizes.)
+ The high price was $55 -- for an 8-foot precut tree Chris got at Calhoun's Farm Stand in Brunswick ("Great trees (all Frasier firs), super nice people."), and for a tree Spoon got at Olsen's in Slingerlands ("We go there because they have the set-up to drill a hole for our tree stand. And they are the only place I know that does.")
+ The low price was $15 for a tree from Bob's Trees in Galway. MaryElise reported they had "piles of trees" in different price ranges based on height, type, and fullness. "We found a 6' to 7' slender tree in the $15 section. It might not be everyone else's dream tree but we have a small apartment and wanted a tall slender tree. So yeah we got an awesome tree for $15."
Here are the local answers in a quick-scan table.
This wasn't a systematic survey, of course. So your mileage will no doubt vary. But the answers were pretty closely clustered. So it's probably fair to say you'll pay about $40. Bigger tends to cost more than smaller, as does pre-cut compared to cut-your-own. And look for oddball trees that might not appeal to everyone, but might work for you -- they could be a deal.
Hi there. Comments have been closed for this item. Still have something to say? Contact us.