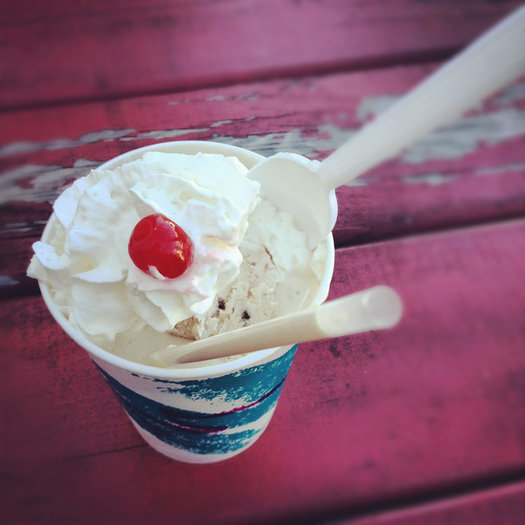 With 2016 about the start, we're asking a bunch of people about favorite/interesting things from 2015.
First up: Favorite local foods or drinks of the past year.
Otis from Burnt My Fingers
Brady Duhame¹s ramen, an occasional special at 15 Church in Saratoga. Made with smoked dashi and sinful amounts of pork belly, it¹s the real deal.
Silvia from DelSo
The item which has recently rocked my taste buds is our current cheesecake offering from [Cheesecake] Machismo. At Lark + Lily we're featuring an egg nog cheesecake on a sugar cookie crust and it is amazing! The egg nog flavor, complete with a dusting of nutmeg, is fantastic and the consistency is far lighter than you could even imagine. It is Christmas on a plate!
Lauren Hittinger Hodgson, writer and AOA contributor
Normally I'd have spent my summer drinking on patios, but I was on the wagon this year, and had to switch things up a bit. Given that, my favorite treat was the Boston Shake from The Snowman in Troy. It is the perfect choice for the indecisive ice cream enthusiast, since it is a scoop of ice cream, placed into a shake, accented by whipped cream, hot fudge, and a cherry. If you ask nicely, they'll even add sprinkles on top. While I've occasionally ventured further into Snowman's menu, I always return to this wallet-friendly but not waistline-friendly frozen treat. I'll be patiently waiting until spring when I can continue to enjoy my favorite local food.
Albany Jane from Albany Eats!
2015 has been a pretty busy year for me, filled with lots of trips. My year started off with a trip to Hudson to visit The Crimson Sparrow>. I loved the experience and flavors, and they've recently started serving ramen. They've also got an fun bar menu that's begging for a trip back to Hudson for a more casual experience.
Deanna Fox took me out for an excursion to Heather Ridge Farm in Preston Hollow for their monthly Supper Club. Meat is sourced from the farm, lovingly raised by owner Carol Clement, and chef Rob Handel displays his culinary creativity from charcuterie through dessert.
And of course, what year would be complete without pizza? While the AOA Tournament of Pizza days are now behind us, that didn't stop Daniel B. from cobbling together his own Tour de Pizza for tavern pizzas. It was here I discovered the fatty magic that is the Hill Street Cafe's tavern pizza, which is doused in so much oil the crust may as well be fried, and the cheese gooey and plentiful.
Julie Madsen from Julie Journeys / AOA contributor
My most memorable and favorite local bite this year were the pork buns I devoured way too quickly from Tanpopo Ramen and Sake Bar. The buns were so deeply flavorful and had excellent texture, stuffed with thick slabs of juicy pork. They came out fast and hot and I wish I ordered a dozen more, but I had to leave room for some ramen as well.
Craig Gravina from Drink Drank / co-founder of The Albany Ale Project / beer history nerd
OK, I'm going to bend the rules on this a bit. My favorite local thing to drink this past year, isn't one specific thing, it's actually a bunch of things (and truth be told they're not always local).

It's the cask beer line-up at the Allen Street Pub in Albany.

Now, I know, all the craft snobs out there are gonna say "Cask beer is flat, and warm, and boring" or that spirit barrel-aged brews, DIPAs and wild fermented sours are what's on the cutting edge of beer today. I hear that, and I dig a geuze as much as the next guy, but a perfectly pulled pint of cask ale is sublime. A few friends and a few twenty ounce mugs of a dark and bittersweet tipple, with the thinnest of foamy heads, on a chilly winter's night, is about as perfect of an evening as it gets. With three beer engines up seven days a week, Paul and Steve at the Allen Street delivers that in spades. In fact, the pub was just awarded Cask Marque accreditation, making them one of only five other pubs in the U.S. recognized by the U.K.organization, and signifying that the boys are cellering and serving cask-conditioned beer of the best quality--to British "Real Ale" standards--which is like "dad meeting daughter's boyfriend for the first time" standards. One of the best things about the ASP's line-up is that they have their own buttery with a collection of empty pin and firkin casks. They can just zip up to Argyle Brewing Company, in Greenwich, or over to Wolf Hollow, in Scotia, and get a cask filled with green beer, prime it themselves, and let it naturally carbonate. Four or five days later the cask is up and you and I are drinking a proper pint of Woodland Ale or Campout Stout.

As for the local brews I've had on cask at the Allen Street, which have really stood out, most recently is Sam Pagano's (Mad Jack Brewing Company, Schenectady) oak-aged Mont Pleasant Porter. Remember the "...dark and bittersweet tipple, with the thinnest of foamy heads..." I mentioned earlier? This beer embodies that. Big American DIPAs don't always translate well on cask, but Paradox's (Schroon Lake) Beaver OverBite is an exception. It's big and bitter, and the hops really come out as the beer warms up. Don't get me going on the imports (J.W. Lee's Moonraker, Harvistouns Ola Dubh 12, and Brasserie des Franches-Montagnes Cuvee Alex Le Rouge, just to name a few.)
I really can't say enough about the Allen Street's cask beer line-up. To put it simply--it's just great, and there's nobody else in the area doing it las well as they are. The pub itself is also spectacularly divey--in all the good ways. If you're not a cask fan (I think you're nuts, but to each their own, right?) the Allen Street has a damn fine selection of standard, draft and bottled craft beer and cider, too--and PBR and Bud, for those inclined!
Mary Rosch, marketing coordinator for Saratoga Olive Oil Co., social media manager for GoodFoodJobs.com, #51ate native
The best thing I ate in 2015 (or one of them!) was this crostini that I made with a mélange of tomatoes from the Ballston Spa Farmer's Market. I toasted some leftover slices of bread from Mrs. London's and swathed them with whipped goat cheese and topped it with a rainbow of chopped tomatoes and basil chiffonade tossed in Italian Coratina from Saratoga Olive Oil Co.. There's nothing like spending an hour at the market then coming home to turn simple, local ingredients into something spectacular. Each bite captured the very essence of summer!
Steve N. from I Like Food
The best thing I ate this year is everything I've had at Peck's Arcade in Troy. I've been to Peck's three times now, have had about 10 different dishes, and each of them has been fantastic. A handful have been nothing short of amazing. Peck's has become my favorite restaurant, and I'm convinced if it's not the best, it's certainly among the best restaurants in the Capital Region. Here are my Yelp reviews of Peck's and see some photos I took of the food.
Ashley Dingeman from Saratoga Food Fanatic
This is quite possibly the hardest question I'm asked each year! My favorite thing this year had to have been the rotisserie half chicken from Creo' in Guilderland. This chicken was rubbed with a cinnamon chipotle mixture, accompanied by garlic Parmesan whipped potatoes, broccolini, and apricot chicken jus. Truthfully, this chicken made me fall in love with poultry all over again. Just when I thought chicken was getting boring, Chef Eric Sell at Creo' surprised me with the most succulent and flavorful bites of chicken that I haven't stopped thinking about since I first tried it back in May.
J+R from Chopsticks Optional
Our favorite bite of 2015 is a little self-indulgent. Gâteau de Rêves translates to cake of dreams, and each blissful bite of our wedding cake from TC Paris in Saratoga Springs had us floating on cloud nine. The layers of dark chocolate mousse and salted caramel buttercream put this chocolate cake in a league of its own. Sometimes you'll find a mini version of the gateau at the storefront, crowned with a glaze of chocolate ganache, but the bite-size version leaves you wanting a full-size cake of your own. We're looking forward to celebrating our first anniversary and reliving that euphoric moment with a tiny slice hidden in our freezer!
Emily Lemieux from Capital Region Dining Blog / AOA Miss Pearl advice columnist
Tom Kha Soup from Tomo Asian Bistro in Slingerlands. This fabulous soup has shrimp, tomato, mushrooms, and cilantro in a coconut milk broth. It tastes like its made moments before and comes out piping hot with the shrimp perfectly cooked and all the elements still retaining all their separate flavors. Every time I order it the servers very enthusiastically say "Great choice!"
Jon from Jon in Albany
My favorite bite this year was from the OG Wood Fire food truck currently serving pizza in the Buffalo area. I loved the maple/pancetta pizza. It is topped with basil, fresh mozzarella, pancetta and maple syrup cooked for about two minutes in a hot wood fired oven. The pizza was sweet, savory, and salty all at once. I've stolen the topping combination and made it a few times at home.
If you are looking for pizza closer to home, I'd recommend the broccoli/ricotta pie at Marino's in Schenectady. It's better than I thought I broccoli/ricotta pizza could ever be.
Deanna Fox, writer of many things, mostly about food / AOA Eat This! contributor / website, Twitter, and Instagram
I really eat so much good food, it's hard to pick one in particular that stood out among the rest. Avocado fries were excellent. And 2015 was the year I was finally won over by frozen yogurt. If not for being concerned about my cholesterol and waistline, I could make a meal out of knish and eclairs several times a week.
But I think the BEST thing I ate in 2015 would have to be the farm-fresh pizza at 9 Miles East Farm in Schuylerville. For me, it was as much about the taste as it was about the ethos surrounding the preparation of each pie. There is no dearth of great pizza in the Capital Region, but few pizza makers consider the source of the ingredients, the fermentation of the dough, and the system for ordering and receiving pizza the way 9 Miles East does. Beyond that, they are innovating the next wave of farm business in America, when new farmers from non-agricultural backgrounds penetrate the farming industry and the competition traditional farmers markets are an increasingly hard way to sell produce. All this, delivered via pizza. It's genius.
And did I mention the pizza is good? Yeah, it's really good. Give me a cold beer and a pair of cut-offs here all summer long. I will be very, very happy.
Lorre from Albany Dish
Among the best of local things I tasted in 2015 was a braised chuck roast from Sentinel Butchery in Troy. It was a nostalgic thing for me to try that cut because my mother prepared it quite a bit for our young family way back when. Sentinel's version just tasted superb. I'll go back frequently to taste my way through their offerings.
Daniel B. from FUSSYlittleBLOG, local representative of a SF-based website
2015 was a year that I got to check some locally beloved foods off my must-eat list. If you can believe it this was the year that I finally had the amazing avocado fries from Slidin' Dirty. It was also a year of great food discoveries, like the deep fried Monte Cristo at Public House 42. My trip to China helped put my favorite dishes at Ala Shanghai into context, and gave me a new appreciation for just how lucky we are in the Capital Region to have a place like this. Josh Coletto continued to create a cavalcade of innovative brunch items, the culmination of which may have been his scotch egg.
The thing that completely blew me away this year, were the grilled cheese sandwiches from The Cheese Traveler in Albany. These aren't new. The shop has been slinging them for a while. But it's taken me a long time to get in there and try one. Honestly, I had my doubts about how well these fancy cheeses would work in sandwich form. But those ended immediately upon taking my first bite of Fourme d'Ambert melted between two pieces of Bonfiglio bread, smeared with some Rodolphe Le Meunier butter. However, my favorite one yet was a weekly special that featured an Italian Crescenza, paired with jam and pate. It's not just the big bold flavors, but the textures are just out of this world.
Hi there. Comments have been closed for this item. Still have something to say? Contact us.