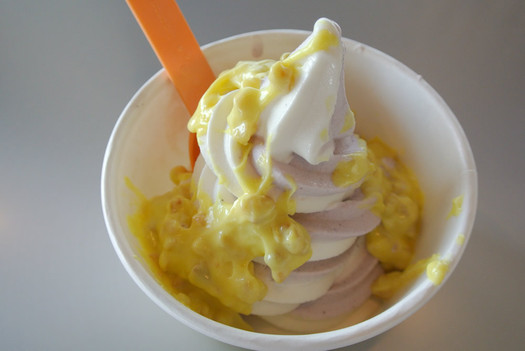 By Deanna Fox
A moment of confession: I do not like yogurt.
Growing up, I would watch my mother spoon plain, tangy yogurt topped with fresh fruit across her lips as her morning meal. Today I find myself close with someone who revels in the thought of thick Greek yogurt topped with local granola and stewed rhubarb.

I just can't get behind it. For reasons of taste or texture, it weirds me out (and I say this shamefully, as someone who has made a life around food). The same holds true for frozen yogurt. Many friends have prodded me to try frozen yogurt as a means to hop on the yogurt bandwagon, but it all left me underwhelmed and questioning the appeal.

That is, until I reluctantly tried Ayelada's frozen yogurt in Latham.
Like Darth Vader realizing the error of his ways, or Elizabeth Bennett finally conceding to the appeal of Mr. Darcy, I now feel compelled to change my position.
The saving grace for me at most froyo chains is that you can start off with the good intention of keeping things moderately healthy -- then throw that concept right out the window by piling your yogurt dish high with gummy bears! And sprinkles! And hot fudge! And brownie bites!
We justify it, though, because aren't we saving calories and fat by choosing yogurt over its seductive, vampy, jezebel of a cousin (that being ice cream)?

But not at Ayelada (which means "cow" in Greek, in case you were wondering). To bedeck the perfect swirl of sweetened dairy with edible doodads is to bastardize it. But I did it anyway on my last visit, because the appeal of from-scratch lemon custard with Italian cookie crumbs gracing my blueberry/vanilla twist was strong, and I am weak at the feet of said delights.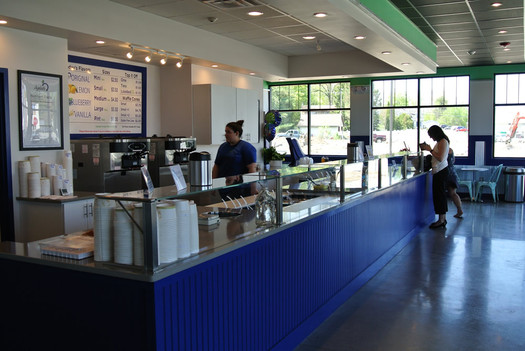 Regardless, the yogurt stands on its own without the trimmings. Where other frozen yogurts have frequently left a chemical aftertaste and strange film in my mouth, Ayelada's froyo was refreshing, smooth, and not the least bit cloying. Where other froyos left me frustrated in my optimism that maybe this time will be different, Ayelada's strawberry offering flipped me and gave me the gentle encouragement to finally embrace the trend that has eluded me for so long. This wasn't just good strawberry frozen yogurt -- it was the best strawberry frozen anything (custard, ice cream, gelato) I had ever tasted. It was all about discernment, and not giving up in the search for the good stuff.

Ayelada stands apart from most other frozen yogurt joints because of a series of other factors, too. First, it is not self-serve. Friendly employees will pull and garnish the yogurt for you, though there are a few syrups and spices (like cinnamon) available for free for you to use as you please. And instead of walls of yogurt-taps with a large array of flavors, Ayelada sticks with four rotating flavors (listed weekly on Facebook and the shop's website). The frequent turnover of flavors and small-batch production ensures the freshest quality.

The most striking difference is what the froyo is made from. The cornerstone of Ayelada's philosophy is sourcing local. This means that the dairy comes from local dairies, mainly Danforth Family Farm in Jefferson, New York, which is best known for its Cowbella line of yogurt. Other ingredients, like peanut butter, honey, and fruit come from producers many farmers market regulars will immediately recognize: Saratoga Peanut Butter, Lloyd Spear Honey, etc.
The Latham location is the second shop for Ayelada, and the original location in Massachusetts follows the same sort of local sourcing from farms and producers throughout the Berkshires.

Three decades of my complete yogurt refusal were obliterated by the first taste of Ayelada's creamy treat. While you might not find me tucked into a half-pint container of Chobani anytime soon, don't be surprised to find Ayelada's latest flavor popping up on my Instagram feed with regularity.

Deanna Fox writes about many things, mostly about food. More can be found on her website, Twitter, or Instagram.
More Eat This:
+ Falafel and shawarma at Saati Deli and Catering
+ Fish tacos at Ted's Fish Fry
+ Ravioli from Ragonese Imports
+ Knish at Nibble Inc
Find It
Ayelada Frozen Yogurt
1210 Troy Schenectady Road
Latham, NY 12110
Say Something!
We'd really like you to take part in the conversation here at All Over Albany. But we do have a few rules here. Don't worry, they're easy. The first: be kind. The second: treat everyone else with the same respect you'd like to see in return. Cool? Great, post away. Comments are moderated so it might take a little while for your comment to show up. Thanks for being patient.