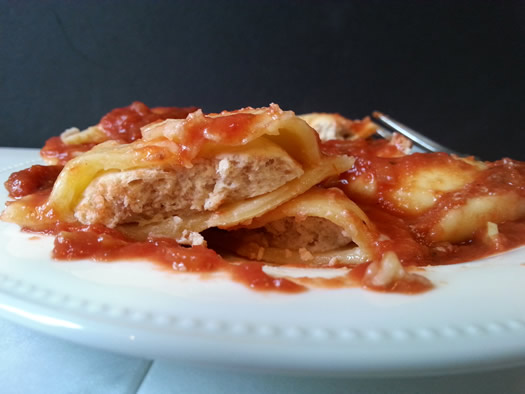 By Deanna Fox
For being such a simple thing, ravioli can be tough to get right.

When I'm not writing and producing media about food, I teach cooking classes. And in one of my most popular classes we make ravioli. There is certain finesse to the art of pasta. The dough and fillings are usually quite minimal in terms of ingredients to make them - usually no more than five ingredients in either - but the way in which it's made is the important part. You must be gentle, yet firm. You must be quick, and also slow.

Lucky for us, we live in a place that has plenty of good pasta. And one of them is Ragonese Imports in Albany, whose take-home ravioli boxes are a standout among the offerings of the area's many Italian import stores.
The New Scotland Avenue neighborhood where Ragonese Imports has long stood has been transforming over the last few years as its building stock is adapted for new uses and its commercial strips fills out with new eating and drinking spots.. It's primed to be the premier neighborhood in Albany (in my humble opinion). But it hasn't lost its identity.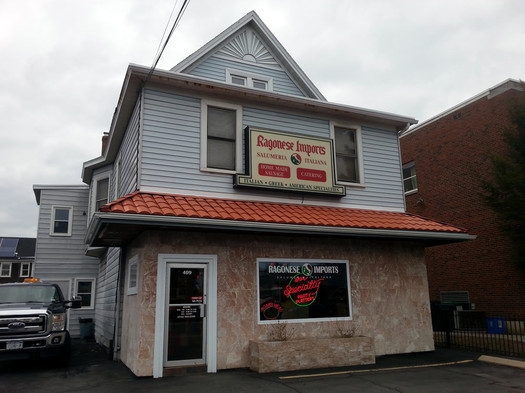 Ragonese Imports, which opened in 1986, is part of that long-established neighborhood fabric. And yet, it still feels a little like a secret. Nearly thirty years of business means that the shop has been able to filter through and test out many products, settling on its best and favorite.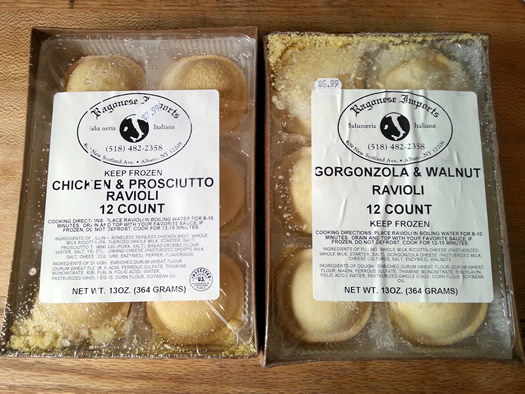 The ravioli belongs to that category. In the freezer section, you'll find a variety of filled pasta in flavors such as shrimp, broccoli rabe and sausage, meat, pumpkin, sweet potato, lobster, Portobello mushroom, fontina and asparagus, and cheese -- both in durum and whole wheat flour doughs. A box of 12 runs between $6 and $8.



Gorgonzola and walnut ravioli

I brought home the chicken and prosciutto and gorgonzola and walnut varieties. A quick boil (just until hot and al dente, about eight minutes) primes the pasta for your choice of accouterment. For the chicken, I chose a simple red sauce. For cheese and walnut, I went with a drizzle of a rich, nutty olive oil and a grating of nutmeg and Parmesan cheese.

The dough maintains a nice chew and never falls limp, while the filling is plentiful. The graceful, swift hand of a pro pasta maker is evident, but doesn't mask the attention to detail - the crimping, the forming, the perfect seasoning of the filling - so crucial to good ravioli.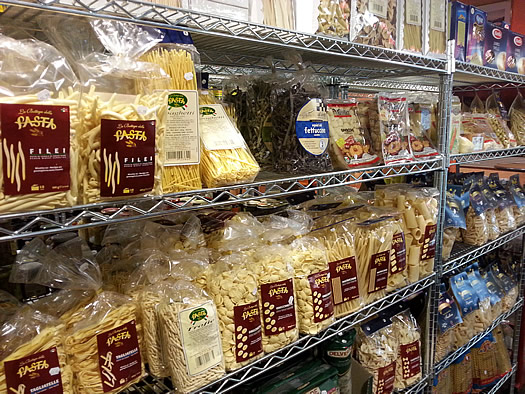 All in all, it took me 15 minutes to pull together dinner -- in the time it took the pasta to boil, I threw together a quick green salad. (Ragonese Imports sells a fantastic selection of items you could build your own dinner from - at incredibly low prices, considering the quality of the products - so take a look around and see what else you find when you stop in.)

I ate local, I ate well, and I ate cheaply. I don't know how it gets better than that.

My love for the Italian (and Italian-America) treasures in the Capital Region is no stranger to this column (see spumoni, pizza, chicken parm, breakfast). And with reason, I believe: the flavors of the food are so deep, so intrinsic to our area's identity, it's impossible to talk about what is good without making mention of it.

"Good" is subjective, and what I feel is good, or "the best," is likely to be different from your idea. Regardless, one thing we can agree on is that quick preparation paired with superb flavor can make just about any food a favorite. And the ravioli at Ragonese Imports is no exception.
Deanna Fox writes about many things, mostly about food. More can be found on her website, Twitter, or Instagram.
More Eat This:
+ Easter candy from Krause's
+ Knish at Nibble Inc
+ Éclairs at Sovrana's
Find It
Ragonese Imports
409 New Scotland Ave
Albany, NY 12208
Hi there. Comments have been closed for this item. Still have something to say? Contact us.