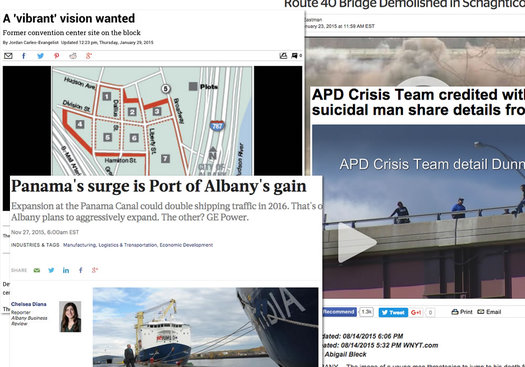 Updated
With 2016 about the start, we're asking a bunch of people about favorite/interesting things from 2015.
Next up: We asked a handful of local reporters about which stories were most interesting to cover this year...
A quick note about what "interesting" means for this question. As we said to the journalists, we weren't looking for the "biggest" or "most important" story that they covered, but rather one that, for whatever reason, ended up being especially interesting to them personally as they covered it.
Abigail Bleck - WNYT NewsChannel 13
Story: Man talked back off the ledge of the Dunn Memorial Bridge
Ironically, my most memorable story of 2015 started out as the one that I thought was going to make me leave the news business.
Late in the afternoon on a gorgeous August day, a young man walked out to the center of the Dunn Memorial Bridge and was threatening to jump to his death. I was dispatched to the scene immediately. NewsChannel 13 doesn't typically cover suicides but the very public and visible location of this incident forced the shut-down of roads into and out of Albany (just before rush hour) so it quickly became a news story.
He was up there for hours. At one point, he threw his cell phone and baseball hat into the water and I thought to myself, "This is it. I'm going to witness a young man jump to his death. I can't do this." I felt so helpless but there was obviously nothing I could do to help and I kept calling my manager to say, "I can't watch this happen. I can't." But I had to stay. It was my assignment and, unfortunately, reporters don't get to pick what constitutes news.
I didn't think it could get worse but it did. As the drama unfolded, hundreds of people came down to the river to see what was going on -- some of whom were encouraging the man to jump and yelling at him to stop holding up traffic and "get it over with." There was even a group of young people on the Rensselaer side of the river who were counting him down (the way you'd count down a young kid in order to get him/her to jump into a pool for the first time). I've covered a lot of sadness and the worst of humanity over the years but this reaction from passers-by nauseated and disgusted me in a way that no story ever has before. A man's life was, literally, on the line and people were acting as if it was a game.
Then, amazingly, as the Albany Police Department negotiators inched closer, the man suddenly stepped down, walked away from the ledge and shook hands and embraced the officers who had had been trying to convince him not to jump for hours. My videographer, Matt Soriano, captured the moment and it was wonderful.
I raced back to the station to get the story on the air -- the story that I was sure wasn't going to end well but ultimately had a happy ending. However, it was my follow-up piece the next day -- the interviews with the police officers who convinced this young man that his life was worth living and that they would get him the help he desperately needed -- that will ALWAYS stick with me. Saving this man's life is the reason those officers on the APD crisis team do their jobs. Witnessing that and then being able to share it with the Capital Region is the reason I do mine.
Abigail Bleck is a reporter for WNYT NewsChannel 13 | @ABleck_WNYT
Michael DeMasi - Albany Business Review
Story: The sale of the Lionheart Pub
Last April, after reporting the Lionheart Pub in Albany sold for $3.5 million, I talked to real estate brokers and others who were incredulous about the price. They refused to believe it was true. I talked again to the seller, Jerry Aumand, and asked if he would be willing to show me the documents behind the sale. As a business reporter, I often report on transactions in which the price and other terms aren't disclosed, let alone the contracts. To my great surprise, Jerry invited me to his home and laid out the paperwork, including tax returns showing the value of the business. He wanted to dispel the doubts and rumors. His willingness to cooperate led to this story.
Michael DeMasi is a reporter with the Albany Business Review | @AlbBizMikeD
Danielle Sanzone - Troy Record / WMHT
Story: Watervliet police
For me, the most interesting story I covered this year was the Watervliet police issues. The story runs so deep and it's still evolving.
Four men in the formerly 23-person department have been affected -- two arrested and two very likely will be dismissed in the coming weeks for not reporting the sexual misconduct that former officer Joshua Spratt has been convicted on. Spratt was sentenced to six months in jail and 10 years probation which he starts to serve after the holidays. Some say the sentence was too light. Maybe. But he'll never work as a police officer again.
And these arrests and discoveries were made -- in the department and school district with one teacher arrested -- when one former Watervliet officer, Nick Pontore, was investigated for his role in the Attorney General's Young Gunnerz bust. I do wonder what would have happened had that officer not been investigated. The community might have never known that multiple people in the small department were breaking the very laws they were hired to uphold.
I've since read that the police chief plans to retire next month.
This was in a city I'd covered for over four years. I had heard rumblings of something around the time Pontore resigned in June. I was glad to have built up the contacts and sources in the city but honestly could not believe something like this was happening. All it takes is a couple bad eggs and it's really a shame. But, because of all this, it was a very interesting story to cover.
Danielle Sanzone was a reporter for the Troy Record for many years -- she recently became the social media coordinator for WMHT | @DanielleSanzone
Chelsea Diana - Albany Business Review
Story: Panama's surge is Albany's gain
One of the most interesting stories I covered this year has to be the Port of Albany's plans for expansion. It was one of those who knew moments. Who knew the widening of the Panama Canal, almost 5,000 miles away from Albany, could mean more business for the Port.
I spent an afternoon at the Port, touring the grounds, getting up close to massive wind blades and learning more about the business. I was surprised by how much of our economy relies on the Port. GE Power ships its turbines through it, rock salt to de-ice the roads and even the wood pulp used to make President Barack Obama's inauguration invitations have come by ship through the Port. It's providing those middle-skill jobs that Albany needs.
The photos from our photographer Donna Abott-Vlahos are amazing; she even got the chance to tour one of the ships coming from the Netherlands.
While the Port didn't get all of the $40 million it wanted for expansion from Gov. Cuomo's state money competition, I'll still be following up to see what's next in 2016.
Chelsea Diana is a reporter for the Albany Business Review. | @AlbBizChelsea
Katie Eastman - Time Warner Cable News
Story: The people who gathered to watch a bridge blow up
The story that I keep going back to when I think about this year wasn't particularly big or important at all- but it's the kind of story I love to tell. A bridge blew up in Schatighticoke and it brought people together. Of course, you're thinking, who cares? But when I think about visual storytelling, this was gold.
Around 8 in the morning on Friday, January 23, photojournalist Steve Kameka and I headed to Lewis' Tavern, a bar on the Hoosic River with a perfect vantage point of the old Route 40 Bridge. We headed there because a bunch of people were skipping work to drink bloody marys and mimosas. That was the story right there -- not exactly that an old bridge was being blown up, but that it could rally an entire town. People that hadn't seen each other since their last high school reunion.
As a reporter, my goal should be to find the universal theme of the story -- and this one jumped right out. People wanted to see the 5 second explosion, but more than that, they wanted to see each other.
Katie Eastman is a reporter for Time Warner Cable News. | @EastmanTWCNews
Jordan Carleo-Evangelist - Times Union
Story: The languishing of the former downtown convention center site.
Almost a year ago, the state (after a delay of about a year) finally solicited plans from the developers for the redevelopment of the 6.5 acres off Broadway that were once supposed to be home to the downtown convention center, which is now being built up the hill off Eagle Street. The deadline for proposals was somewhat mysteriously extended from March to June amid insistence from state officials that developers were interested in the site, which is widely regarded as one of the best left in the capital city. Despite that, state officials initially refused to say how many proposals were submitted and by whom. (My six-month-old FOIL request to Empire State Development for this info is still pending, by the way.) The state later acknowledged there were a couple of submissions but that neither were considered viable. Then, there was virtual radio silence on the issue for MONTHS until October when a vague reference to a mammoth plan to redevelop the site was included in the region's bid for one of Gov. Cuomo's $500 million in Upstate Revitalization Initiative money. The Cap Region didn't win $500 million, and now it's unclear what, if anything, is still in the works there. (Mike D. at the Business Review has done a lot of good reporting on this, too.)
This story is fascinating for two reasons: 1) Because what happens on that property will have a major impact on the (re)development of downtown Albany and its environs as city officials continue to try to market downtown as a place where people can live, and 2) because the secrecy surrounding the redevelopment plans so epitomizes the frustration that many local officials will privately express about their dealings with the state generally.
The state no doubt has a business interest in not negotiating land deals and development rights in public, but the effect will likely be that most Albanians will first learn the details of a hugely significant project only after they are set in stone and already in motion. The city, meanwhile, is heavily reliant on the state financial support and therefore not really in a position to demand more transparency.
Jordan Carleo-Evangelist is a reporter for the Times Union. | @JCEvangelist_TU
Haley Viccaro - Daily Gazette
Story: 1,000 smiles in Schenectady for Miles of Smiles
The biggest story I covered this year was, without a doubt, the fatal fire in March on Jay Street in Schenectady. I was going to choose that as my most interesting story, especially because news about the incident is still ongoing. But after giving it some more thought, I opted for a story that showed a different side of Schenectady.
Buzz Media Solutions hosted a Miles of Smiles event on State Street in downtown Schenectady over the summer. When I first heard about "Miles of Smiles," I thought it was a silly marketing campaign to convince people that Schenectady is a happy place. I was proven wrong when about 1,000 people turned up to participate.
Although I prefer covering crime and breaking news in a city that has an abundance of both, I unexpectedly enjoyed covering the Miles of Smiles event and couldn't stop smiling that day. People swarmed the 1.5-mile stretch of downtown and were excited to take part in something that was positive.
It showed the rarely highlighted positive side of Schenectady, with people encouraged by development and proud to live and work there. With all the negative news that a city like Schenectady bears, it's easy to forget about the good, less newsworthy things that are happening everyday. Miles of Smiles was that reminder.
Haley Viccaro is a reporter for the Daily Gazette. | @HRViccaro
Chris Churchill - Times Union
Story: Marquis Dixon
I wrote five columns this year about Marquis Dixon, the Albany High student who received a nine-year prison sentence for an alleged sneaker robbery. Given the evidence and circumstances, including Dixon's lack of a criminal record, the sentence always struck me as unduly harsh, and I was surprised by how many readers agreed. There seems to be a growing consensus, on both sides of the political aisle, that inequities in our criminal justice system need to be addressed. Would Dixon be in Coxsackie Correctional today if he were white and middle class? I haven¹t met many people who believe he would be.
Chris Churchill is a columnist for the Times Union. | @chris_churchill
____
That was 2015:
+ Favorite local foods of 2015
Say Something!
We'd really like you to take part in the conversation here at All Over Albany. But we do have a few rules here. Don't worry, they're easy. The first: be kind. The second: treat everyone else with the same respect you'd like to see in return. Cool? Great, post away. Comments are moderated so it might take a little while for your comment to show up. Thanks for being patient.