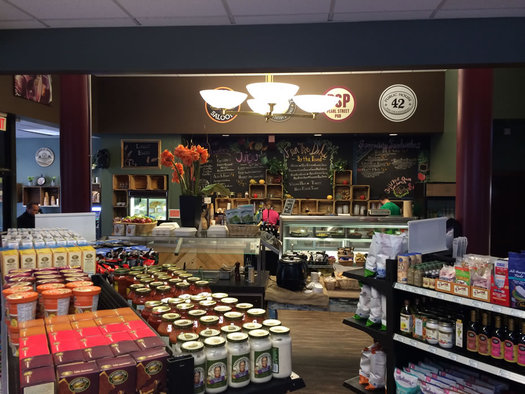 There's a new grocery store in downtown Albany. The Steuben Street Market opened at 58 North Pearl Street for the first time Wednesday, and will be open seven days a week.
The market's opening is notable because a grocery store has been a missing piece in downtown Albany's ongoing evolution into a residential neighborhood. Roughly 1,000 new residential units have been added downtown during the last few years, and residents, developers, and other business owners have all mentioned that the addition of a grocery could mark an important turning point for the neighborhood.
The Steuben Street Market -- on the ground floor of a building that was recently converted to apartments -- is something more like a small town/neighborhood market in size than supermarket (we'd say the interior is maybe a bit larger than a Stewart's). Its offerings include a range of grocery items, from produce, to baked goods, to canned goods, to stuff like cereals -- many of them organic. And there's a counter for sandwiches and other meals to go.
The market's owners are Chris Pratt and Alessio Depoli -- they own the Pearl Street Pub next door as well as The Capital American Eatery and Lounge on Pearl, Public House 42 on Eagle Street, and The Barrel Saloon in the Warehouse District. They're also in the process of buying the old Jillian's building across Pearl Street with the idea of converting it to multiple uses, including a music venue. Pratt's daughter -- Charissa Pratt -- is managing the market.
We stopped into Steuben Street Market Wednesday to have a look and talk with Pratt and Depoli about their ideas for the business and the direction of downtown Albany...
Photos
They're above in large format -- click or scroll all the way up.
Interview
When you were envisioning what sort of market you wanted to have, were there certain things you looked at as models or certain ideas in mind?
Pratt: I spend a lot of time in [New York City], so I looked at a lot of the markets down there. And my daughter and I went down there just visiting them. So that's the model we really wanted, to fashion it after kind of a hybrid of a market and a grab-and-go with prepared meals, to meet the needs of the residents down here.
Depoli: A smaller version of Whole Foods, basically. That's blowing up right now because people want to eat healthy, organic, gluten free. This is just a smaller version of that.
There's definitely that bent to the offerings in the store. They trend toward organic and all natural.
Pratt: 75 percent of what you're going find on the shelves here is going to be organic. Produce, we're going to carrying what they call the "dirty dozen," those are the 12 products that you should buy organic because the ones that are not use the most pesticides. We don't want to go too overboard. We want to welcome the people who want organic, but we don't we don't want to scare away the people who aren't into organic. Newman's is a very well known brand and that's an example of the products we've brought in. Kashi is pretty big. So those are the things we really looked for when putting it together.
Depoli: In the past 10 years I think the public has become very educated about what to eat. If you think 10-15 years back, people didn't look for organic items, the gluten-free craze wasn't there back then. So that's what I think the new markets need to move into.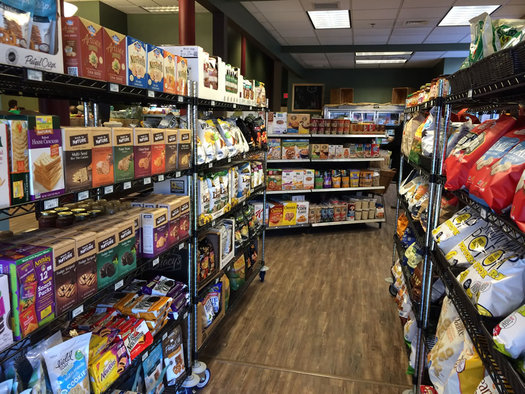 Those products also come with a higher price tag. And you guys are always going to have somewhat higher prices because you're smaller. Do you have any concerns about that?
Pratt: The business model that we're really going after -- and what we're already seeing here on our first day and it's not even eight hours -- is that the grocery items, we've definitely marked them to make a profit, but the margin is very small. Our real profit is going to come from the deli and the grab-and-go prepared meals. That's really where we're going to find our profitability.
But it is a concern. I will say this: All of our pricing is pretty much in line with Honest Weight. We really went and looked and kind of went with the same margins. Whether we can hold them and maintain them is going to [depend] on people's buying habits. The one advantage that we do have, I believe, is that because we have four other restaurants, a lot of the produce that we buy, the perishable-type items, as the date gets closer we can funnel them to the restaurants and use them up there so we can minimize our waste.
Depoli: As far as people paying more for items, I think people like to buy from small, independent businesses. I work at Lincoln Pharmacy and our items are more expensive than what you might find at a grocery store. But it's been open since 1935 and people keep coming and buying because they want to support a local business. And it comes down to the relationships that you have with those people who have been coming for 20 years, and their parents before that. Me, as a pharmacist working at Lincoln Pharmacy downtown, I've come to have a special relationship with a lot of my customers and they come to me instead of the big chain stores because they know that we'll talk about their kids, and how they're doing, and it's a more personal experience. And people will pay an extra dollar or two for a more personal experience and customer service. And I think that's what people are looking for these days.
Pratt: We're a market, if not a market place. It's not just about coming in and getting food. My daughter is going to be running it, she's getting her masters in nutrition, so there will be a nutritionist here. We met with property owners and residents here and we're going to start receiving packages for them when there's no one here during the day -- and that's good for us because then they'll have to come here to pick them up. And I was just talking with Alessio -- they do delivery [at the pharmacy] -- to be able to offer that. Even though we don't do it, it just creates some sort of synergy that is more of a community and a marketplace.
There's been a lot of change in downtown Albany over the last year or two. What's your sense of where things are going?
Depoli: It's on the upswing. Albany hit the low probably 2-3 years ago. But people are moving down there, businesses are moving down here and I see a bright future for us. I think people should start looking in a positive light on Albany. I mean, we are the capital of the state of New York -- so we should start acting like it.
Pratt: If there are doubting people out there still, this building is a great example. Omni Development is one of the property owners in the city and they wouldn't put millions of dollars into a building to build 29 apartments if they didn't know that the trend was that people wanted to move downtown.
The responsibility of the city now is to make sure that the amenities are there that they need. So we just feel this is one piece of that. A patron that was just in here -- he works for the Albany Devils -- he said now that there's a market, I will consider living downtown now, because that was a big stumbling block.
This interview has been edited and condensed.
____
Earlier on AOA: Reading through the Impact Downtown Albany playbook
Find It
Steuben Street Market
58 N. Pearl Street
Albany, NY 12207
Hi there. Comments have been closed for this item. Still have something to say? Contact us.