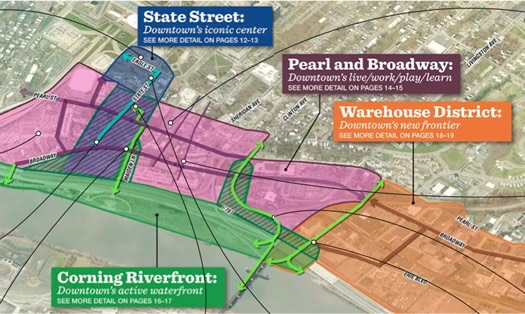 The "playbook" for the Impact Downtown Albany project is out. It's aimed to be a set of specific ideas and steps the city can take to continue the redevelopment of downtown Albany -- touching on topics such as residential and retail development, taxes, parking, pop-up events, and branding.
"Impact Downtown Albany was designed as a game changer," said Sarah Reginelli, the president of Capitalize Albany, the city's economic development arm. "It was designed as a tactical approach to downtown revitalization."
The report was produced for Capitalize Albany by a team of consultants over the last two years. Capitalize Albany released it this week so that it might help the Capital Region's bid for one of those $500 million Upstate Revitalization grants from the state.
"Downtown has wonderful assets already, downtown has a strong momentum," Reginelli told us Thursday. "Part of it is changing perceptions of downtown and understanding that this momentum has been occurring and that there is potential here for people to reach out and grab."
We read through the report. And there's approximately three tons of stuff in it. So, if this topic interests you -- go skim through it (pdf). But here are a few chunks of it that caught our eye...
Underused properties
Economic development officials have expressed frustration in the past that downtown Albany has properties that are stuck in a kind of limbo -- some vacant, others occupied far below their full potential. So the Impact Downtown Albany plan proposes trying to rouse these properties from that state.
"We have huge market potential in downtown Albany, and in Tech Valley and the Capital Region as a whole, so there is demand for these spaces," Sarah Reginelli said to us. "But often properties are either not listed on the market and are sitting underutilized and stagnant, or when properties are listed, the owner lists them at an inflated price that is unreasonable for what the market can bear."
One of the potential solutions suggested: buying these buildings, particularly underused "class B" and "class C" office space, and reselling them when developers come along willing to invest in redevelopment. The plan proposes creating a "strategic property acquisition fund" for Capitalize Albany to acquire underused properties, or to aggregate smaller properties that could be combined for larger development.
(The plan also mentions "Potential to exercise tax foreclosure or eminent domain or authority, in partnership with Albany County or the City of Albany Industrial Development Agency, to assist strategic acquisition and redevelopment of properties to serve local and regional economic development priorities.")
How to pay for that? Well, one of the potential ways mentioned is a "share of regional fees and/or taxes related to retail sales, hotel visits and/or other sources" that could help supply the fund for Capitalize Albany.
If this idea advances, it'll be interesting to see how this role for Capitalize Albany will be received.
Taxes
From the plan: "Downtown businesses endure higher costs for property taxes and parking than those in suburban locations. Absent compelling business advantages to being downtown, businesses will tend to seek lower cost alternatives." (pdf p. 14)
Taxes are a constant topic in Albany because 1) they're high and 2) large projects are always seeking tax breaks, which in turn prompt complaints about those breaks from people concerned the city is giving away too much and from small businesses that say they're left out.
"Our tax structure puts commercial development in the city of Albany at a disadvantage with its surrounding jurisdictions," Reginelli said Thursday. And so, certainly, the tax incentives offered through the industrial development agency are necessary and need to be continued. But, obviously, we don't want to rely entirely on those, and want to be able to move downtown and the city in the direction of being able to rely less and less on that particular resource."
The plan proposes a few ways to approach the tax issue that don't involve more breaks, among them leaning on the state and other institutions that currently don't pay property taxes to chip in to help cover services. And the hope is, that will help lift some of the tax burden on other properties in the city. (As you know, a large portion of Albany isn't subject to property tax because it's either owned by the state or non-profits.) The city of Albany has had some recent success in scoring payments from institutions such as SUNY Poly and Albany Med. But in both those cases, the payments were for $500k a year -- and while that's a significant chunk of money, the city has a $176 million budget.
So, yeah, taxes -- and tax breaks -- are going to continue to be a topic of discussion.
Parking
Every planning and development discussion eventually comes around to parking. Always. From the plan (pdf p.15):
Downtown parking costs are perceived by many property and business owners to be uncompetitive with the free or lower-cost parking in alternative suburban locations. While property and business owners in many downtowns accept higher parking in order to access a downtown's premium business environment, downtown Albany's locational benefits for business are not as compelling as they could be.
Among the ideas proposed: better coordination of available parking spaces in garages and lots so that spaces are made available when they wouldn't otherwise be used. And there's a nod to car sharing.
Parking demand is like a masochistic goldfish. It grows to slightly exceed any amount of space you give it.

— Albany Bagel Co. (@albanybagel) July 30, 2015
But here's an idea that we're not even sure we believe, but what the hell: Maybe parking is something to which we should all just stop paying attention. If there's compelling stuff in downtown Albany, people will go -- and the parking will sort itself out eventually as people adapt (they might even -- gasp! -- take the bus) and capacity grows to meet strong demand.
Or it won't. It's just that for all the things to get stuck on, parking seems like something that can be sorted.
Housing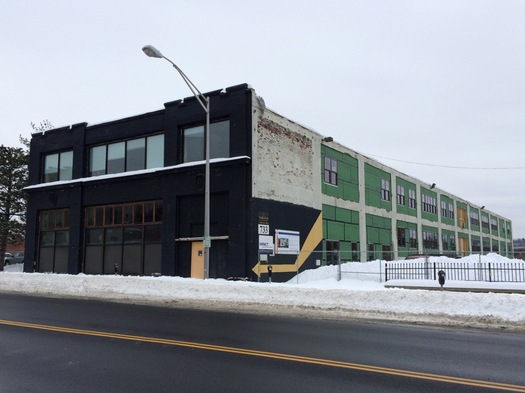 733 Broadway is one of the buildings being flipped to residential. This pic from this past February.
One of the bright spots for downtown Albany in recent years has been a small boom in residential development, as some 900 units of new residential have been added in redeveloped spaces, with another 300 units in the pipeline. And the new units are renting out, often with waiting lists.
An important aspect of the residential boomlet is that for a lot of the space downtown housing is probably its best use. From the report, which notes that 60 percent of Class C office space downtown was vacant in 2014: "Much Class C space, which tends to occupy older office buildings with small floorplates and other characteristics unsuitable for current office preferences, offers good potential for conversion to loft housing." (pdf p. 76)
Those spaces are probably never going to be offices again. So residential puts them to use. And adding people to downtown -- residents, especially -- should have all sort of beneficial spillover effects for the growth of retail and other development.
Much of the new residential development in downtown Albay has been toward the higher end of the market. So one of the things to watch going forward will be whether that mix can be diversified so it's available to a wider range of incomes.
"Catalyst" sites
The plan identifies a bunch of specific "catalyst initiative sites" around downtown, with details about what it might take to flip them to a different use (pdf p. 78) You'll probably find the discussion about these sites and buildings interesting.
Also: Similarly, the report includes reinvestment priorities for four districts downtown: State Street, the riverfront, Pearl/Broadway, and the Warehouse District (pdf p. 47) -- you'll also probably find those interesting.
One more bit
This isn't a major part of the report -- and, really, it seems like a longshot -- but we thought it was interesting: A park built on one of the exits from I-787:
"Clinton Square-Corning Riverfront Park "high-line" connection--the northbound exit from I-787 to Clinton Avenue is relatively lightly used, redun- dant to other exits, and could offer much more to Albany as a landscaped multi-use path to Corning River-front Park. The ramp could serve as a promenade, bike route and linear landscape making a valuable connection to the park, dramatically increasing its accessibility from Arbor Hill and downtown." (pdf p. 65)
Earlier
+ Impact Downtown Albany's vision of what the city's downtown could be
+ Thinking about residential development in downtown Albany
+ About retail in downtown Albany, and other local downtowns
+ Impact Downtown Albany
+ Six short takeaways from six short talks
+ Pop. Pop. Pop. Shop.
+ What "they" say about here
Hi there. Comments have been closed for this item. Still have something to say? Contact us.