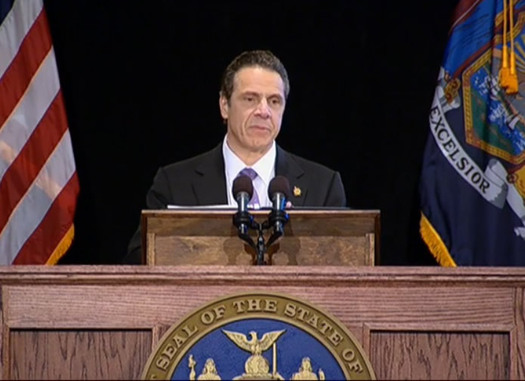 Andrew Cuomo delivered his combined State of the State/state budget presentation Wednesday.
There's always a lot stuff packed in there. And this year was no different -- the presentation was 1.5 hours long, and the briefing book has more than 500 pages. But it's an important thing to know at least a little bit because it points toward some of the big issues coming up before state government this year.
So, here's a quick scan of a few highlights...
This isn't comprehensive, obviously. Other outlets have much more thorough (better) coverage, including TU Capitol Confidential, Politico NY, and State of Politics.
And it's also worth nothing that these are Cuomo admin proposals -- much of this either won't make it all the way through the state budget process, or will do so only after being significantly changed.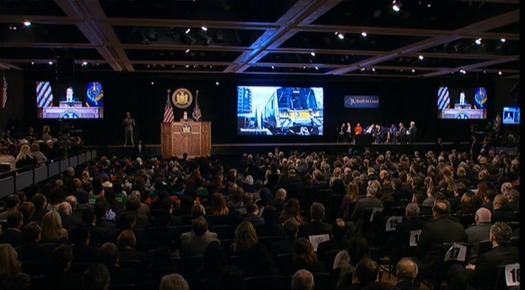 Local governments
One of the first things Cuomo talked about was property taxes and the finances of local governments. That's always a popular topic, but it's an especially important topic in the Capital Region right now given the current state of Albany (its budget hopes for $12.5 million from the state) and Troy (years of messed-up budgets, according to that leaked draft report). [TU+]
"The property tax is the killer tax in this state," Cuomo said, touting the property tax cap and the rebate programs. He went on to assail what he described as the "waste" and "inefficiency" of the state's many local municipalities, and he's proposing a municipal consolidation and efficiency competition with a $20 million prize (which is very Cuomo).
"Local governments must be sustainable from a financial point of view," said the governor.
After Cuomo's presentation, the state budget director said the $12.5 million Albany mayor Kathy Sheehan had been planning to get from the state for the city's budget is not in the Cuomo admin's proposed state budget. That doesn't necessarily mean it's off the table -- but there could be some drama. [@matt_hamilton10] [TU]
Schools
Adjacent to the local government/property tax situation is school funding, because school taxes are a big chunk of property taxes. Cuomo is proposing to increase state funding for public schools by almost $1 billion this year (about 4 percent), and about another $1.1 billion next year. (Education funding advocates say the increase still falls short.)
He's also proposing $100 million for school tagged as persistently failing by the state to become "community schools" that would provide a range of social services to students suffering from the effects of poverty. And he argued that the program, and others like it, would help set up kids on paths that would keep them out trouble later in life.
Big infrastructure projects
Cuomo's been on tour lately hyping a long list of proposed infrastructure projects -- including the redevelopment of Penn Station. And he mentioned those again Wednesday (he even invoked Nelson Rockefeller). One of the big questions to keep an eye on is how all these projects -- with an estimated cost of $100 billion -- will be paid for.
As part of the infrastructure plans, the governor is also proposing spending $22 billion for fixing roads and bridges upstate. And there's also a plan to freeze Thruway tolls and offer a range of rebates. That's all fine and good -- no doubt there are many roads and bridges that could probably use the attention (and again, where does the money come from).
But one thing that struck us was the lack of a mention of building out transportation stuff other than roads and bridges (and airports also, to some extent) upstate. And this was after Cuomo touted how important mass transit is downstate. Sure, upstate is a lot less dense -- but a lot of people ride trains here, too (Albany-Rensselaer is one of Amtrak's busiest stations). And the expansion of of project like BusPlus could potentially pay all sorts of dividends. Just something to keep in mind.
Minimum wage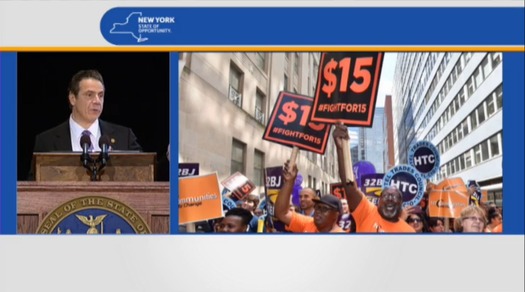 This is another issue Cuomo has already made clear where he stands, and he used Wednesday's presentation to push for raising the state's minimum wage to $15 per hour. The governor framed not just as a matter of trying to help low-wage workers -- "There is an unhealthy income inequality gap that is growing" -- but also as a way of ending a form of what he called "corporate welfare." He said the state spends $700 million a year on programs subsidizing employees of McDonald's and Burger King.
A lot of < ahref="http://www.bcnys.org/whatsnew/2016/011316-state-of-the-state-and-budget-address.html">business groups are lining up to push back against an increase of this size. And it will be interesting to see if Cuomo can maneuver it through the state legislature, especially the state Senate.
Another angle: Will there an upstate/downstate divide? Given the higher median wages and cost of living downstate, arguing for a raise to $15 (or something close to it) could be easier than upstate, where a $15 minimum wage would be a big jump relative to other wages.
Paid family leave
One of the big reveals in Cuomo's presentation was proposed program that would allow 12 weeks of paid family leave. This could be a huge thing -- many people, even with relatively good jobs (example: state employees) -- get little or no paid family leave after having a baby, or in the case of needing to care for an ailing family member. It'll be interesting to see the details of how this theoretically would work.
Update: There's a rundown of some of the details about the plan. [Biz Review]
The way Andrew Cuomo talked about this issue was also notable, using his own experience with his dying father as an example. Cuomo is many things as a politician -- formidable, strategic, tenacious -- but he doesn't usually read as warm and likable. That wasn't the case here, though. He came across as very human -- humbled even.
"At the end of the day family matters, intimite relationships matter. ... We should be there, one for another."
Cuomo had a similar tone when talking Sandra Lee's experience with breast cancer, and his proposal for funding to expand access to cancer screening.
Some quick overall numbers
The Cuomo admin's proposed overall budget is $145.3 billion, an increase of 1.2 percent from the year before. Of that, $95.9 billion is state operating fund -- an increase of 1.7 percent.
Briefing book
Here's the Cuomo admin's briefing book for the proposed budget:
2016 State of the State Briefing Book
____
screengrabs from Cuomo admin livestream
Hi there. Comments have been closed for this item. Still have something to say? Contact us.