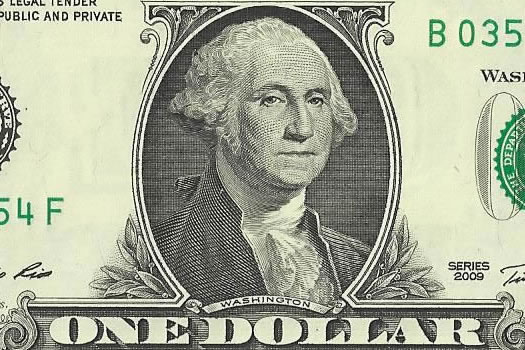 When Andrew Cuomo recently proposed raising the state's minimum wage for all industries to $15, it created a big stir -- in large part because that's a big jump from the state's current minimum wage of $8.75 (soon to be $9). And it highlights the question: What is the "right" minimum wage?
Here's one way of thinking about that question for different parts of New York State...
Some quick background
Our thinking about this topic was framed by a proposal floated last year by an economist at UMass-Amherst, Arindrajit Dube: That the minimum wage should be roughly half the median wage, and that it should be adjusted for differences in prices across the country. Why half the median wage? A clip:
This target has important historical precedence in the United States: in the 1960s, this ratio was 51 percent, reaching a high of 55 percent in 1968. Averaged over the 1960-1979 period, the ratio stood at 48 percent. Approximately half the median full-time wage is also the norm among all OECD countries with a statutory minimum wage. For OECD countries, on average, the minimum wage in 2012 (using the latest data available) was equal to 49 percent of the median wage; averaged over the entire sample between 1960 and 2012, the minimum stood at 48 percent of the median (OECD 2013). In contrast, the U.S. minimum wage now stands at 38 percent of the median wage, the third-lowest among OECD countries after Estonia and the Czech Republic.
Boiled down a lot, Dube is arguing that half the median wage is a good target, based both on history here in the US and what other countries that are economically similar to the US do. (Here's a discussion of Dube's proposal in the NYT's Upshot.)
This proposal seems like a reasonable idea, and we figured the concept would help provide some context for the $15-an-hour proposal.
Grains of salt
OK, here's the thing, though: This is a very crude look at the topic. Like, it's basically a spreadsheet scratched on the back of an envelope. Among its deficiencies, it doesn't take into account differences in the cost of living across different areas of the state (which can be big). This is, at best, a way to get a vague sense of the numbers involved.
The wage numbers from the May 2014 State Occupational Employment and Wage Estimates for New York, which are published by the federal Bureau of Labor Statistics. Start with different sets of wage numbers and you'll end up in a different place.
Numbers
First up: Median hourly wages by region -- and half median wages -- compared to the current state minimum wage, which is $8.75 (and is set to increase to $9 at the end of this year).
Based on this set of numbers, New York State's current minimum wage is 45 percent of its median hourly wage. So it's below the half-median target (.5). And that's especially true in high-wage places such as the New York City area, Long Island, and Ithaca. But it's over the target in places like Glens Falls.
And if the minimum wage rises to $15 per hour by 2021, as Andrew Cuomo has proposed?
How do we know what the median wage will be in 2021? We don't. So we guessed. The projected wage numbers above are based on the median hourly wage for each region increasing by 2 percent each year between 2014 and 2021. (Change the rate one way or the other, you'll end up with differences, of course. Again, this is crude.)
So, based on this guess, the $15-per-hour minimum wage would put New York State above the half-median wage target, less in high-wage areas, much more so in low-wage areas.
Let's discuss
Regional differences
As noted multiple times above, this is a crude look that's based on some guesses. So drawing specific conclusions isn't wise. But very generally, we think this look highlights the challenge of setting a minimum wage for New York State because of the differences in wages across different regions of the state. What might be the "right" minimum wage for the New York City will almost certainly not be the "right" minimum wage for other parts of state, especially some of the rural areas upstate. Andrew Cuomo's proposal to increase the minimum wage more slowly outside of New York City is a nod to this reality -- but still... $15 an hour just isn't going to have the same effects in NYC as it is in Glens Falls.
(And as it happens, at the beginning of this year the governor had floated a plan for an $11.50-per-hour minimum wage in New York City and $10.50 per hour elsewhere.)
Too much or not enough?
There are going to be people who say that $15 an hour is just too much a jump -- even among people who are sympathetic to raising the minimum wage. And there's reason to skeptical of such a leap because there isn't much evidence about what happens when there's such a dramatic change. It's not unbelievable that some businesses would close and there could be job losses.
There will also be people who say even $15 an hour might not be enough. We recently pointed to that family budget calculator from the Economic Policy Institute that figured a person in the Albany metro area would have to earn $31,547 a year to have a "secure yet modest standard of living." (And as some people pointed out in the comments, the calculator didn't include a line for savings.) A minimum wage of $15 today would just put a person in that range for the Albany area. It wouldn't be enough for New York City. Nor would it likely be enough here by 2021.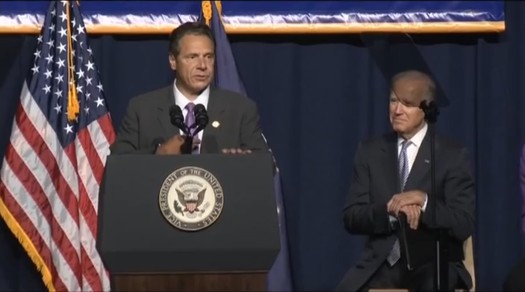 Cuomo announced the push during an event in New York City with Joe Biden last week. / screengrab: Cuomo admin livestream
The politics
Who knows what political game Andrew Cuomo is playing with the proposed minimum wage increase. (He's always playing some sort of strategy, right?) The fast food wage board-initiated increase to $15 an hour was pretty clearly a strategy to get around the state legislature -- especially the Republican-controlled state Senate. Maybe the fast food wage, along with this latest proposal, is a tactic to get the Senate to cave for some sort of increase.
For the rest of us, it would be enlightening if the governor would share the thinking behind the proposed $15 an hour rate. Maybe he was persuaded by the "Fight for 15" rallies. Maybe his administration has numbers pointing to this being some sort of ideal target for the state, or there's a certain number of workers they want to try to help lift out of poverty. Whatever the thinking, it'd be good to see some of the work that led to this proposed answer.
More about the minimum wage on AOA:
+ Cuomo: Raise New York State's minimum wage to $15 an hour for all industries
+ How much does it cost to have "a secure yet modest standard of living"?
+ New York State set to raise fast food minimum wage to $15 per hour
Hi there. Comments have been closed for this item. Still have something to say? Contact us.