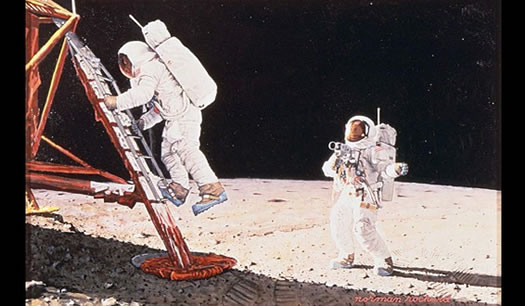 If you're looking for a prompt for a quick trip: The Hyde Collection in Glens Falls opens new exhibit this weekend -- Norman Rockwell in the 1960s. Blurbage:
In the 1960s, leaving behind the beloved storytelling scenes that appeared on the covers and pages of the nation's prominent periodicals, Rockwell threw himself into a new genre--the documentation of deeply felt social issues.
In 1963, after ending his 47 year association with The Saturday Evening Post, Rockwell began work for the reportorial magazine Look with a true sense of purpose. He invited consideration of important social issues including the Space Race, depicting the moon landing before and after it actually happened. His 1964 painting, The Problem We All Live With, gently presents an assertion on moral decency. This first assignment for Look magazine was an illustration of a six-year-old African-American schoolgirl being escorted by four U.S. marshals to her first day at an all-white school in New Orleans. In 1965, Rockwell illustrated the murder of civil rights workers in Philadelphia, Mississippi, and in 1967, he chose children, once again, to illustrate desegregation, this time in the nation's suburbs.
The exhibit includes 21 illustrations and magazine covers created by Rockwell during the decade. It'll be on display through April 3.
You can definitely make a day of trip to Glens Falls and the Hyde Collection. And here are some ideas on where to eat.
Speaking of Norman Rockwell...
As you might know already, the Norman Rockwell Museum is just over the Massachusetts border in Stockbridge. (Rockwell lived in Stockbridge.) It's open year round, seven days a week.
And Rockwell used Troy as inspiration for a handful of his illustrations.Two of them sold at auction a few years back -- "Saying Grace" for $46 million, and "Walking to Church" for $3.25 million.