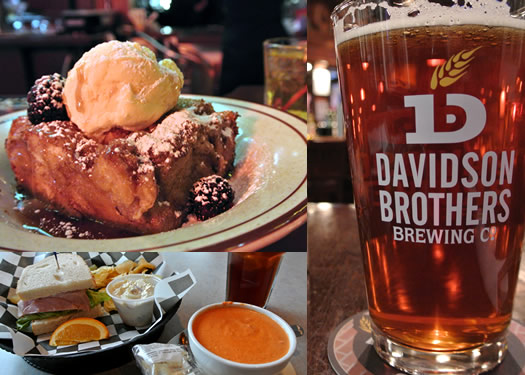 By Deanna Fox
Glens Falls seems to be going through a bit of a culinary renaissance, with many new eateries staking out a spot in the last few years. Chefs with regional ties have come back to assert their influence on the dining scene, and longtime favorites continue to flourish with a revitalization of the downtown area.
And with much to be done between meals -- both in town and farther afield in the nearby Adirondacks -- there's no doubt you could spend a full day in and around Glens Falls.
Much like my day in Hudson last summer, I set out to eat on a $5-$10-$15-$20 budget for the day. I would find a meal at each price point, the criteria being it had to be 1) delicious and 2) an adequate serving for the price.
Here's the breakdown:
$5: Breakfast at Spot Coffee
$10: Lunch at Gourmet Café
$15: Dessert and a drink at Morgan and Co
$20: Dinner at Davidson Brothers Brewing Company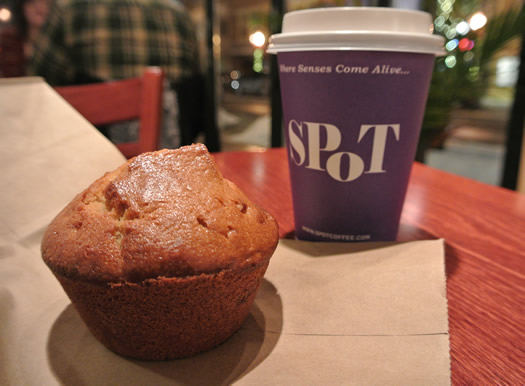 Breakfast: Spot Coffee
221 Glen Street
Glens Falls, NY 12801
(518) 223-0192
With a full day of activity and eating ahead of me, I knew I wanted to start the day light. Besides, the thought of skiing or hiking on a full stomach never appealed much to me. A little nosh was all I needed, and Spot Coffee, well, hit the spot.
A case full of treats like s'mores bars, croissant, and scones offered plenty of options for a light nibble in the day's first hours. I opted for a banana nut muffin that was airy enough not to weigh me down, but still substantial enough to feel as though I ate something, and a cup of house blend coffee ($3.99).
Spot Coffee is a small chain of shops that operates out of Western New York (there's a location in downtown Saratoga Springs, as well). It has the charm of an independent coffeehouse with the predictable consistency of a chain when it comes to coffee and other drinks. Spot also has live music some weekend evenings.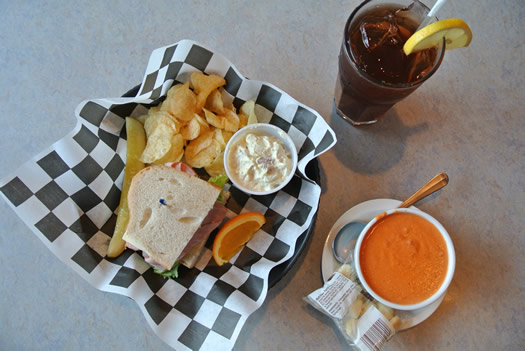 Lunch: Gourmet Cafe
185 Glen Street
Glens Falls, NY 12801
(518) 761-0864
Don't let the somewhat confusing service and dated design fool you -- Gourmet Cafe is definitely worth a stop if you are in Glens Falls. For lunch I opted for a a winter classic: soup and a sandwich. More specifically, a cup of housemade tomato bisque (with a rich, creamy texture and a few bits of vegetable chunks strewn throughout) and half of a ham and cheese sandwich ($10). The soup was delightful, as was the sandwich, which featured hearty "rustic" Italian bread, a generous-but-not-obscene portion of thin-sliced ham, American cheese, lettuce, tomato, and mayonnaise. A side of potato chips, pickle spear, and potato salad (made with a generous helping of zingy brown mustard) rounded out the meal.
For ten bucks, one really couldn't ask for a better lunch. It was honestly too much for me to eat in one sitting. Gourmet Café definitely had that diamond-in-the-rough vibe going for it, to the benefit of those who choose to stop there. Big picture windows looking over downtown Glens Falls make it perfect for midday people watching.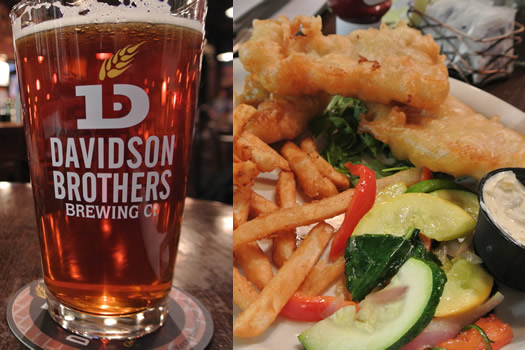 Dinner: Davidson Brothers Brewing Company
184 Glen Street
Glens Falls, NY 12801
(518) 743-9026
I was still feeling full from lunch, but I knew no stop in Glens Falls would be complete without a visit to one of the town's breweries and brewpubs. Besides Davidson Brothers, Glens Falls is also home to Common Roots Brewing Company, Coopers Cave Ale Company, and Mean Max Brew Works.
Davidson Brothers Brewing Company is perhaps the best known of the town's suds shops, and it has plenty of seating, so grabbing dinner on a busy Saturday night wasn't a problem. The restaurant offers tavern/pub food, plenty of hearty beer, and deep wood paneling -- it feels like the Adirondacks. There's also a small brewhouse that gives patrons a chance to peer into the brewing process.
I went with a classic pub offering -- fish and chips ($21). The fish was beer-battered but understated in its seasoning. The tartar sauce served with it, however, was aggressively acidic and a little went a long way. Individually, these two items were just OK, but together, they were a perfect complement. The fish itself was fresh and flakey, and the dinner entrée came with a choice of soup or salad (I went with the house salad, served with an IPA vinaigrette). The vegetables that came alongside the main course seemed paltry and like an afterthought, but the fish and French fries were enough to please.
I chose the English Double ESB for my beer, with bittersweet, buttery flavor notes that paired nicely with the fish. At 7.7% ABV, it's no joke of a beer. One will probably serve you well. Especially if you plan on drinking at dessert (as I'm known to do, and did).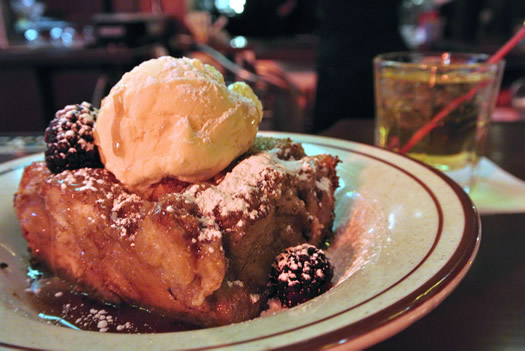 Dessert: Morgan and Co.
65 Ridge Street
Glens Falls, NY 12801
(518) 409-8060
If the wait times and steady stream of patrons is any indication, Morgan and Co is the latest darling of the Glens Falls dining scene. With a chef/owner hailing from Boston (returning to be closer to family), there is definitely a bit of a cosmopolitan vibe happening at this mansion-turned-eatery.
Ridge Street is an easy walk from the main hub of Glen Street, but Morgan and Co features plenty of parking if needed. If a sit-down meal is what you're after, definitely call ahead and make a reservation. Chances are good you'll be waiting a bit for a seat at the bar, as well (I waited at least 15 minutes).
This winter has been brutal with sub-zero temperatures on the regular, and the weather on my visit to Glens Falls was no different. I needed something that was bound to warm me from the inside out - and few things will do that like whiskey. Or more specifically, Scotch. I opted for Dewars on the rocks ($9), but the whiskey list is extensive with many nice finds (the same is true across the wine and liquor menu).
To sop up the booze, what could be better than bread, preferably in the form of a pudding. It's no secret I'm rather fond of bread pudding, and Morgan and Co's version with maple syrup and vanilla ice cream sounded perfect. It was, except for one caveat: I desperately needed a partner to polish it off. I'm convinced I must have a hollow leg, based simply on the volume of food I'm able to put down the gullet myself, but this serving of bread pudding I received was so big, it was clear it was made for sharing.
And for $6 (which is the price point for the rotating menu of housemade desserts), that's a fantastic bargain. Morgan and Co also does a bang-up brunch on Sundays, and has a well-priced and inventive menu. It alone is worth the drive to Glens Falls.
Other budget eating ideas in Glens Falls
Rock Hill Bakehouse
19 Exchange Street
Glens Falls, NY 12801
(518) 615-0777
Item of note: Any of the chef's whim sandwich specials ($11.95)
Raul's Mexican Grill
162 Glen Street
Glens Falls, NY 12801
(518) 761-1180
Item of note: Oaxacan tacos with beans and rice ($10.50)
Rare Earth Wine Bar
164 Glen Street
Glens Falls, NY 12801
(518) 409-8055
Item of note: Buttery, garlic-laced escargot (add a wine flight!) ($15)
Poopie di Manno's
54 Lawrence Street
Glens Falls, NY 12801
(518) 792-6155
Item of note: "World famous" half-pound Poopie burger ($6)
Deanna Fox writes about many things, mostly about food. More can be found on her website, Twitter, or Instagram.
Earlier on AOA:
+ Day trip: Glens Falls
+ Eating in Hudson: 5-10-15-20
Hi there. Comments have been closed for this item. Still have something to say? Contact us.