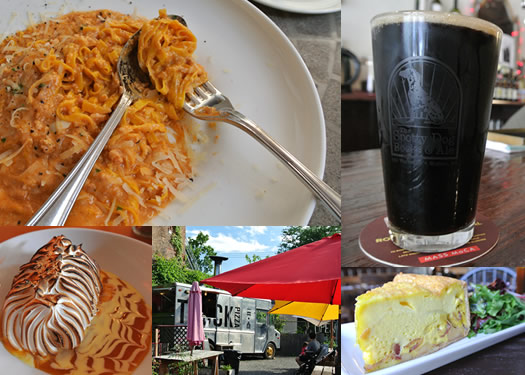 By Deanna Fox
AOA's summer tour is headed to Hudson this weekend, so we thought it'd be fun to have Hudson Week on AOA. Each day we'll be featuring posts about things to do, see, and sample in this city on the river.

For being only a thirty minute drive from Albany, Hudson feels like another world, especially in the gastronomical sense. A distinctive West Village vibe permeates the eateries and food shops that dot either side of Warren Street, to the point that even the staff seems as though they probably arrived at work from a two bedroom overpriced apartment that seven unrelated people live in.
Thankfully, the prices in the Hudson dining scene haven't yet reached skyscraper heights. On a recent trip I challenged myself to eat on a $5-$10-$15-$20 budget for the day. I would find a meal at each price point.
The criteria were that the food had to be 1) delicious and 2) an adequate serving for the price. With joints like Fish and Game and Crimson Sparrow - both run by top NYC chefs who moved up the Hudson - I was worried I wouldn't be able to find anything beyond quick grab-and-go options (a tasting menu at Fish and Game is $75. Add wine pairings and it's another $75).

I couldn't have been more wrong.

Here's the breakdown:

$5: Elysian Brewing Company Perseus American Porter, Spotty Dog Ale and Books
$10: Quiche Lorraine with mesclun salad, Café Le Perche
$15: Baked Alaska and cappuccino, Swoon Kitchenbar
$20: Trenette al Fumo (pasta with pancetta and vodka sauce), Ca'Mea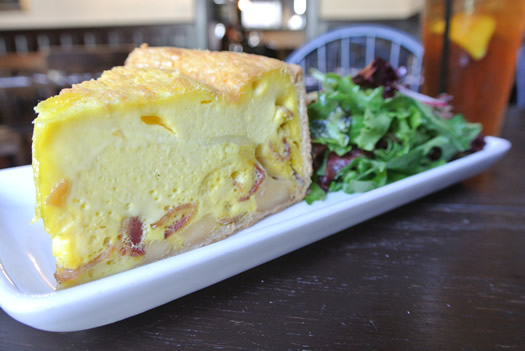 Café Le Perche Boulangerie - Bar - Patisserie
230 Warren Street
Hudson, NY 12534
(518) 822-1850

I started off my eating day at Café Le Perche, based on the recommendation of many local eaters who have had favorable experiences there. The bright façade of yellow and green lead to a more subdued interior. The front of the restaurant is a bakery filled with chocolate croissant and perfectly crusty loaves of bread. Beyond that is a small dining room adorned with colonial-inspired furnishings and historic colors. A lush patio in the back is a study in worn brick, wrought iron, and ivy that feels like a piece of New Orleans' French Quarter in the middle of Hudson.

There are plenty of brunch-ish options at Café Le Perche, but I opted for the quiche Lorraine, which came with a mesclun salad and clocked in at $10.50 before tax and tip. What I was expecting was three-fingers worth of baked eggs with a few specks of meat and cheese. What I got was a pillowy, sumptuous custard encased within a golden, flakey crust. Thick, smoked slab bacon was copiously paired with gruyere cheese to create a filling start to the day. A lightly dressed mesclun salad helped to cut the richness of the quiche.

Go a little higher in price (say, $15) and you could try Café Le Perche for lunch or even dinner. Cheese plates, bistro-style burgers, beet salad, and prosciutto tartine (which I will definitely try on my next visit) all fit within the $10-15 range.

After such a satisfactory start, I knew I wouldn't need to eat again for a while. After a bit of walking, shopping, and exploring, I was needing something. Time to see what I could get for $5.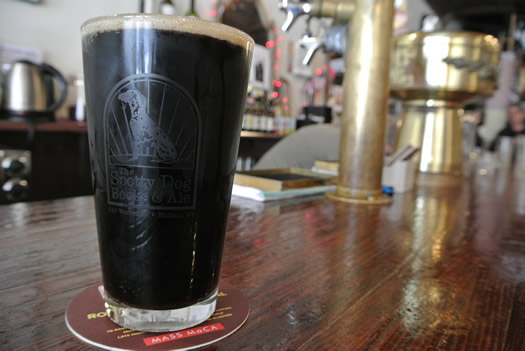 Spotty Dog Ale and Books
440 Warren Street
Hudson, NY 12534
(518) 671-6006

Ah, beer. Knowing that my budget wasn't going to allow for alcohol consumption with meals, I figured a midday tipple would tide me over until dinner. My pal Scott recommended I check out Spotty Dog when I was looking for eating recommendations. This is a time when it's good to have friends that know you well. A bar (with some great craft selections) in the middle of the bookstore sounds like the perfect Saturday night to me. (Sidenote: Remind me to try a more adventurous social life.)
The book selection is small but interesting, and the draught list will please even the most discerning drinkers. Pints are $4, a 12-ounce mug is $3, and a tasting flight (four 5-ounce pours) is $8. I went with a pint of Elysian Brewing Company's Perseus American Porter, a new-to-me brew out Seattle, though there are also a few local brews to choose from (the building itself is the former CH Evans Fire Company location - yes, that CH Evans).

Beer not for you? Five-dollar glasses of wine are also available (including Domaine Antugnac 2012 Chardonnay from France, which I particularly like). You can also nosh on beef or veggie empanadas ($5), a hummus or dip plate ($3.50-$4.50) or Trixie's homemade cookies ($1.35-$1.75).

It's a good thing I don't live closer. With a deck of Trivial Pursuit quiz cards on the end of the bar, and sublime tunes from bands like She and Him over the stereo, I'd become as much a fixture in Spotty Dog as the historic coffered ceiling.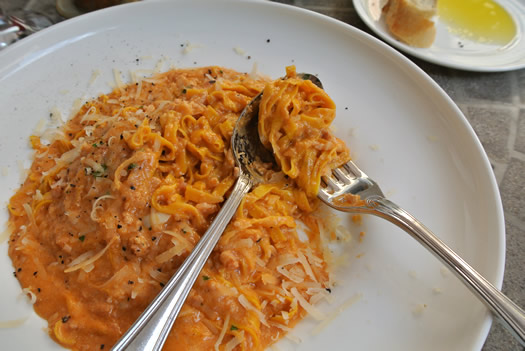 Ca'Mea
333 Warren Street
Hudson, NY 12534
(518) 822-0005

Before long I was ready for dinner, the meal that I knew would be my biggest challenge. Originally I had planned to try a pasta Bolognese at Swoon Kitchenbar ($19), but was persuaded to take a look at Ca'Mea. The menu wasn't as pricey as I thought it might be, but still trying to find a well-rounded dinner option for under $20 was a challenge.

Still craving pasta, I opted for the Tranette al Fumo (don't be an idiot like me, pronounce it correctly: Trah-nuh-TAYE), a handmade thin pasta (like fettuccine, but smaller) dressed with a spicy pink vodka sauce with smoked pancetta and rosemary ($19). A generous portion of house-baked bread, paired with a mild, fruity olive oil, was a nice prelude to the entrée. At first blush, the serving seems small (especially for nineteen smackers -- I would have priced it more along the $16 range), but the smoky, rich pasta dish (which my waiter, David, topped with fresh grated Parmesan and black pepper) stuck to my ribs and was portioned to be satisfying but not overly-filling. Many of the other entrées that passed by looked intriguing, but were at least $5 over budget.

A better plan might have been to eat a bigger lunch, smaller dinner. Either way, I was sure to leave room for dessert, the best part of the day.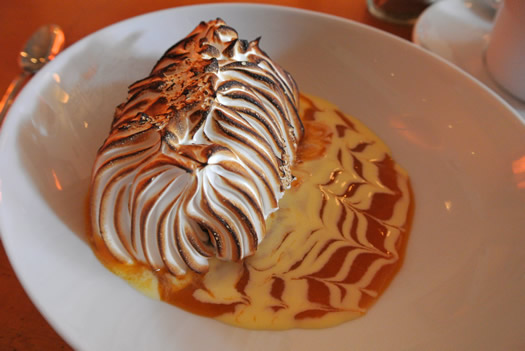 Swoon Kitchenbar
340 Warren Street
Hudson, NY 12534
(518) 822-8938

Swoon Kitchenbar felt completely indicative of Manhattan; the hexagon-tiled floor, the silver tin ceiling, the beautiful waitstaff dressed in blue jeans and Oxford button-downs... Swoon feels almost like a spread in pages of The New York Times travel section encouraging people to go Upstate for a weekend.

Thankfully the food outshines the twee setting.

I sat at the bar for my dessert. The staff was all very congenial, but no one as much as my bartender that night. He looked plucked fresh off the Pep Boys logo with the dry wit of Carla Tortelli from Cheers, though far more ebullient. Listening to him greet each guest at the bar and mix their preferred drink before the order even left their lips was as good as any dinner entertainment ever was.

The menu at Swoon changes frequently to accommodate the bounty of local produce and value-added items, like cheese, though all dessert offerings cost $8.95. I ordered the Baked Alaska, which the bartender told me was really enough to serve four people. I took it as a challenge.
At first I was skeptical of the combination of Guinness ice cream and lemon crème Anglaise, but the pairing was expertly crafted. The heat-blistered meringue on the outside of the frozen treat was like a cloud of marshmallow delight, and I never wanted it to end.

I ordered a cappuccino that was softball-sized to go with my meal. It was creamy, smooth, and sweetly bitter (as good espresso should be), but a little tepid for my taste. As much as I enjoyed the pasta at Ca'Mea, I wished I had saved my $20 and ordered a glass of scotch and a cheese plate ($13.95) at Swoon instead (especially if I had a dining companion with me).

The bartender wasn't kidding about the serving size of the Baked Alaska. Though I plowed through it like a champ, I literally was not able to eat for another 24 hours. My belly just ached in a pulled muscle kind of way. I considered pulling off on a bucolic side road for a short siesta after my gastronomical adventure, but perhaps next time I want to delight in the diverse, eclectic food scene without leaving the 518, I'll do as many urbanites do an book a room for the night in Hudson.

Other Budget Eating Ideas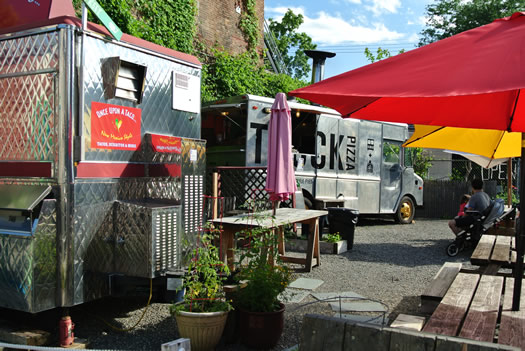 Red Dot Restaurant and Bar
321 Warren Street
Hudson, NY 12534
(518) 828-3657
Item of note: Cheeseburger with Gruyere and Frites ($13)

Grazin' Diner
717 Warren Street
Hudson, NY 12534
(518) 822-9323
Item of note: Breakfast sandwich with local and organic ingredients, served with fries ($7.95)

Da Ba
225 Warren Street
Hudson, NY 12534
(518) 249-4631
Item of note: BLT on potato bread ($5) or whipped brie with blueberry ginger marmalade ($8)

Olde Hudson Grocery
421 Warren Street
Hudson, NY 12534
(518) 828-6923
Item of note: A smattering of local cheese, meats, and accouterments for noshing on the train ride or drive home. Hudson is dotted with plenty of small parks to sit and enjoy a slap-dash picnic and gaze over the Hudson Valley.

Truck Pizza
347 Warren Street
Hudson, NY 12534
(518)400-0328
Item of note: Individual "Nutty" Pizza (baby spinach, roasted walnuts, nutmeg, truffle oil, and mascarpone cheese) ($7) and a Nutella calzone ($3)

Deanna Fox writes about many things, mostly about food. More can be found on her website, Twitter, or Instagram.
More Hudson Week:
+ Shopping Hudson with Jess and Kaitlin
Olde Hudson is a sponsor of Hudson Week.
Hi there. Comments have been closed for this item. Still have something to say? Contact us.