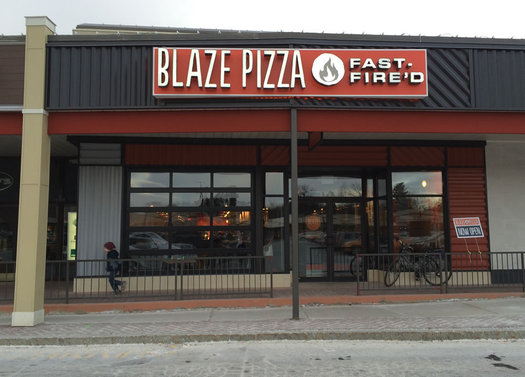 Blaze Pizza -- a fast-casual pizza chain -- opened last Friday in Stuyvesant Plaza. It's the second location in the Capital Region -- the first opened at Mohawk Commons in Niskayuna last fall.
The Blaze concept is sort of like Chipotle, but for pizza -- you walk in, go through the line telling them what you'd like on your pizza, and then the pizza goes into an oven for a few minutes. They call your name, you take the pizza to your table and eat. It's about $8 for a pizza that can feed 1-2 people depending on how hungry you are/whether you also get a salad.
We're always looking for an excuse to 1) eat pizza and 2) meet up with the Tournament of Pizza crew. So we got the band back together and went to taste some pizza.

The pizzas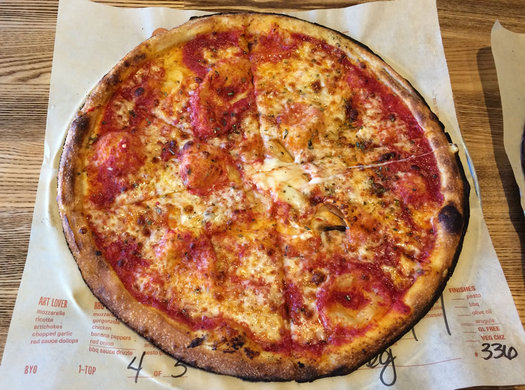 This was a "simple pie" that we ordered to see what the difference is if you ask for the pizza "well done." It was a little bit bit more charred and bubbly. The simple pizza is just cheese and sauce -- it's $5.
So, as mentioned above, you can get a pizza with whatever you want from the array of toppings on the line. (Blaze also offers gluten-free crust and a vegan cheese.) Because this was a our first visit we decided to just go with some of the pre-selected "signature" pizza offerings.
Meat Eater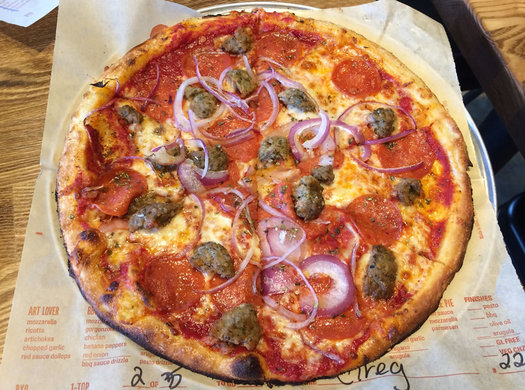 Menu description: pepperoni, crumbled meatballs, red onion, mozzarella, red sauce
Crust: Tasters noted the crust had some good char on the end and bottom. And it held up well to the toppings (though was maybe a bit doughier than the other pizzas). But the tasters would have liked to have seen more lift in the end crust and more flavor.
One thing that's a little different about Blaze is that it uses a press -- it kind of looks like the presses some restaurants use to warm up tortillas -- to flatten and shape the dough for the crust. One taster thought that the press seemed to give the crust a weird texture.
Sauce: One taster described it as a "minor character" in this pizza. Another found it too acidic, but not very flavorful. And another noted it did have some good tomato flavor.
Toppings: One taster praised the even distribution of the toppings. Another called the meatballs "tender and a bit spicy." And one really liked the pepperoni -- "It doesn't wimp out." Though another thought it was a bit too salty, and another person wanted it crispy. The cheese got OK marks. And one taster praised the inclusion of the onions as a "nice touch."
Overall taste: A taster called this pizza "spicy, meaty, and full flavored." And another commented it had some good flavor, even if it wasn't necessarily too exciting.
Would you order this again?
Albany Jane: "Yeah, sure. Good flavors. Satisfying. And good quantity distribution [of toppings]."
Daniel B: "Probably not because of the weaker pepperoni. But I might get a spicy meatball variant."
Deanna: "Yeah, if I was with a group, looking for a good crowd pleaser."
Jon: "I'd skip this combo in the future."
Link In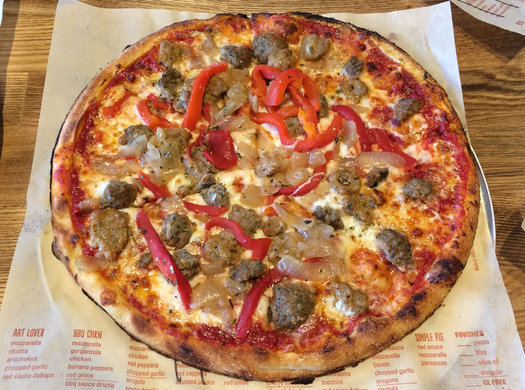 Menu description: Italian sausage, roasted red peppers, sauteed onions, mozzarella, red sauce
Crust: Again, tasters commented that the dough didn't have much flavor, even though it did have some good char in places. One called it a "not-unpleasant vessel for sauce and toppings."
Sauce: This pizza seemed to have gotten a bit more sauce than the Meat Eater, which was OK with the tasters. But on the whole, again, they were sort of middle-whelmed by it, calling the sauce "not bad" and "fine."
Toppings: A couple of the tasters commented that the sausage was noticeably mild -- one even said it tasted like burger. But the peppers got some good marks -- a taster noted that they still had some body. And another taster thought raw onions would have been better than cooked, to give the pizza some bite. Blaze offers to give each pizza a sprinkle of salt and oregano at the end of the line (which we took them up on), and one of the tasters commented on this pizza that the sprinkle probably helps the flavor of the cheese.
Overall taste: One taster called it "classic Italian."
Would you order this again?
Albany Jane: "Ambivalent. Not bad, but not my style."
Daniel B: "Probably not. I'm particular about sausage, and it's good but not brilliant. I require brilliant sausage like the stuff at Marino's [in Schenectady]!" (TOP flashback: Marino's won the Tournament of Pizza one year with a sausage and peppers pie.)
Deanna: "Yeah. That was a nice, quick midday nosh."
Jon: "I like the pepper and onion, but I'd pass on the sausage."
Art Lover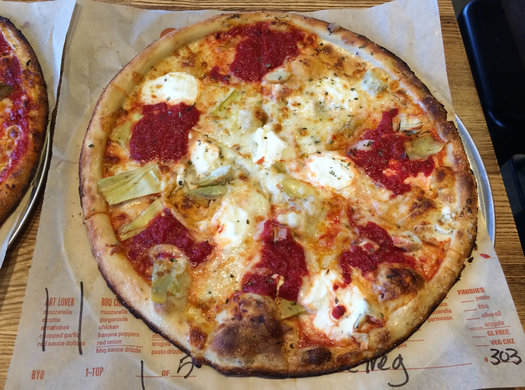 Menu description: artichokes, mozzarella, ricotta, chopped garlic, red sauce dollops
Crust: All the pizzas had roughly the same crust, though it appears to have cooked a bit differently based on the toppings. And in this case, the tasters had mixed reactions. One used the word "cardboard," but another happily noted their slice had a crust bubble. And another just thought the texture of the crust continued to be "weird."
Sauce: In this context, the sauce got some mixed reactions. One called it "pleasantly sweet and tart." But another thought it was too sweet.
Toppings: One taster called the artichoke hearts a "fun change of pace." But another noted the artichoke was basically the only flavor that registered in the toppings. The other toppings seemed kind of mild. One taster said the ricotta needed seasoning, and another said its texture tasted like it had been allowed to dry out too much.
Overall taste: One taster described it as having a light overall flavor. Another found it to be unbalanced to the artichoke side. And another, commenting that overall taste was middling, concluded: "frat-boy fancy."
Would you order this again?
Albany Jane: "In the summer, yes. Warm flavors for a spring or summer day."
Daniel B: "Nope. It needs more going on."
Deanna: "Nah... it left me really underwhelmed."
Jon: "Very out of balance. I'd skip it."
White Top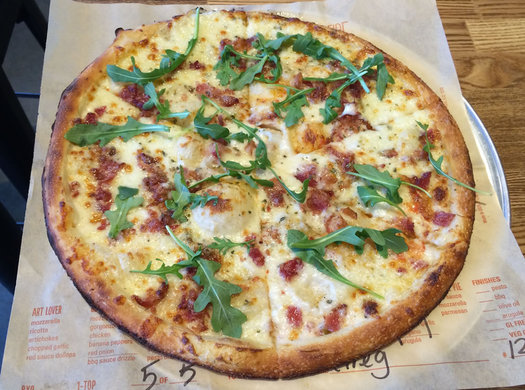 Menu description: white cream sauce with mozzarella, applewood bacon, chopped garlic, oregano, arugula
Crust: A taster noted it was crispy in some places, doughy in others. And another said there was no real end crust to speak of on their slice.
Sauce: One taster commented that they could smell the garlic before tasting it, and another called it "herb-y" and strongly flavored.
Toppings: Tasters liked the bacon, saying it had nice flavor and chew, with good smoky flavor while not being greasy (though one thought it was too salty). One commented that white sauce and bacon created a flavor sort of like carbonara. The arugula got good marks, tasters praised it for helping to lighten the pizza -- in fact, they said they would have liked to have more of it on there.
Overall taste: Comments included "satisfying" and "delicious."
Would you order this again?
Albany Jane: "Yes, definitely. Nice flavors, very rich. Would order again. Not a bacon overload for the sake of following the bacon trend."
Daniel B: "I'd get it. Good flavors. Rich and smoky. But I'd get more greens."
Deanna: "Nope! I just can't get over that weird canned-garlic taste."
Jon: "Not for me. Final (overall) comments: It's not for me. I don't like the crust. Friendly staff. I think I'd go with my own toppings combination in the future -- but probably not coming back. [Though] there's worse pizza out there."
Find It
Blaze Pizza
Stuyvesant Plaza
Guilderland, NY 12203
Say Something!
We'd really like you to take part in the conversation here at All Over Albany. But we do have a few rules here. Don't worry, they're easy. The first: be kind. The second: treat everyone else with the same respect you'd like to see in return. Cool? Great, post away. Comments are moderated so it might take a little while for your comment to show up. Thanks for being patient.