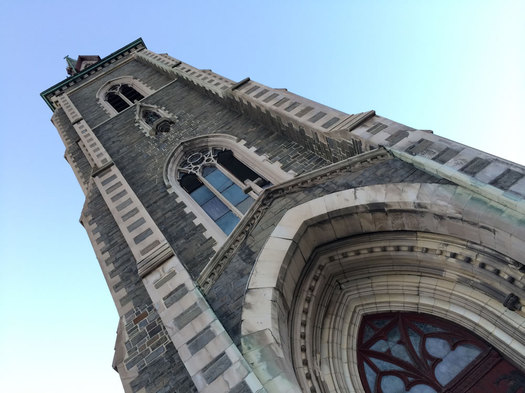 The latest edition of the Historic Albany Foundation's endangered building list is out. It includes more than 20 historic properties and places the org says "suffer from vacancy and disinvestment or inappropriate development pressure, and are often potential targets for emergency demolition."
HAF releases this list every five years. It says the list is an effort to raise awareness and help find solutions for reuse and preservation.
This time around it's grouped the properties into categories. You'll definitely recognize some of the buildings -- and there might be a few others you didn't even know were there.
Here's a quick overview, along with the list.
Categories
+ Vacant religious properties: Most of these are vacant churches that have struggled to find new uses. Example: St. Joseph's in Arbor Hill.
+ Zombie buildings: These are properties that are vacant or unmaintained and seemed to be stuck, in either foreclosure or some state of neglect. Example: 558 Madison Ave (on the corner at New Scotland Ave) -- the building that was once an ice cream parlor.
+ Underutilized municipal buildings: "This theme represents municipal buildings that once served the community and represented public investment and civic pride, but have since fallen into disservice and are unoccupied." Example: Public Bath No. 2 in the South End.
+ Historic commercial districts: HAF identifies both the Warehouse District and Central Ave as historic commercial districts "threatened by inappropriate development which would destroy much of their character" -- advocates for them to be listed as historic districts on the National Register of Historic Places, which could bring rehabilitation tax credits.
+ Rapp Road Historic District: "The Rapp Road settlement is an excellent example of a priceless cultural and architectural resource in the Capital Region, representing a once thriving African American farming community of the mid-20th Century adjacent to the Pine Bush Preserve. Today the site is faced with the threat of outside development, and while already listed on the National Register of Historic Places, a local nomination would protect this precious resources and its unique ecosystem." (Here's more about the history of the neighborhood.)
+ James Hall House: "The Italianate Villa style building, a National Historic Landmark, hidden along the western edge of Lincoln Park was designed for geologist James Hall in 1852 by prominent American architects Andrew Jackson Downing and his student Calvert Vaux. ... Each year the building remains vacant, it will continue to fall deeper into disrepair and is an example of an underutilized resource that is significant at both the local and national level for its architectural and cultural significance."
List and map
These places are mapped above in large format -- click or scroll all the way up.
Vacant religious properties
St. Joseph's Roman Catholic Church - 38 Ten Broeck Street
Herkimer Street Synagogue - 94 Herkimer Street
German Evangelical Church - 82 Clinton Street
St. John's Roman Catholic Church - 142 Green Street
Mount Olive Baptist Church - 226 Northe Pearl Street
Church of the Holy Innocents - 275 North Pearl Street
Krumkill Road Cemetery - Krumkill Road and Bender Ave
Zombie properties
161 Eagle Street
558 Madison Avenue
62 Spring Street
274 New Scotland Avenue
49 Park Avenue
114 Fourth Avenue
Underutilized municipal buildings
Public School 22 - 292 Second Street
Third Police Precinct - 222 North Pearl Street
Bath House No. 2 - 90 Fourth Avenue
Public School 17 - 43 Second Avenue
Central Fire Alarm Station - 25 Delaware Avenue
Historic commercial districts
Warehouse District
Central Avenue business corridor
Rapp Road Historic District
Rapp Road Historic District
31 Rapp Road
54 Rapp Road
59 Rapp Road
Rapp Road Smoke House
Rapp Road community
Rapp Road ecosystem
James Hall House
James Hall House - Lincoln Park
List PDF
Hi there. Comments have been closed for this item. Still have something to say? Contact us.