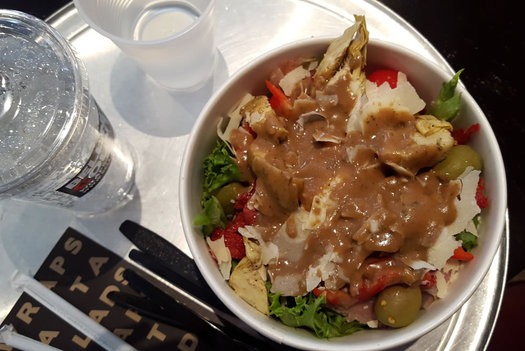 By Deanna Fox
The fast-casual concept is the hot ticket in restaurants these days. It is why places like Chipotle, Blaze Pizza, and the upcoming Troy Kitchen continue to flourish across the dining scene. Sitting down and ordering with a server is so old-hat. We Americans are a busy bunch! Give us quality food on the go and don't make us wait too long for it.
But one cuisine that is unrepresented in the local fast-casual marketplace is Italian fare (save for pizza). Is it possible to get a hearty bowl of spaghetti and meatballs with haste?
Bellini's Counter -- the fast-casual offshoot of the local Bellini's Italian restaurant chain -- seems to think so. And they are willing to bet that the food you've come to expect from more formal sit-down restaurants can be had just as easily in this quick-serve format.
I think it's fair to say Bellini's is cashing in on that bet.
I wake up at a silly-early hour (usually around 3:30 am), and so by the time lunch rolls around, I'm completely famished. And in an effort to not scarf down the nearest piece of candy or pastry, I stopped into Bellini's Counter with a friend to check out the efficiency and quality of the salads.
The setup is what you would expect from a restaurant like this: The ingredients to make your order are neatly confined to individual containers, allowing your meal to be made assembly-line style and customized to your liking. A menu behind the counter displays your options: Wraps, pasta bowls, rice bowls and salads (some of them specifically designed for gluten-free diners or those looking for protein to boost their diets or sports training programs) give a good basis for where to start, but each item is customizable, and toppings, proteins, dressing and sauces can be added or taken away to fit your fancy.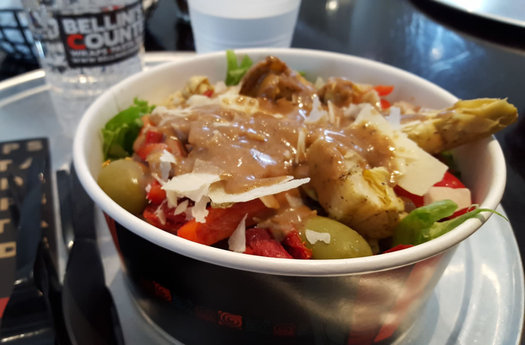 I ordered The Antipasto salad ($8.95) straight-up, which was generously portioned and incredibly fresh. Wafer-thin slices of prosciutto, rounds of salami, olives, fresh red peppers, chewy and sweet sundried tomatoes, marinated artichokes, long strips of shaved parmesan, and a tangy balsamic vinaigrette topped a bed of spring mix. It was more than I expected and kept me full without giving me that sluggish feeling that so many lunchtime options can.
My friend customized a salad, ordering meatballs (naked, without sauce) on hers. The meatballs were the same Bellini's customers have come to expect at other locations.
Okay, sure, it's hard to mess up a salad. But looking around and watching other orders be made, the same attention to detail and freshness was applied to other menu options. Pasta seems to be par-boiled then finished to order in rapid-fire fashion, and wraps are warmed slightly before being filled and formed.
The lunchtime crowd included people in construction gear and people in business suits, along with a smattering of college students. A free smartphone app allows for pre-ordering and payment for an even quicker experience.
I regret I didn't try "cannoli chips" ($3.50), listed on the menu as a side order. But I will keep it in mind for next time, as I have no doubt that I will be back.
Deanna Fox writes about many things, mostly about food. More can be found on her website, Twitter, or Instagram.
More Eat This:
+ Pickle-brined chicken sandwich at 677 Prime
+ Rice Chicken Soup at Chontong Thai
+ Dutch drinking chocolate at Vischer Ferry General Store
+ Salmon BLT at Public House 42
Find It
Bellini's Counter
624 New Loudon Rd
Latham, NY 12110
Hi there. Comments have been closed for this item. Still have something to say? Contact us.