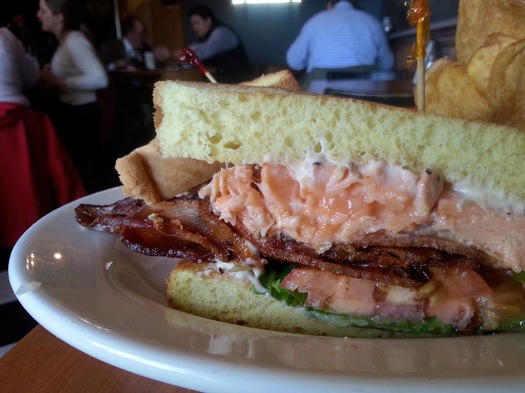 By Deanna Fox
I love bacon. I'm just not a fan of it on a sandwich. Unless it's a BLT. And in that case, I'm not even really that enthused about the idea of bacon on a sandwich. Next to pancakes, or sliced into lardons in sautéed Brussels sprouts? Heck yes, bacon all day long. Otherwise, meh.
The same holds true for salmon. I like most seafood and fish, but salmon can be a bit boring sometimes. And being the empiricist that I am, past experience sampling salmon burgers or other types of salmon sandwiches have conditioned me to avoid salmon-between-bread at most costs.
But while recently having lunch with my friend Craig (of Albany Ale fame) at Public House 42 in Albany, he insisted I try the salmon BLT -- a sandwich he had enjoyed before and thought I might like -- and try to quell my doubts on the integrity of the menu item.
And so I did. Because I trust my friends. Because I'd like to think they have my best interests in mind.
Alright, Craig, you win. It was good.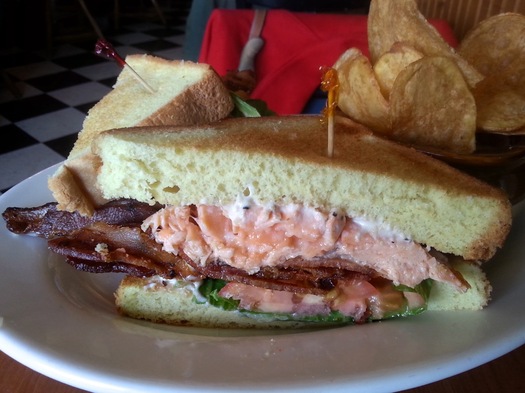 The base of the sandwich is thick cuts of toasted challah, which are coated in a slightly spicy horseradish mayo (prepared horseradish, not fresh grated). Bacon, cooked enough to crisp the edges but maintain some fatty, gristly chew, is placed generously over lettuce and sliced tomatoes. A steak of salmon finishes the whole shebang before its turned into sandwich form and skewered with plastic-tipped toothpicks.
I was impressed with the quality of the salmon and the technique employed in its cooking. I was expecting something more akin to a salmon salad, where canned tuna was rolled into a mayonnaise base akin to a grade-school tuna fish sandwich. (Even if the menu says "perfected seared salmon," one should always expect something less than perfect, especially during a lunchtime rush.) What I got instead was a solid piece of fish meat that was buttery, flakey, and could have easily been served on its own with a vegetable medley and beurre blanc-style sauce at a more upscale restaurant. The sandwich was worth it just for the salmon. And at $13, that's not bad.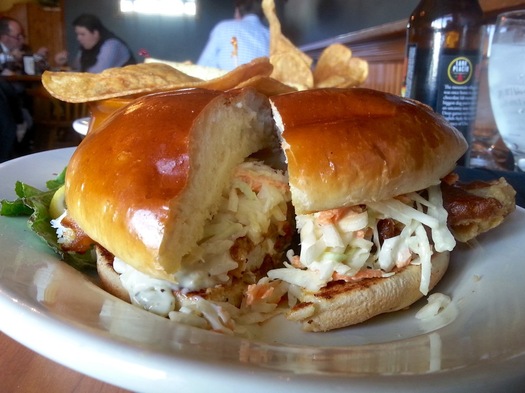 We also ordered the fisherman's pub sandwich, which was a fine example of a classic fried fish sandwich. I've also heard great things on the Monte Cristo, mostly because the entire sandwich is deep-fried instead of the usual grilled or broiled application. I'm looking forward to trying more items from the menu. (Though I wish there was more focus on craft and local beers on the drink menu... and that our second round didn't arrive 25 minutes after we ordered it... and 15 minutes after our meal was over.)
Nestled in the shadow of the Empire Plaza on Eagle Street, Public House 42 is a tucked-away, almost cozy spot that satiates those looking for a hearty breakfast, easy lunch, or casual dinner. It was busy, but not crowded. It was theme-y, but not in a cartoonish way. It is likely to become one of those back-pocket places that you can fall back on when no one can decide what to eat or where to dine.
And maybe it will change your mind on certain food items, too.
Deanna Fox writes about many things, mostly about food. More can be found on her website, Twitter, or Instagram.
More Eat This:
+ Crepes at The French Press Cafe and Creperie
+ Avocado Fries at Slidin' Dirty
+ Roast beef at Wm. H. Buckley Farm
+ Baklava at Athos
Find It
Public House 42
42 Eagle Street
Albany, NY 12207
Hi there. Comments have been closed for this item. Still have something to say? Contact us.