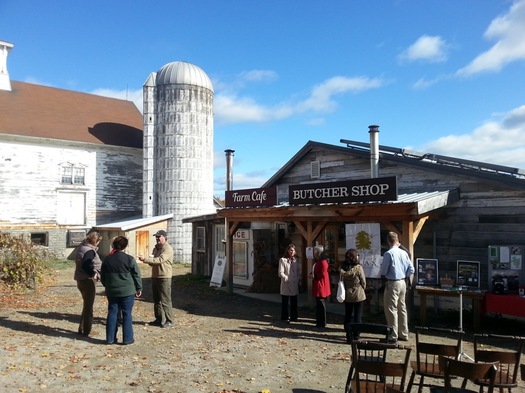 By Deanna Fox
Happenstance is a wonderful thing. You never quite know what life is going to bring your way. If you are lucky, that means many delicious morsels will grace the path (luckier still if you are wise enough to embrace and savor them).
When I went up to Ballston Lake on Friday for a state Department of Agriculture and Markets press conference at Wm. H. Buckley Farm, I was expecting to get some insight on both new stories and story lines I have been following for a while.
I wasn't expecting to eat, let alone taste, some of the most tender and flavorful roast beef I've ever had.
Before I tell you about how this beef tasted, let me first tell you about how it is raised. Wm. H. Buckley Farm, directly situated along Route 50 with vistas extending to Vermont, is a livestock farm with poultry, pork, sheep, and mostly Angus beef that are pasture raised and fed on grass. The cattle is slaughtered and butchered directly on the farm, and the beef is sold in the farm cafe and butchery.
It doesn't get much more humane and responsible than that.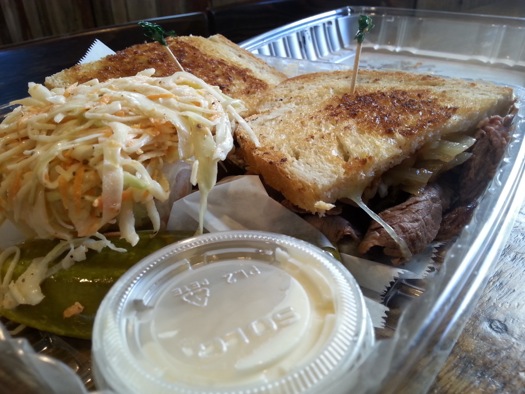 Ordering a sandwich during my visit was an afterthought, a means of getting something in my gullet between a day of meetings and events. I ordered a roast beef sandwich -- a rare indulgence for me -- and asked for it to go, with a side of coleslaw. The butcher who took my order asked if I'd like to try something a little different instead -- maybe some caramelized onion? Sure, I said, how can one really say no to that. Warm, he asked? "It's is chilly outside, y'know."
Okay, yes, warm too, please.
To be honest, I wasn't exactly sure what I would be getting. And the fact that the sandwich was being assembled in the butcher shop, rather than the cafe kitchen, lowered my expectations. But the people were kind and my schedule was tight, and I was happy to take whatever they gave.
And what they gave was a delight.
The meat, hand-sliced, was luscious and tender, like it had been slowly roasting away for the entire night. It wasn't deli-style roast beef, it was farmhouse cuisine, with beef that was roasted in small batches and sliced to order with the same mindfulness of the way the meat was raised and processed. It was respectful of both the animal, and the eater. (And the rough hewn edges of the sliced beef were perfect for locking in the tangy and sweet horseradish mayo, served on the side.)
The rye bread was perfectly grilled and the crunchy niblets of crumb and caraway seed acted as an exquisite foil to the chewy, soft texture featured in the rest of the sandwich.
My only complaint was that I wish the onions had been caramelized a bit longer, with maybe a hit of sherry or vermouth right at the end to highlight the sweet notes, but for less than $10 ($9.95 to be exact), there really was no room for complaint with this sandwich.
I ate my sandwich in the car, en route between places, and it held up incredibly well -- not one splatter on my blue crushed velvet blazer. This is more the mark of expert sandwich assembly, with perfect proportions of all ingredients, than the skill of the eater.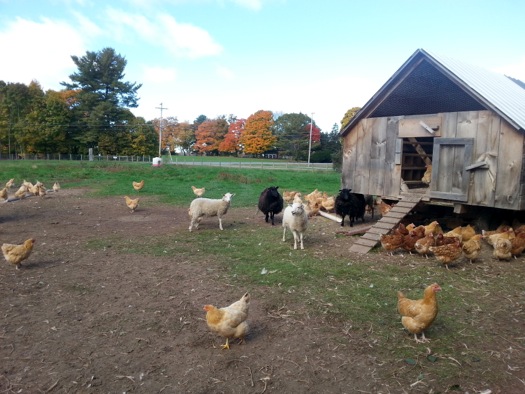 I stopped to take in the scenery before I left, watching cows graze happily just beyond the barn and chickens and sheep happily frolic together in a roadside pasture. The holistic nature and practices of the bucolic setting only made me appreciate the meal more.
With the World Health Organization recently publicizing links between cancer and processed/red meats, beef products are at the forefront of many minds. Buckley's website lists some of the health benefits of grass-fed beef (lower fat, calories and cholesterol; higher protein, calcium and niacin), and proclaims that Wm. H. Buckley's grass-fed beef will help you live longer and healthier.
But besides all of that, it is some of the better tasting beef I'm certain you will find in the Capital Region. And what's the point of living long and healthy if the food isn't tasty?
Deanna Fox writes about many things, mostly about food. More can be found on her website, Twitter, or Instagram.
More Eat This:
+ Baklava at Athos
+ Polish food at Muza
+ Girl's Best Friend Cookie from Bake For You
+ Ice cream at Martha's Dandee Creme
+ Takeout from Nirvana
Hi there. Comments have been closed for this item. Still have something to say? Contact us.