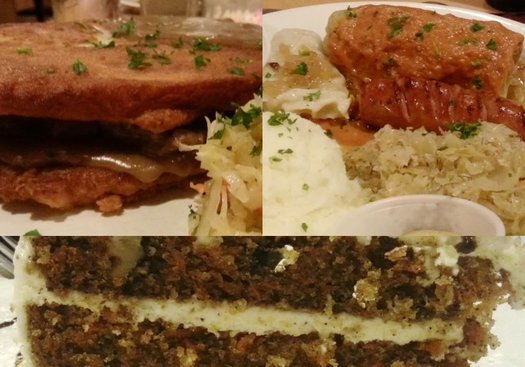 By Deanna Fox
We are killing the American palate.
Or maybe we killed it long ago. In a land of more is more and bigger is better, we've lost an appreciation for small nuances in food that give it true character and speak to the origins of the recipe. Don't give us a classic roasted chicken; instead, give us just the wing, doused in fiery, sticky burnt-orange sauce that masks the chicken itself.
Post-World War II American culture saw the rise of heavily processed foods that oversaturated our palates with salt, sugar, and additives. We've dimmed our abilities to recognize true flavor because of how accustomed we've become to the overload of flavor enhancements pushed upon us by Big Food. Now, if we don't feel kicked in the teeth with astringent, bracing piquancy, we write food off as bland and boring.
Muza, in Troy, debunks this conception, proving that traditional foods prepared in simple ways can still pack a punch without walloping us with artifice.
Muza is tucked away just off upper Congress Street as you head upwards towards the hills of Brunswick. It's easy to miss, much like how one might overlook the delicate subtlety that presents in most of the food served there.
Sure, there is kielbasa with its unctuous, pungent, meaty flavors -- just watch how the fat from this sausage bubbles out of the casing and gently pools on the plate. But there is also pierogi, made from the humble potato, a bit of salt, and dairy wrapped by a flour-and-sour-cream dough. Pan-fried only on request, the boiled Muza pierogi is tender and as ethereal as the lightest Italian gnocchi. Add a bit more sour cream to gild the lily.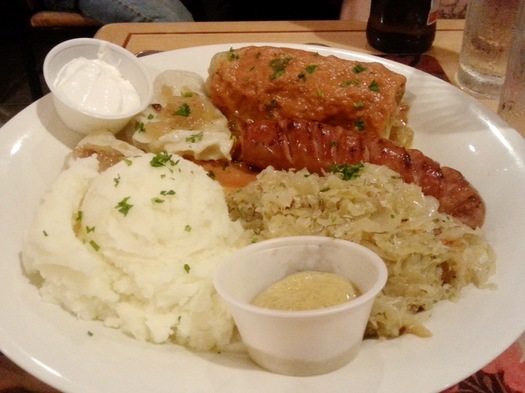 The Polish Feast
Or turn to the cabbage at Muza. Braised cabbage, which comes as its own order ($3.50) or as accompaniment to the Polish Feast ($17.50), a platter of pierogi, golombki (stuffed cabbage rolls topped with tomato sauce), kielbasa, and mashed potato. The braised cabbage is started in fat (bacon, perhaps?) and simmered with vinegar, salt, and spices until it retains only the slightest textural bite.
The sauerkraut alone would bring me back to Muza. I had mine as part of the Muza Special ($17), which consists of beef goulash served with brown gravy and sandwiched between two big-as-your-face potato pancakes. The pancakes, nothing more than lightly seasoned mashed potatoes that are pan-fried in a thin layer of vegetable oil, created a coalescence of crisp, shattering crust with velvety innards that forced me back for another bite even when I felt I just might pop. The beef was slow-simmered until it was held together only by tiny strands of sinew, and as flavorful as any of it was individually, when paired with briny, fermented sauerkraut, the entire bite danced across my mouth like a polka troop spinning to the sounds of a Klezmer band.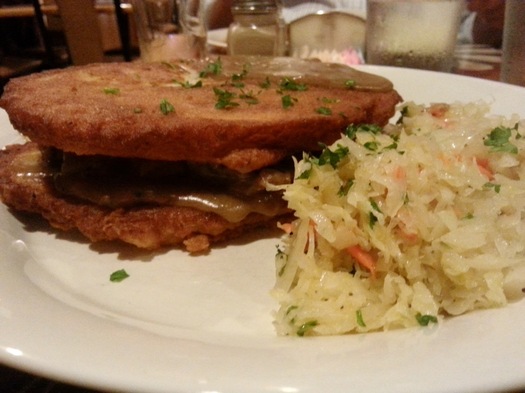 The Muza Special
The decor at Muza mimics these sentiments: Cobblestone-shaped styrofoam with bright neon lighting adorns the walls of the restaurant when you first walk in. A new biergarten, tiered and nestled into the 15th street hillside, plays into the American fascination with faux-European drinking spaces.
But the design element that best denotes the experience and flavors of Muza is a hand-stitched sampler above the entryway that reads: "To Muza, to Muza, to buy a carrot cake." It is simple and rustic but speaks to the heart of what Muza's menu aims to do, which is replicate the low-key flavors of Eastern Europe in the same manner the food was originally made.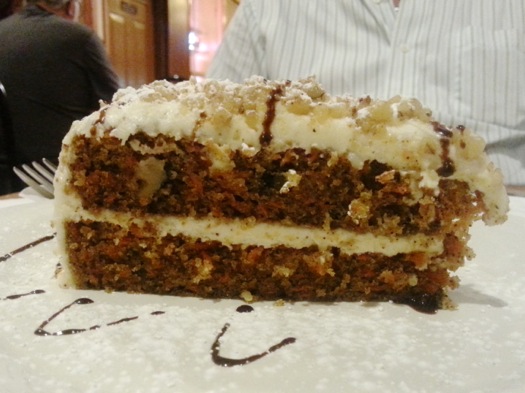 (By the way, get the carrot cake. It is a shining example of that homespun quality Betty Crocker proffered before she started whoring herself on just-add-oil cake mixes.)
Muza would not take a reservation on the Saturday night when I dined there, and I ended up waiting 15 minutes for a table, finally being sat around 7:45. (A good chance to check out the biergarten and its menu.) With one cook and one waitress on hand, our dinner surpassed the two-hour mark.
Maybe Muza is the gastronomic David in a world of prandial Goliaths. Maybe it is simply a glimpse at how food was once prepared and enjoyed. Regardless, it infuses the Polish recipe box with the simplistic touches that once formed the capstone the American palate.
Deanna Fox writes about many things, mostly about food. More can be found on her website, Twitter, or Instagram.
More Eat This:
+ Girl's Best Friend Cookie from Bake For You
+ Ice cream at Martha's Dandee Creme
+ Takeout from Nirvana
+ Peach blueberry cobbler at the Palmer House
+ Dosas at Parivar
Find It
Muza Restaurant
1300 15th Street
Troy, NY 12180
Hi there. Comments have been closed for this item. Still have something to say? Contact us.