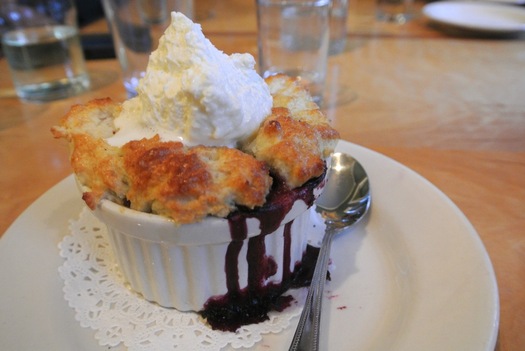 By Deanna Fox
Driving into Rensselaerville, the small and historic Albany County hamlet in the town of the same name, is like taking a trip back through time. Things move a little slower. The locals speak in less hurried tones.
And just as everything old is new again, the food at the town's public family room -- The Palmer House Café -- adheres to the old habit of using local, seasonal produce and ingredients to craft a meal. Farm-to-table was a way of life for eaters in decades (centuries) past, but today it's one of many options.
The Palmer House's peach blueberry cobbler is just one example of why this option should be priority once again.
A culinary journey of local flavors started well before my cobbler dessert at the Palmer House.
I started the meal with an all-New York State brewed beer from Rare Form Brewing in Troy (meaning the ingredients for the beer all came from within the state) ($6). The beer was lightly amber in color with smooth malt notes throughout -- the perfect beer for a breezy summer afternoon.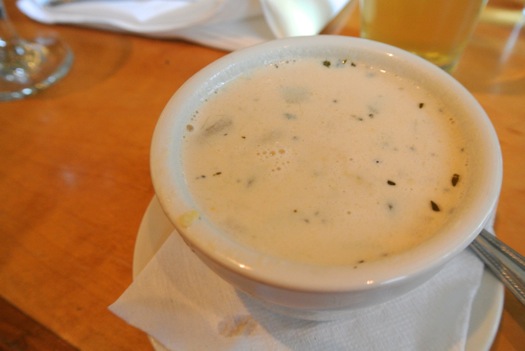 A cup of corn chowder ($4) made use of two of the season's most abundant crops: sweet corn and (sometimes too abundant) zucchini . The chowder was light-bodied, as a good summer soup could be. Milky broth hid the confetti of corn kernels, diced bell pepper, and cubed zucchini bits, which seems like a perfect way to use up those green squashes that most area gardeners find themselves overrun with each summer. Soup is a perfect solution to use up disparate ingredients and leftover bits-n-bobs. The kitchen at The Palmer House seems to believe this too, creating a little bowl of straw-colored summer that sets a meal off on the right foot. (My only critique would be a bit of heat or acidity to balance out the sweet nature of the soup. Jalapenos are coming to fruition here, and one or two added to the pot would brighten the entire recipe.)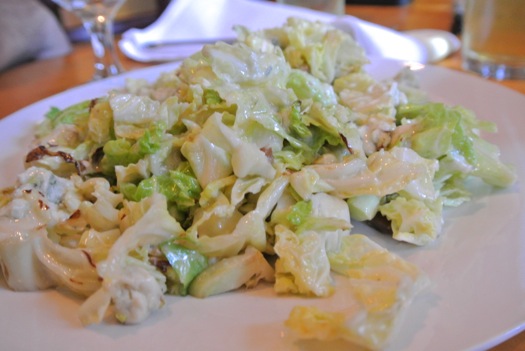 A frequent guest of The Palmer House had recommended the Savoy Cabbage Salad ($9.50) for my dinner (while listed on the appetizer list, it easily serves duty as an entrée). Rough-chopped local Savoy cabbage is briefly sautéed and lightly dressed with tangy vinegar and Dijon mustard -- the gentle heat and acidic nature of vinegar work together to break down the cells of the cabbage while keeping it from becoming a limp mess of laurel green. House-cured pancetta from Kuhar Farms, the family farm of Palmer House chef Micah Kuhar, is diced and cooked until crisp to garnish the salad, and big globs of creamy gorgonzola cheese are scattered throughout. The salad is reminiscent of a classic wedge, but with the seasonal use of local ingredients to put a Palmer House spin on the dish.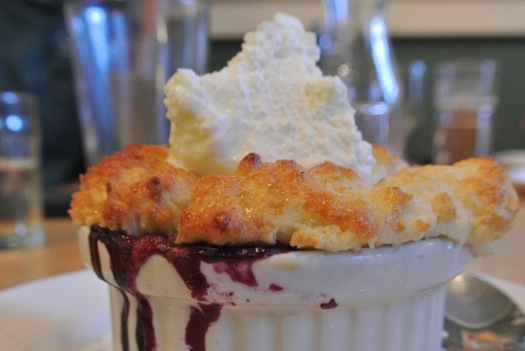 And now onto the cobbler ($6.50): I come from the camp of opting for a not-too-sweet dessert. While I'm more likely to choose a piece of chocolate cake to cap a meal than a cheese plate, I don't want that cake to be so saccharin that the rich notes of chocolate are masked. The focus here was definitely on the fruit: Big, fat, juicy local blueberries and just-ripe peaches nestle together in a purple pool of fruity juices that are only slightly sweetened, letting the fruit truly shine. A thick layer of dense dough tops off the fruit -- again, not too sweet. The same is true for the dollop of whipped local cream. I couldn't even definitively say that the cream was sweetened; with the ubiquity of good grass this season and the natural sweetness of good local cream, I think any hints of sugar come from the cow herself.
My dining companion said the cobbler reminded him of a "melted muffin," but in a good way. I can't think of a better way to describe this dessert.
I have heard that there is a bit of a secret menu at The Palmer House Café among locals and frequent guests. Ask for a "salty, filthy" burger, which will come to you topped with an eye-popping heap of whatever cheese the chef has handy that day and chopped olives. In colder weather, the chicken and biscuits are not to be missed. Whatever you choose, the chances are good that your meal is locally sourced or grown/raised by the chef himself. Even with a busy weekend rush, the food was perfectly executed and served merely as a vessel to highlight the great agricultural products around us -- whether that be beer or peach blueberry cobbler.
Deanna Fox writes about many things, mostly about food. More can be found on her website, Twitter, or Instagram.
More Eat This:
+ Dosas at Parivar
+ Mini hot dogs from Pete's Pups
+ Ethiopian platter at Umana
+ Naan pizza at A Better Bite
+ Frozen yogurt at Ayelada
Find It
The Palmer House Cafe
1462 Main Street
Rensselaerville, NY 12147
Say Something!
We'd really like you to take part in the conversation here at All Over Albany. But we do have a few rules here. Don't worry, they're easy. The first: be kind. The second: treat everyone else with the same respect you'd like to see in return. Cool? Great, post away. Comments are moderated so it might take a little while for your comment to show up. Thanks for being patient.