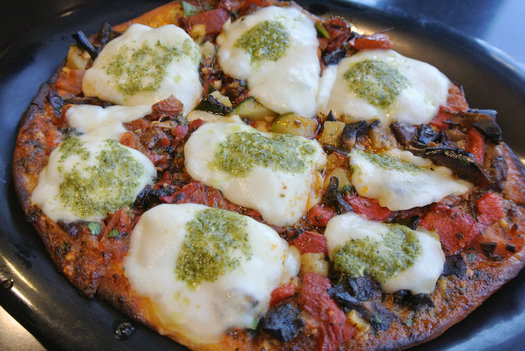 By Deanna Fox
For as long as I can remember (my downtown Albany memory only stretches 11 years back), there has always been an eatery in the One Commerce Plaza building on Washington Avenue, across from the Alfred E. Smith building. But I don't remember anyone going there, or suggesting we stop there when I worked in politics, after a day lobbying at the Capitol.
Even the shiny exterior of the building wasn't enough to draw me inside. The neon-colored sign? Nope, still never went in. It just seemed so non-descript, even as a modern structure placed in the midst of buildings with Grecian columns and centuries-old brick and limestone.
It took me a few years away from that scene -- and a picture on Instagram -- to make me change my stance and give A Better Bite a try.
That photo? Naan pizza.
Pizza tends to be one of those terms that get applied to many things that aren't really a pizza. Cheese, tomato sauce, and maybe meat on a bagel do not a pizza make. (Just ask the Italian government, which is trying get Neapolitan pizza added to the UNESCO Intangible Cultural Heritage list.)
But naan pizza -- that is, the classic flatbread of the Indian subcontinent and Middle East with toppings like cheese and tomato sauce -- is pretty close to "true" pizza. Like traditional pizza dough, naan is a leavened bread baked (usually, but not always) on a stone base in an oven at high temperature.
Though what was most appealing to me about the dish was the fact is that was coming from an eatery I had typically overlooked. It made me wonder how good it could possibly be: Is this a place that would offer scratch-made, artful cuisine? Or would it be pulled from a box in the freezer, reheated, and served up as little more than saucy cardboard?
Thankfully the former was true.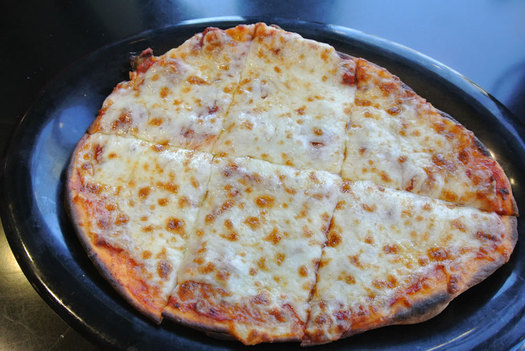 With some prodding I learned that much of what is served at A Better Bite is sourced from New York City's ethnic markets, and brought north on a frequent, regular basis. The naan is fermented and formed in the city, then baked here. Each naan pizza is made to order.
The classic cheese/tomato combo was a sure hit with me. The blistered crust that comes on both good naan and good pizza -- that slight carbonized taste of burnt flour -- was present, and the cheese stretched itself into silken strands with each bite, but gave way and lost its elasticity after just a few inches. The sauce was slightly sweet and not tinny, with subtle hints of oregano.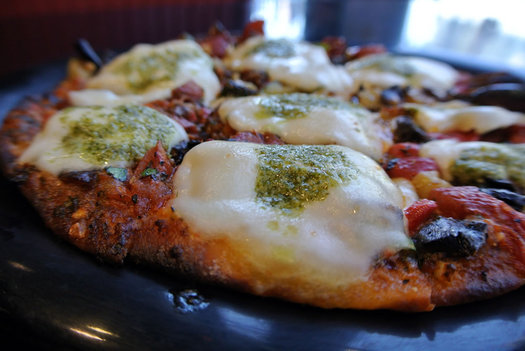 I also tried to Mediterranean version, which featured house marinated vegetables (mushroom, eggplant, roasted peppers) with fresh mozzarella and pesto. It sounded pretty boilerplate, likely something you could get as a wrap in most sandwich shops. But here, the ingredients were fresh, flavorful, and thoughtfully combined. It immediately became one of my favorite things to eat in Albany, and I cannot wait to eat it again.
The menu doesn't yet reflect that naan pizza is available, but do not hesitate to ask for it. They are making it, and new menus will be released soon.
Grabbing lunch or breakfast here during the week shouldn't be the only time you try A Better Bite. On the weekends, it serves brunch with full table service. Brunch in Albany can be hard to find - here, not only is there an extensive menu to choose from, there is plenty of seating, both inside and out under a shady awning.
My original thoughts on A Better Bite's location seem to still permeate the collective consciousness of eaters who frequent that area. While I sat and enjoyed my pizza and people-watched from the windows, I noticed that most of the people breezed by with coffee cups and bakery bags from a certain chain "donut" shop with many locations throughout downtown Albany.
What a shame. Genuine donuts made of real food can be found just a few blocks away at Cider Belly. And big, scrumptious breakfast sandwiches, steaming from their own heat in foil wrappers, and coffee without that bitter burnt taste can be had for a better value at A Better Bite.
If only people would venture inside.
Deanna Fox writes about many things, mostly about food. More can be found on her website, Twitter, or Instagram.
More Eat This:
+ Frozen yogurt at Ayelada
+ Falafel and shawarma at Saati Deli and Catering
+ Fish tacos at Ted's Fish Fry
+ Ravioli from Ragonese Imports
Find It
A Better Bite
99 Washington Ave
Albany, NY 12210
Say Something!
We'd really like you to take part in the conversation here at All Over Albany. But we do have a few rules here. Don't worry, they're easy. The first: be kind. The second: treat everyone else with the same respect you'd like to see in return. Cool? Great, post away. Comments are moderated so it might take a little while for your comment to show up. Thanks for being patient.