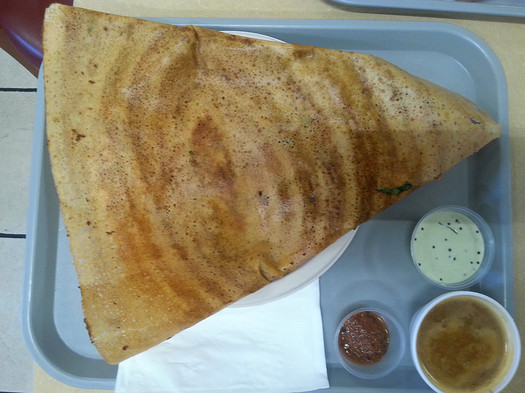 By Deanna Fox
There are universal norms when it comes to street foods around the planet: It must be cheap, it must be portable, and it must be filling.
Dosas are the classic Indian-style version of a crepe that hits all these markers. And Parivar -- the Central Avenue Indian supermarket (No, not that one. Or that one. It's the one with the peacock on the sign.) -- serves them up fresh and piping-hot, just like one would get from a vendor's street cart in an alleyway in New Delhi or Mumbai.
But unlike a street cart, Parviar lets the eater indulge from the comfort of indoor seating in a nice air-conditioned café.
Sometimes, the setting in which one eats is as critical to the dining experience as the food itself. This is especially true for street foods. Currywurst on its own is pretty great. Currywurst eaten under a streetlamp in Berlin after a night of throwing back steins is even better. But don't let the lack of Bollywood-esque setting deter you from venturing to Parivar.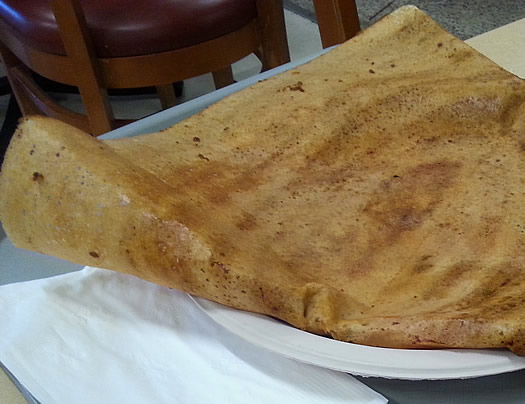 The term "dosa" applies specifically to the fermented rice flour batter that is spread thin on a large cooktop and cooked until crispy on the edges and slightly pliable. Plain (or "paper") dosas at Parivar come rolled up like a tube, and served with a side of gingery coconut chutney ($4.99). Think of the plain option like the bread course for the rest of your meal, and use it to soak up the flavors of the chat and sauces you might order.
The filled dosas are what you should really be coming for. Folded into a triangle shape, they encase a varying mix of spices, potatoes, peas, onions, or paneer (a fresh Indian cheese).
The mysore masala dosa ($7.99) steals the dosa show at Parivar. The menu description is deceptive and vague in the true flavor of the dosa, which balances a surprising heat with the cooling quality of coconut chutney (which has a little kick in its own right). The sweet-meets-spicy virtues of this dosa are classic South Indian hallmarks, and the filling is stewed together for just enough time to mellow the texture into a jam-like consistency. Pieces of potato give the dosa a bit of body, but altogether it is soft, easy eating.
For a bit more substance, opt for the spring dosa ($8.99), which incorporates carrot and cabbage into the filling.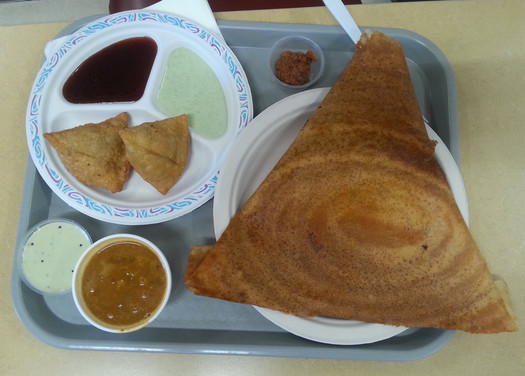 Eat the dosa as you will, but my recommendation is in the street-food style: Pick it up and eat it like a sandwich, dipping jagged edges into the lentil sambar or various chutney accoutrements. If that seems daunting, pull off bits of dosa and dip from there. Forgo the knife and fork. Eat it alone, or pair it with any of Parivar's other offerings (like samosas).
Or, as Daniel B. would suggest, bring a few friends and order as much as you can, and sample piecemeal to determine your own favorite dosa.
Deanna Fox writes about many things, mostly about food. More can be found on her website, Twitter, or Instagram.
More Eat This:
+ Mini hot dogs from Pete's Pups
+ Ethiopian platter at Umana
+ Naan pizza at A Better Bite
+ Frozen yogurt at Ayelada
+ Dahi Puri at Parivar (2011)
Find It
Parivar Spices and Food
1275 Central Ave
Colonie, NY 12205
Hi there. Comments have been closed for this item. Still have something to say? Contact us.