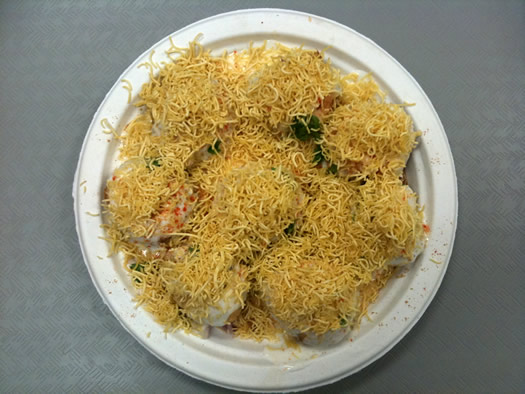 By Daniel B
We're very happy to be pulling one of our favorite features -- Eat This! -- back off the shelf. It's been too long. And we're delighted that Daniel B will be writing it for us (as you may have heard, Daniel B is very particular about food -- fussy, even). Eat This! will be popping up on every other Tuesday.
Street food is challenging to eat in the winter. It's cold outside. Which is just another
reason why Parivar Spices & Food is so great. They have brought Indian street-food indoors, to a few tables in the back of a grocery store.
Here they serve chaat, which are traditionally snacks. But these are snacks that eat like a meal. If you have never tried chaat before, you need to get your mouth around Dahi Puri.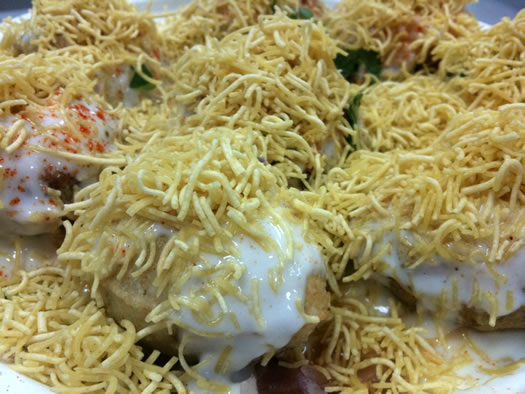 The words "flavor explosion" are used far too often. And it truly diminishes those dishes that actually do explode in your mouth with an impossible range of complementary and contrasting flavors and textures.
These puris start their lives as fried puffs. They are then filled with beans, diced potato, yogurt, chutney, onions, cilantro, crispy noodles and spices. From the street carts in India you will be served one puri at a time, but at Parivar you get a plate of eight. And you best eat them quickly, because they are getting soggy.
It helps to bring a friend.
While they may be a little large, the idea is to put the whole thing in your mouth and eat it in one bite. This is how you get the full effect of the dish. If you don't want to use your fingers, I would recommend using a spoon.
Crunching down on the puri releases a torrent of sweet and tangy chutney, some heat from the spices, a cooling and soothing wave of yogurt, a sharp bite of raw onion, the brightness of cilantro, the comfort of potato, the earthiness of toothsome beans, and crispy bites of fried noodles. Maybe they are not exactly noodles, but there really is no good western comparative for sev.
A plate of these delights will set you back $4.99, and it's plenty for a light lunch for one. Or pair it with one of their other snacks that range from $1.50 to $6.99. But you should really come here with a group, be adventurous, and share a bunch of these authentic Indian treats. Then you can find your own favorite.
Daniel B is the proprietor of the FUSSYlittleBlog
Elsewhere and earlier
+ Albany Jane has photos from a visit to Parivar
+ After Kathleen eating some spicy foods at Parivar, she wondered what are the spiciest foods in the Capital Region.
+ Last year for Lunch Week on AOA, Daniel B wrote about the $25 hamburger at dp.
Find It
Parivar Spices and Food
1275 Central Ave
Albany, NY 12205
(518) 512-5118
Hi there. Comments have been closed for this item. Still have something to say? Contact us.