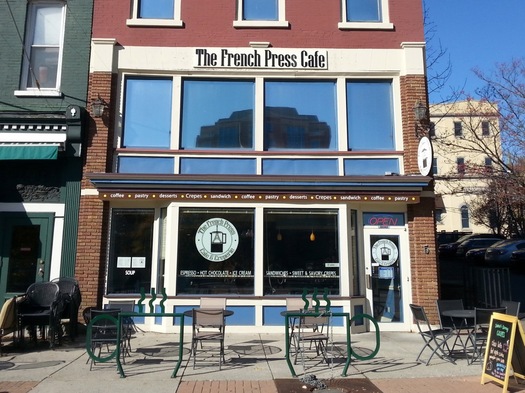 By Deanna Fox
On some of the oldest real estate in downtown Albany -- Clinton Square -- lies a small piece of France. A French cafe, in fact, that churns out classics of French cuisine, like baguette sandwiches, cafe au lait, and crepes.
A taste of France in this area is nothing new: French fur traders were some of the earliest Europeans in the Albany region. Throughout history, France and America have traded barbs are readily as they've supported each other when Le Merde hits Le Fan; regardless, we've embraced French culture and perhaps appreciate it best through food: Croissant, macarons, boeuf bourguignon, wine. Romantic notions of what France is draw American visitors regularly to the country, though experiencing it first-hand is a mere Gene Kelly-esque pipedream for those of us with wanderlust bigger than our bank accounts.
But thankfully, on the cobblestone promenade just west of the Hudson River, we can find a budget-friendly glimpse of France at The French Press Cafe and Creperie, where we can linger en plein air on wrought iron bistro seating, sip our coffee, and indulge in that wonderful French creation: The crepe.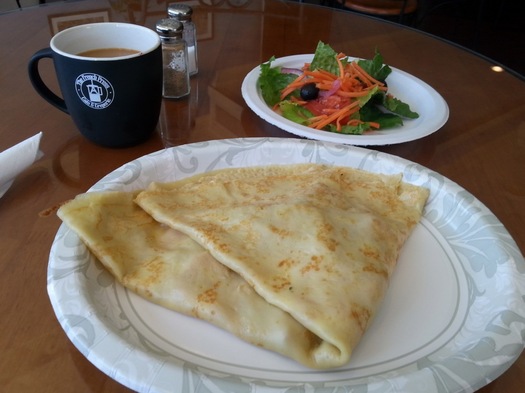 Crepes are the French-style, wafer-thin pancakes that epitomize "fancy" brunch and are versatile enough to go from sweet to savory. The crepe itself, which certainly can be enjoyed straight off the griddle, is often viewed as little more than a vessel for the array of flourishes one chooses as accompaniment.
Simply prepared and thoughtfully paired, the crepe fillings at The French Press include "The Holy Kale," a combo of sauteed baby kale, garlic, mushrooms, and Swiss, and "It's a Wonderful Life," where apple slices soften in melted butter before partnering with cinnamon, sugar, brie, and graham cracker crumbles. Other fillings re-imagine classic sandwiches, like the breakfast stalwart of ham, egg, and cheese, or a Tuscan-inspired spin on chicken, pesto, and fresh mozzarella.
I opted for "El Duque" ($9), a take on the Cuban sandwich. Pulled pork teamed with ham, Swiss cheese, mustard and plenty of pickles for a piquant and slightly spicy adaptation of the classic crepe. It was filling and delightful, and with the proper foil wrapping, could easily be portable. Each bite was tender and flavorful, and the pork wasn't sopping with juices which would completely undermine the entire structure of the dish.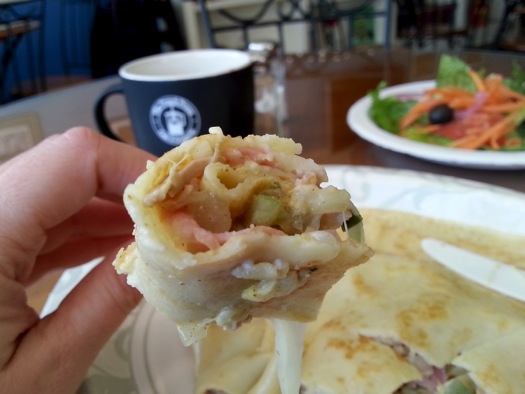 The filling never worked to outshine the crepe itself, only in tandem with it. And that crepe shell maintained its own identity, with lacy edges carefully tatted by the cast iron griddle, shattering under the gentle pressure of a fork. It took a while to come from the kitchen, but only because each crepe is made to order. (It shows in the lovely execution.)
I doubled-down on a sweet crepe, as well. "The Palace" ($8), smeared with Nutella and bananas, was the perfect ending to the meal. It is hard to mess up two simple things like Nutella (a chocolate and hazelnut spread) and sliced banana, but if the crepe was subpar, the dish would inevitably suffer. Included was a generous dollop of house-made whipped cream so thick, it was nearly sweetened butter.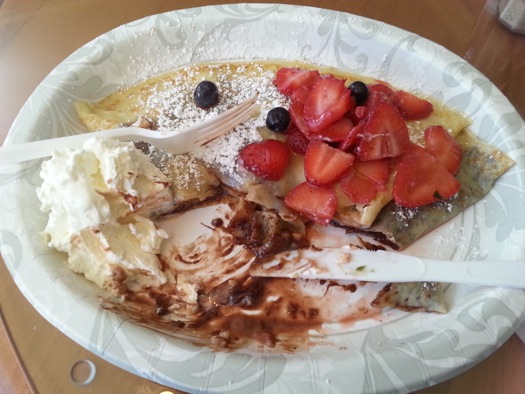 Each crepe comes with your choice of salad, fruit, or breakfast potatoes. Coffee comes from Capital City Coffee Roasters. And btdubs... it's BYOBs. (Bring Your Own Breton Stripes.)
The mission statement on The French Press Cafe and Creperie's website is this: "We believe that your food, coffee, or tea is one of the most important parts of your day." The concept of importance extends not only to sustenance but the meaning conveyed from it. Food is a way to extend understanding, evoke emotion, state political sentiments, and transport the eater to another place or time. Then again, sometimes it is just a meal.
Whichever way you decide to approach it, lucky us that The French Press Cafe and Creperie allows us to mill it all over while enjoying such a fine French delicacy.
Deanna Fox writes about many things, mostly about food. More can be found on her website, Twitter, or Instagram.
More Eat This:
+ Avocado Fries at Slidin' Dirty
+ Roast beef at Wm. H. Buckley Farm
+ Baklava at Athos
+ Polish food at Muza
Find It
French Press Cafe & Creperie
5 Clinton Square
Albany, NY 12207
Hi there. Comments have been closed for this item. Still have something to say? Contact us.