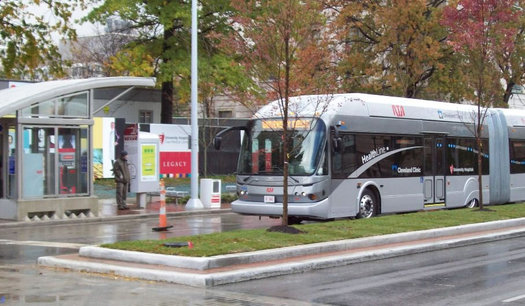 Whenever the topic of public transportation comes up around here, there's often a clamor for some sort of light rail. The reasons for that are probably an interesting topic all on their own. But one some level, it doesn't matter -- because building out a light rail system is probably not going to happen anytime in either the short or medium-term future because of cost.
But the Capital Region is moving toward a system that's more than "just" the bus: CDTA is working to build out bus rapid transit (BRT) -- BusPlus. There's already the line that runs along Route 5 between Albany and Schenectady. And CDTA is trying to pull together the funding for two more lines: one that would run along Western/Washington corridor (including UAlbany, SUNY Poly, and Crossgates) and another that would connect downtown Albany/Watervliet/Troy/Cohoes/Waterford via Route 32.
Of course, one of the criticisms of bus rapid transit is that it's actually more "bus" than "rapid transit."
But a new study concludes that BRT appears to have prompted small but significant differences in a handful of cities around the United States. Specifically, BRT stations appear to be attracting jobs (especially higher-wage jobs, perhaps pushing out lower-wage jobs), higher rents for office spaces, and more multi-family building development compared to other similar spots without BRT stations. They also found that BRT appears to be lowering transportation costs for nearby households.
Here's the paper by Arthur C. Nelson and Joanna Ganning, who are from the University of Utah. The study was published by by the National Institute for Transportation and Communities at Portland State University.
Over at Streetsblog, there's a discussion of the study's findings. A clip:
Nelson says BRT can help meet the growing demand for fixed-guideway transit at a lower cost than rail, especially in smaller metro areas like Indianapolis, Des Moines, Albuquerque, and Fresno. He estimates that by 2050 about 100 million Americans will want to have walkable accessibility to fixed rail transit. But right now it is available to only about 20 million.
BRT can be a powerful tool to help meet the demand with limited resources. More than 20 BRT systems are in the planning stages around the U.S. -- about the same number of systems that are currently operating.
But to reap the benefits of BRT investment, Nelson says cities must ensure the systems are designed and operated at a high standard. Rebranding buses isn't enough. In addition to high frequencies, BRT routes that affect development have features like dedicated lanes, level boarding, off-board fare collection, and signal priority for buses at intersections, he said.
A couple quick things:
+ One of the interesting findings about BRT systems drawing jobs was that they appeared to exert the most pull on manufacturing jobs. Nelson and Ganning speculate on a few reasons that might be -- maybe the BRT systems allow a greater range of people better access to those places -- but admit they can't say for sure why that is. Oh, and among the types of manufacturing that showed up in some of the cities studies: craft brewing -- which is interesting given the growing craft beverages corridor between Albany and Troy, which is one of the corridors targeted for a new BusPlus line.
+ "Transit-oriented development" is one of the things that supposed to be folded into the Rezone Albany project. And based on this study, it appears BRT can influence development. So it'll be interesting to see how that project and BusPlus do/don't end working in parallel. Related: Is there a way to help encourage the generation/retention of mixed-income development/jobs along these corridors?
+ That comment by Nelson in the Streetsblog post highlights one of the challenges for CDTA with BusPlus: Scraping together the funding to get the new BusPlus lines is one thing. But the biggest bang for the investment is probably going to come by building out a real, robust BRT system. It's not enough to just have buses with different paint schemes -- there's gotta be a clearly higher level of service.
Say Something!
We'd really like you to take part in the conversation here at All Over Albany. But we do have a few rules here. Don't worry, they're easy. The first: be kind. The second: treat everyone else with the same respect you'd like to see in return. Cool? Great, post away. Comments are moderated so it might take a little while for your comment to show up. Thanks for being patient.