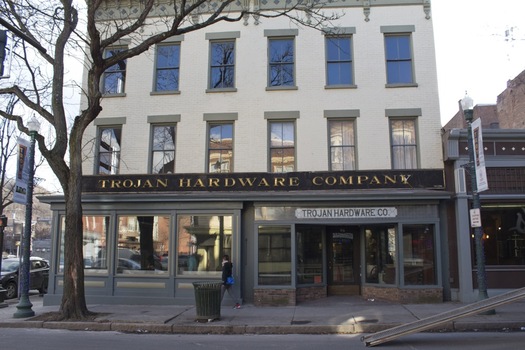 By Lauren Hittinger Hodgson
Some projects aim to remake a single space or building. Kevin Blodgett has been remaking an entire corner of downtown Troy.
Since 2012, Blodgett has been redeveloping the former Trojan Hardware complex on the corner of Congress Street and 4th Street bit by bit. Spaces within the 35,000 square feet now provide homes to Rare Form Brewing Company, The Shop, and most recently, Forage + Sundry. And this spring Harrison's Corner Market -- a neighborhood grocery and sandwich shop -- is set to open.
I talked with Blodgett recently about his hopes for selling groceries in downtown Troy and the challenges of developing such a large space.
What is the concept behind Harrison's Corner Market? What are you going to sell?
It's kind of a two-fer. It's based on my time living in Brooklyn, and I hate to use that term because everyone talks about "Oh...Troy is the New Brooklyn." So, lets just say, based on my time living in New York. There were some great corner stores that served your basic needs as far as groceries go, with basic perishables like onions, potatoes, garlic, peppers, milk, butter, and eggs. The kind of stuff that you're like sitting at home like, "I'm going to cook dinner tonight, but oh shit, my green pepper has got fuzzy white stuff. I need to go grab another one." And also a basic selection of dry goods. So that's the market component of it.
It's also going to be a deli and craft beer. In my opinion, there's no place downtown to get a basic sub, unless you want to go to Subway. But, you know, that dude Jared kinda spoiled the whole thing. We'll have a lineup of classic sandwiches, with a handful of signatures, and then certainly in winter time we'll do paninis and soups, and some basic salads.
The two coolers, two or three bays, will be individual bottles and cans of craft beer. We have enough room for up to 192 different kinds of beer, although we're going to double up on some kinds. It will be mix and match to make your own 6-pack, or just buy an individual one to try something different. We'll do east coast, west coast, mid-west, and then some selection of internationals too. I like the idea of being able to buy an individual can. And again, that's a New York thing. If you go into any decent corner store or bodega, even though the cans and bottles are in 6 packs, you can grab two of any of them. They're priced individually or by the six pack.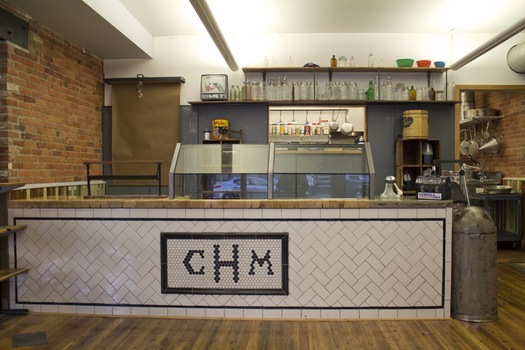 The counter in the Harrison's Corner Market space.
What else is left in your complex to be developed?
There's the beauty school, which has two storefronts, but that building needs a lot of work. We're just getting into the planning phase on that- working on the tax credits, working on the finance plan, working on the design, and the building layout. That one needs a lot of work.
Are your apartments rented?
No, and I just met with someone today about finishing those up. Hopefully that will put the wheels back on that project.
If I remember correctly from our last conversation, you are building businesses, getting income, and using that to fund more development.
Kind of. But also I still continue to sink plenty of my own personal capital into it. In the first year of a restaurant, you make a lot of mistakes, and you end up on that steep side of the learning curve for a while. It takes time to build up all the equipment and spices when you make all kinds of stuff from scratch. We're constantly running specials. We've had 4 different menus, and we launched a new menu two weeks ago. And you want to do it right, and on and on it goes.
The two priorities I have right now are getting this place [Harrison's Corner Market] up and running, and finishing the apartments. It's kind of a 2-horse race. I want to see this part of the project through to the end myself, and then I will never do it this way again.
Really? Why?
It takes too long. Every businessperson is going to tell you with construction, the sooner you can get it done from the day you start, the better off you are. Which is why people build such crap. Because it's easy to slap stuff together. I don't know if you've ever been upstairs [to the apartments], but I maintained a lot of character. I reproduced moldings, and I put in all kinds of details. That just takes a whole lot more time, and then if you do it yourself, it takes even longer. But that's why some of these big developers, they bring in big contractors, and basically everything is stock.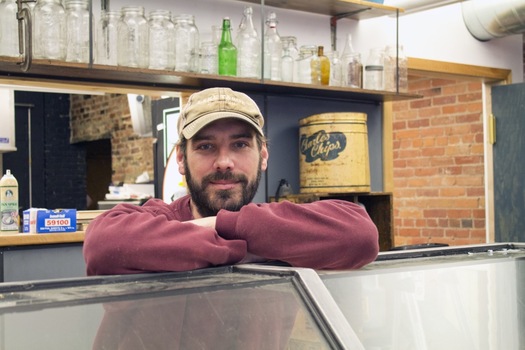 Kevin Blodgett
In redeveloping the building, what are some of the challenges?
Most people don't think about this, but what happened with this property is that Trojan Hardware started out right here where this door is, and where this steel beam is was a solid brick wall. That was its own building. It was just this one space. They started in there in 1914, and they closed in 2009. In that 94-95 years, they bought up all the adjacent properties and busted through the walls and joined them all together. So especially with the upper floors, you have different floor heights. I had to brick up big openings and bust through the wall and put in an opening 4 feet to the right or left. I cannot tell you how many times we did that. And there's different floor heights. With the stairwell for the apartments, we had to lower the first floor to meet code, and the stairwell has 7 landings to get from 1st floor to 3rd floor. We spent as much time building out the stairwell as we did any single apartment. That's all just because it was 4 different buildings, I think that's the biggest challenge we had to face and all that comes with that.
And there's all the standard stuff, it's an old building, things have sagged, floors are not level, ceilings are not level, walls are out of whack, yadda yadda yadda. It's more of a mental game than a physical game once you get to a certain point. Just to keep moving, keep going. You can't look at the project as a whole, you have to focus on individual aspects or otherwise you'll get overwhelmed. You've got to take the little victories whether they come one day at a time, or one week at a time. You've got to focus on those, because if you look at 35,000 square feet of gut renovation, you're going to cry.
I have to ask, because Pioneer opened and then closed, and The Grocery opened and then closed.
Don't. Don't. It's such a sore wound still.
I feel like Troy needs groceries, desperately.
Sure.
But the last couple of grocery purveyors that have opened have shortly thereafter closed down. What are you going to do that's different, and how is it going to work for you here?
Ok, so, good question. Fair question. What will kill a grocery or a supermarket the fastest is perishables. Especially in the winter time, they can be very expensive. What gives us confidence in not suffering much of a loss there is that we run a restaurant that's part of the same business. We're not going to offer many perishables or any perishables that we can't use in the restaurant. It will be a daily chore for someone to go through and be like, this one's been sitting on the shelf for two days. Lets throw it into a special or use it in whatever dish, that kind of thing. The perishables component is key.
The other thing is, it's relatively small. We're trying to keep it basic, not highly specialized, not overly expensive, but you know, Average Joe kind of stuff. Maybe a few specialty things, some fun stuff, but that's not the focus of the market component of the business. Like I said, it's "Oh shit, I wanted to make stir fry tonight but I don't have rice noodles." Ok, fine. You know how long rice noodles can sit on a shelf? A long time. Very, very shelf stable. The market component is relatively small, that's why we have to focus on basics.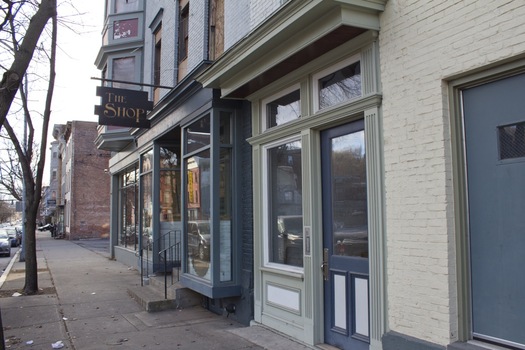 How do you see this whole corner of Troy developing? I've seen some flyers that were like "Come down to this area of Troy, we have The Shop, Superior Merchandise..."
I don't know who's putting those up. I think that the Times Union, I didn't actually see it, but The TU labeled us as "SoCo," as in South of Congress, akin to SoHo.
Oh no...
Which I think is kind of cheesy, but kind of fun too. Basically acknowledging that the artist creative types are being squeezed out of the heart of downtown, which is very true. That's forcing people to expand beyond that kind of Monument Square ring. We're kind of going into that second ring of development. As a testament to that, Rare Form is well into their second year, we're just a couple months into our second year, Forage & Sundry just opened up, Superior Merchandise is six months old, and hopefully that plan to move DeFazio's into the old Vanilla Bean goes through. People are getting priced out of the heart of down town, so they're starting to redevelop and reclaim buildings in this direction. The trend right now for people of modest or medium means is to invest south of downtown
It's something I identified 5 or 6 years ago at least. It always gives me the shivers when I think about it. One of my biggest concerns with Troy is that we end up a bland white-collar community. Because when I first moved back here 10 or 11 years ago, it wasn't a free-for-all, but apartments were very affordable, people were being very creative with spaces, it was very down-to-earth, grass roots, you help me I'll help you. And now you get these big developers coming in and snatching up every piece of property. They're doing a nice job with the apartments and all, but they're pushing out the people who make the community interesting. Fortunately, we've got plenty of housing stock in SoCo where there's room to grow. I think it's a good thing for the city and community that we're not losing those people completely; they're just being displaced a couple blocks south.
This interview has been condensed and lightly edited.
____
Lauren Hittinger Hodgson is a freelance writer and contributor to AOA. She lives in Troy with her husband, baby, and dozen almost-dead houseplants.
Earlier on AOA:
+ Rare Form Brewing Company
+ Superior Merchandise Co.

Find It
Harrison's Corner Market (planned)
Congress Street and Fourth Street
Troy, NY 12180
Hi there. Comments have been closed for this item. Still have something to say? Contact us.