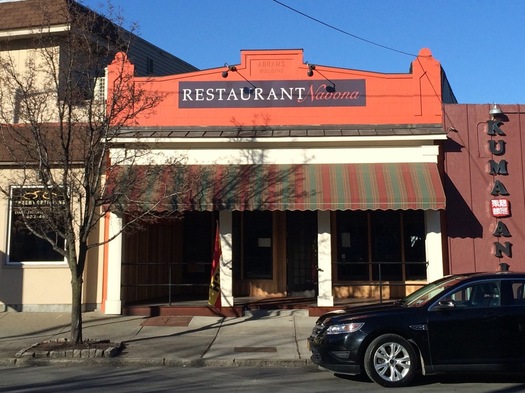 More pizza touring, this time at the recently opened Restaurant Navona. It's the place that took over the Midtown Tea and Tap Room space on New Scotland Ave in Albany's Helderberg neighborhood.
The kitchen now has a wood-fired oven and it's turning out some interesting pies. And we get the impression chef/co-owner Mike Niccoli is serious about their pizza game. (A tip of the hat to Steve N. for mentioning the pizza at Navona.)
So, the Tournament of Pizza crew stopped in to taste a handful of pies...

The crew
Albany Jane of Albany Eats.
Daniel B of the FUSSYlittleBLOG.
Deanna Fox, food and agriculture writer, AOA contributor (website, Twitter, or Instagram).
Jon from Jon in Albany.
Cheese Puddle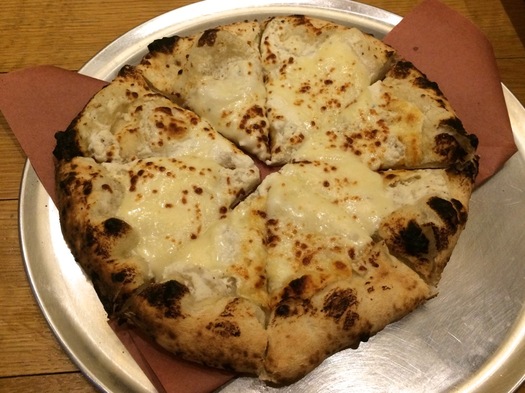 Menu description: Mozzarella, provolone, roasted garlic and ricotta, olive oil and salt.
Crust: One taster described the crust as "charred, poofy, wonderful." Another complimented some "nice flavor," but thought there was a little too much char around the outside of the bottom. Another praised the crisp outside and tender inside (while also detecting a little bit of doughiness).
Sauce: There wasn't really sauce on this pizza. But tasters noted the strong flavor of garlic with the oil.
Toppings: A taster commented that the "cheese had a beautiful almost brie flavor." Another noted it was a thick layer of cheese, with another calling it "comforting." One taster thought the flavor of the cheese got a bit lost in the garlic.
Overall taste: "Really good." "Delicious." "Reminds me of a cheesy garlic knot. In a good way." "Nice. Simple, creamy, while leaning on the sweet and savory."
Would you order this again?
Albany Jane: "Yes. Who doesn't love something that is called Cheese PUDDLE that lives up to its name. "
Daniel B: "Loved it. Cheesy, smoky bread is never a bad thing. It's a decadent treat."
Deanna: "Oh yes."
Jon: "Not sure I'd seek it out, but I wouldn't turn it down."
Pizza Navona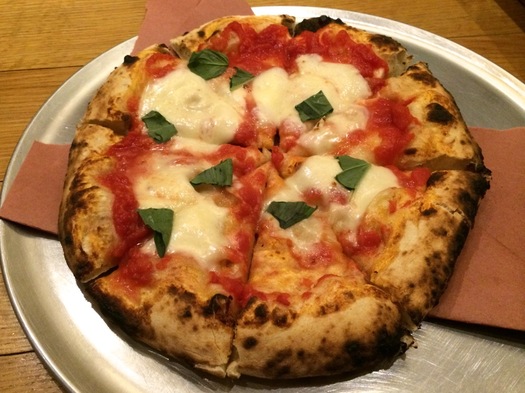 Menu description: Tomato, olive oil, housemade mozzarella, basil.
Crust: Again, some positive comments from tasters. Though after eating the crust on this pizza, one taster thought it could use maybe a little more salt. And a few thought this particular crust wasn't evenly done -- one thought it didn't have enough crunch. Two tasters noted a little bit of a gum line -- that doughy layer on the top side of the crust just under the sauce -- while also being a bit too charred on the bottom.
Sauce: Tasters described it as "bright," "fresh crushed tomatoes." Commented one taster: "Unadulterated tomatoes left to do exactly what tomatoes are supposed to do."
Toppings: Tasters called the cheese "classic" (if maybe some uneven distribution) and a few complimented the basil.
Overall taste: Tasters liked the overall pie, but seemed to find it just a little lacking. One taster seem to sum up the thoughts by calling it a "nice option."
Would you order this again?
Albany Jane: "Maybe. It's OK, but doesn't really jump out at me."
Daniel B: "Nope. Well, maybe in the summer. But it needs more brightness and pop. Maybe some sea salt and a drizzle of good oil."
Deanna: "I would recommend it."
Jon: "Yes. I bet this pie is better in a month with some more oven experience."
Valentina
Menu description: Pecorino bianco, ham and egg and black pepper.
Crust: One taster loved the crust bubbles. And another complimented the "leopard spotting" from the char.
Sauce: This pizza didn't really have sauce, though the runny egg sort of the served that role. As one taster said: "Who can say no to egg yolk?"
Toppings: The tasters really seemed to enjoy this combination of egg and "lovely shaved" ham. One said they liked it enough "to steal it and try it at home." The only criticism was that the tasters weren't total fans of the not-set egg white -- and a few commented they'd like to see the egg cooked onto/into the pizza.
Overall taste: "Breakfast pizza." "It's a winner if you don't mind a little runny white." "Tastes like breakfast!" "Excellent."
Would you order this again?
Albany Jane: "Not really -- it's OK, but the egg execution is a little clunky."
Daniel B: "Really liked it ... great flavor combination. A winner."
Deanna: "Yes... this is good 'fancy wine' pizza."
Jon: "YES."
Fire Roasted Eggplant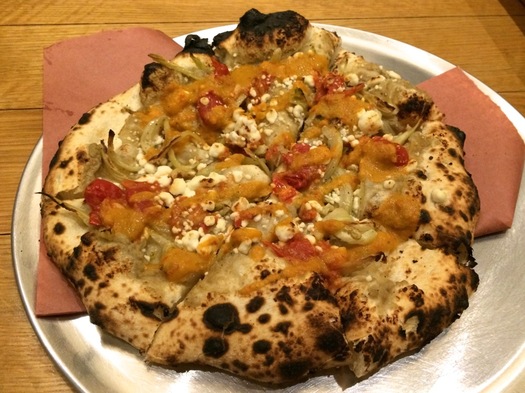 Menu description: Tomato jam, roasted fennel, R&G goat cheese and house harissa.
Crust: The tasters had similar comments for this crust as with the other pies. A consistent comment was a love of the char, which tasters thought added a need dimension to the flavor of the crust.
Sauce: Said one taster: "So many sauces. What's sauce and what's a topping? It's all delicious and melds into this satisfying, warm pizza."
Toppings: Multiple tasters complimented the harissa -- "The harissa is AWESOME," said one and another taster thought the salt from the sauce added a saltiness lacking in the crust. If there was a drawback to the harissa, one taster thought it overpowered the fennel and eggplant. And another thought the fennel could have used a bit more time.
Overall taste: One described it was "very different, bright, warm."
Would you order this again?
Albany Jane: "Absolutely! Tons of flavor. Great for a chilly winter day/night."
Daniel B: "Probably not. I like big and bold flavors, but the fennel texture wasn't doing it for me."
Deanna: "I would order this again! I would review this for an 'Eat This' column, too."
Jon: "Probably not. [But] overall: I really like what's happening here. Good pizza with the potential to get better, and a chef that cares. Dough could use a little salt and time, maybe some starter."
____
Thanks to Albany Jane, Daniel, Deanna, and Jon for coming along and offering their thoughts!
Earlier on AOA: Checking out Blaze Pizza
Find It
Restaurant Navona
289 New Scotland Ave
Albany, NY 12208
Hi there. Comments have been closed for this item. Still have something to say? Contact us.