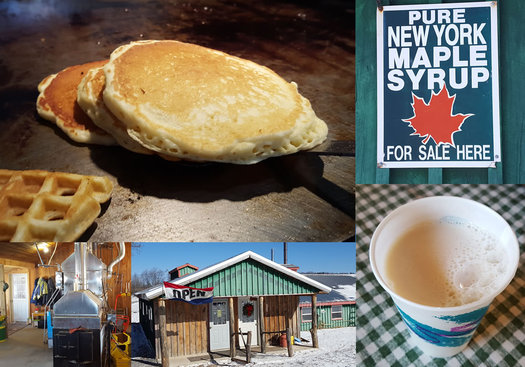 By Deanna Fox
I recently had dinner with a group of friends -- all but one of us an "outsider" to Albany, growing up elsewhere -- about what it is that makes the city so alluring to us. Why we feel Albany is primed for a resurgence as a modern city where young(ish) people like us can thrive, have families, lay down roots. (And by Albany, what we really meant is both the city and the surrounding area we refer to as the Capital Region.)
Part of the appeal, for us, is the fact that there is just so much to do here. Within a three hour drive, we can experience mountains, lake, ocean, cities, other countries. And in considerably less time, we can be transported to the bucolic countryside for leisurely weekend drives that highlight the agricultural and small-town economies that give the Capital Region much of its charm.
Case in point: Sharon Springs. The town lies on the historic byway of US Route 20 and was once a hotspot for the out-of-towners looking for healing qualities in the town's natural springs. And there are plenty of farms surrounding the tiny town center that offer a plethora agricultural products that city-folk are more than happy to bring home.
Like maple syrup. And really, what's the point of maple syrup if you can't have a good pancake to sop it up with?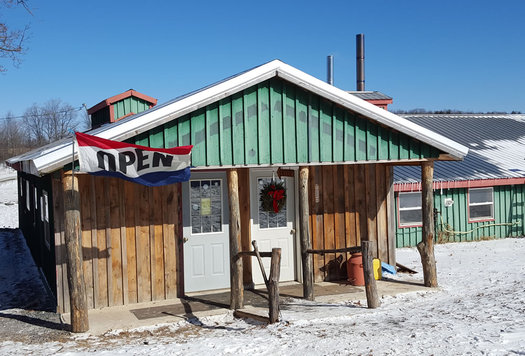 Thankfully there is a place where you can find a stellar pancake and top-notch maple syrup in quaint Sharon Springs: The Sap House at Stone House Farm. Just west of town, hugging both sides of a winding compacted dirt road, lies the farm, with the stone house and dairy barns on one side and a tin-roofed, green-clapboard sap house on the other.
From February through April, the traditional span of maple season in Upstate New York, The Sap House opens its doors to visitors from near and far to take part in its pancake breakfast weekends. When the sap is flowing, the evaporator in plain view of the dining area uses wood heat to boil off water and concentrate natural sugars into golden syrup.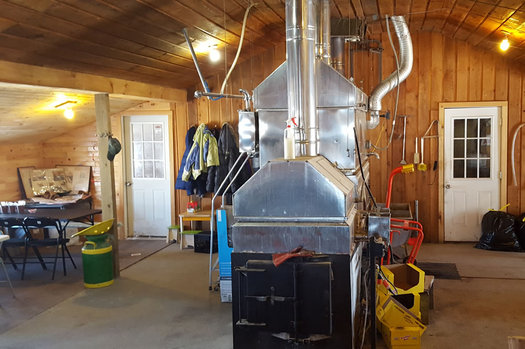 (The ratio for how much sap it takes to make syrup is 40:1. That means you need 40 gallons of sap to make one of syrup, depending on the depth of the sugar's caramelization and the quality of sap that year.)
But anyone can make syrup, really. And there are plenty of maple operations around the region to sample at, from Monica's Maple Valley Farm in Corinth, to Mountain Winds Farm in Berne. It's the pancakes (et. al) that make the difference. The pancakes at The Sap House are just the right size, just the right consistency. About six inches across, or slightly more, means that the edges stay crisp without that dreaded soggy, puffy middle. Evenly-cooked is perhaps a better way to phrase it. And there is an inherent tang to the pancakes, similar to a buttermilk taste, but Patti Everett, the co-owner and head pancake-maker, says that it's just whole milk in the batter. (My guess is either a little distilled vinegar is added, or it is simply an acidic reaction when the milk and baking powder meet.)
Truth be told, what makes a great pancake usually isn't what goes in it, but what doesn't. Less is often more with pancakes, and keeping them simple -- like The Sap House does -- tends to lead to the best result.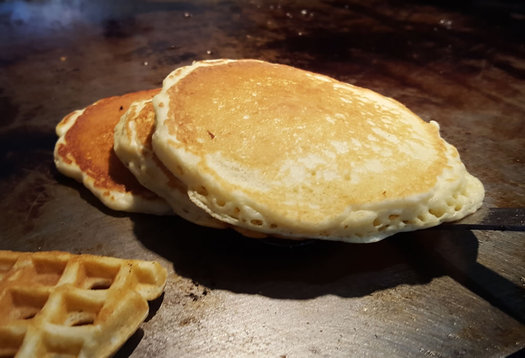 The real draw, however, is what you can add to your pancakes. Pancakes, as good, hot, and fresh as they are, are simply a vehicle for an array of maple products you can top them with. Maple butter sits side-by-side with classic unsalted butter, and jugs of maple syrup are in no short stock. Not enough for you? Maple sugar is also available for a crunchy pancake topping or to sweeten your coffee.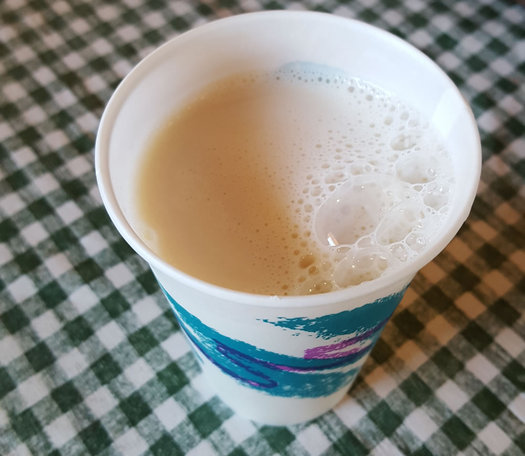 Pro tip 1: Be sure to order a glass of maple milk, which is like chocolate milk, save the syrup is maple. It tastes like the best version of maple walnut ice cream, melted. The ratio is one secret Patti willingly passed along. For every eight ounces of whole milk, use one tablespoon of dark maple syrup, then stir to incorporate. (Maple syrup is loaded with magnesium and electrolytes, and when paired with the protein of milk, it is hard to find a better sports drink on the market.)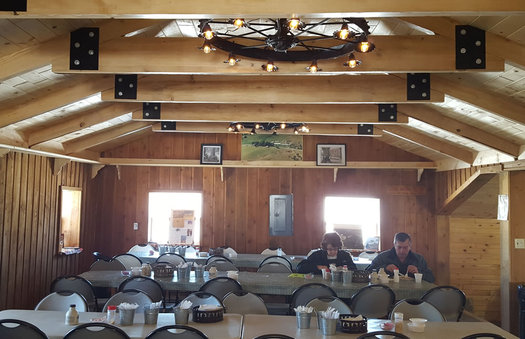 Pro tip 2: When you arrive, simply walk in and find a seat. Don't worry, Patti and crew will see you, and they will swiftly stop over to take your drink order and start you off on pancakes, etc. And when they see your empty plate, they just as readily ask if you are ready for more, which come hot off the griddle. (Nothing sits around here, becoming floppy under its own steam.) Pay when you leave, and be sure to bring cash and throw a few bucks in the tip bucket that hangs on a wooden post near the exit.
The best part is the entire pancake breakfast, which includes pancakes, waffles, sausage, an array of drinks (like coffee, tea, juice, and white or maple milk), and all the maple your mouth can handle, is only $6. If you were to ask for real maple syrup in a local diner, it might cost you $6 alone.
As a recent commenter to this blog said, there is a bevy of good food to be found in Albany. I couldn't agree more, but sometimes, one needs a change of scenery and should travel farther afield to come across what makes living in Albany such a pleasure. Especially when it's maple season and there are pancakes to be had.
There are pancake breakfasts Saturday and Sunday, 8 am-1 pm, through April.
(H/t Jim Larson for suggesting we go.)
Deanna Fox writes about many things, mostly about food. More can be found on her website, Twitter, or Instagram.
More Eat This:
+ The Antipasto Salad at Bellini's Counter
+ Pickle-brined chicken sandwich at 677 Prime
+ Rice Chicken Soup at Chontong Thai
+ Dutch drinking chocolate at Vischer Ferry General Store
Find It
The Sap House at Stone House Farm
305 Lynk Road
Sharon Springs, NY 13459
Say Something!
We'd really like you to take part in the conversation here at All Over Albany. But we do have a few rules here. Don't worry, they're easy. The first: be kind. The second: treat everyone else with the same respect you'd like to see in return. Cool? Great, post away. Comments are moderated so it might take a little while for your comment to show up. Thanks for being patient.