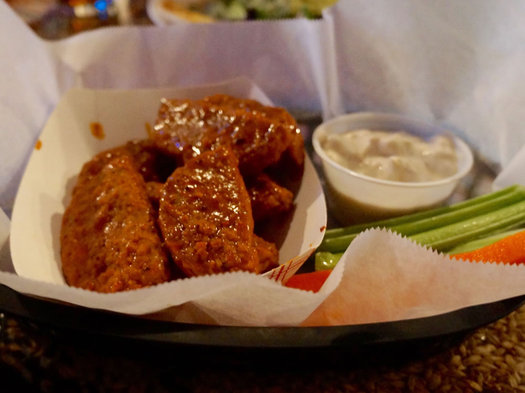 By Cristin Steding
Say hello to Cristin Steding, who will be writing a short series here at AOA about vegan dining options around the Capital Region.
One of the hardest things about eating vegan and spending time with non-vegan friends and family is going out to eat. At family dinners and casual get-togethers, it's easy enough to bring a dish to share and insist no one worry about accommodating you. When someone says "Let's go out!," though, it strikes dread in the hearts of vegans everywhere. Will it be a night of eating unseasoned, overpriced steamed veggies? Or will it be the dreaded plain garden salad with oil and vinegar?
If you're lucky, you can convince the group to go to a place that's secretly vegan-friendly. These darling restaurants will not only mark the menu with what's vegan, but also put an effort at making it delicious.
When the time does come to pick a restaurant, it's good to have some solid choices at the ready, where you know you'll be able to find something to eat and your carnivore dining mates won't whine about the hippie food. The Capital Region is blessedly vegan friendly, something I completely took for granted prior to going full veg. In fact, some of the best vegan food around is hiding in places you might not expect.
Perfect example: The Ruck.
A friend told me: "Hey, did you know The Ruck has a bunch of vegan stuff?"
My reaction was along the lines of: "Wait, you mean The Ruck, The Ruck? Like, the one that we used to go to at 3 am in college?"
"The very same."
And it's true, The Ruck has an impressive selection of vegan (and gluten free, for that matter) options. If you haven't been to The Ruck in a while, you're in for a pleasant surprise. It seems that The Ruck has grown up since my college days. In the past few years, the entire facade has been replaced, they've opened a nice little back patio and added an upstairs event space.
The menu has also gotten an upgrade from basic bar fare, thanks to chef Rachel Mabb. One helpful feature of the new menu is that every vegan/vegetarian option on the menu is noted, even the stuff that would seem obvious (fries, for example). This is a godsend for avoiding endless, awkward conversations with the waitstaff.
On a recent night, I opted for the white bean and pea hummus to start, followed by the seitan wings with non-dairy blue cheese.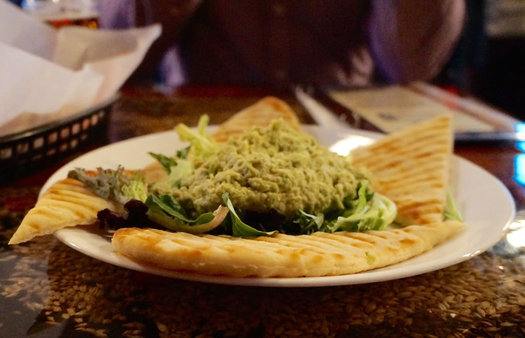 The hummus was mild and creamy. The white bean flavor stood out most prominently, while the peas were mostly unnoticeable except for the color. Compared to others, this tasted more like a garlicky white bean dip than standard hummus. The warm flatbread it was served with was soft and doughy and tasted amazing. If the portion of bread was doubled, I'd probably still have eaten it all. Overall, the hummus was a crowd pleaser that meat-eaters and herbivores could agree on.
As a big fan of Ruck wings prior to going vegan, I was excited to try their seitan wings. I opted for the "hot" version, though there are vegan options for mild, medium, hot, bbq and hot bbq. The sauce was delicious, much like their regular wing sauce -- hot and flavorful. On the spectrum of wing heat, these fell somewhere between need-to-take-a-sip-of-water and oh-god-my-mouth-hurts. That's to say, solidly in the hot territory, but not unbearable for wimps like me.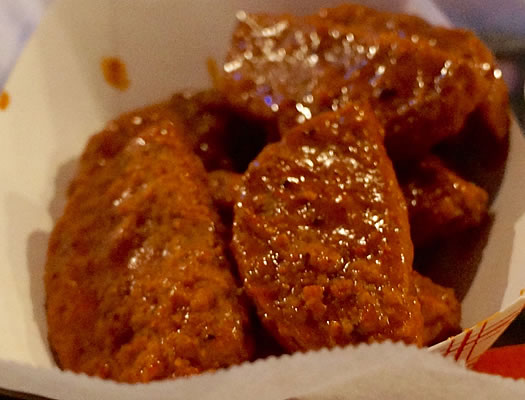 The real difference between real chicken wings and seitan wings is, of course, texture. The texture of these "wings" is actually pretty close to boneless chicken wings. The exterior is breaded and crispy and the inside is soft but slightly grainier than a chicken nugget. It's difficult to describe without using meat as a reference, because seitan is very meaty in texture!
This was my first encounter with vegan blue cheese, so I don't have anything to compare it to, save for the real dairy version. Maybe it's just because I haven't had real cheese in a long time, but the vegan version was a surprisingly good substitute. As one might expect, the vegan version is not as rich and creamy as the real thing. It's a thinner consistency and has a vague soy milk flavor to it. The vegan version is chunky, but the chunks are pieces of tofu. I wouldn't necessarily eat it on its own, but it does the job of cooling off the heat of the wings with a milky flavor.
My omnivorous dining companion's verdict was the seitan wings with regular, dairy blue cheese are a solid alternative to regular wings. He wouldn't order the vegan blue cheese for himself, but would consider ordering the seitan wings.
For me, it's nice to have a snacky bar food option that's not just the carrots out of someone else's wing order. Typically I like eating healthy, and I appreciate that being vegan leads me to make healthier choices in general. Sometimes though, I just want some hot wings and these satisfy that craving.
Some other options for vegans at The Ruck include: a beet and black bean veggie burger, sweet potato fries, and a buffalo seitan wrap.
Fellow vegetarian/vegans of the Capital Region: What are some other surprisingly veg-friendly restaurants to check out?
Cristin Steding lives in Troy and spends most of her free time eating and driving to the High Peaks. You can find her on Twitter and Instagram
____
Earlier on AOA: Eat This: Wings at The Ruck (2012)
Find It
The Ruck
104 3rd Street
Troy, NY 12180
Hi there. Comments have been closed for this item. Still have something to say? Contact us.