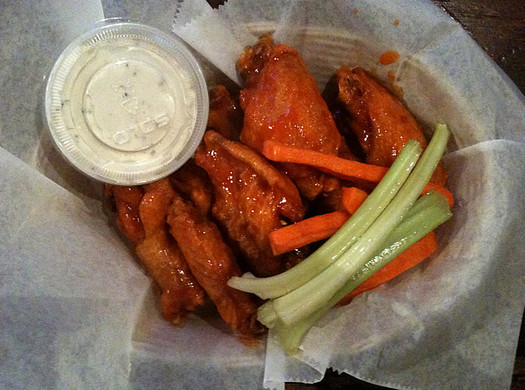 By Daniel B.
Some people say the Capital Region is a great place with an inferiority complex.
Evidence of this mentality is that residents will declare the best part about living here is that you are only three hours from Boston, Manhattan, and Montreal. Officially, I disagree wholeheartedly with that sentiment. But these are not the only cities that cast a shadow on the affairs of this place.
Out to our west is Buffalo. And given that it is less than a day's drive from our border, there are folks who would have you believe that the state of our chicken wings does not compare favorably.
In fact, there are plenty of places for wings in this area that are great. And after years of research and tasting, I believe the wings from The Ruck should be a source of regional pride.
First, I should share some background information.
I've loved wings since I was a teen. But believe it or not, outside of New York, the rest of the country knows precious little about Buffalo-style wings. It wasn't until my mid 20s that I discovered the distinctive flavor profile of Buffalo wing sauce was Frank's Red Hot. And once I found out, I made it my personal mission to spread the gospel to the good people of California.
I traveled around with a bottle of Frank's Red Hot with me at all times. And when I encountered a person who loved Buffalo wing sauce, invariably they had never heard of Frank's. So I gave them the bottle from my bag, and their lives were changed forever. True story.
There were no good Buffalo wings in Northern California. And it wasn't for a lack of searching. But here there are great wings everywhere. Now I'm not saying that our best wings are better than what you can find five hours down I-90. That would be crazy talk. However, the average level of wings in the Capital Region is far better than what you can find almost anywhere else in the country.
And the wings from The Ruck are some of the best in the region.
Mind you, I did not say the best. The search for the ultimate wing could take a lifetime to complete. And by then the playing field would surely have changed. It's a fool's errand. There are so many places and new restaurants are opening all the time. Plus, there are a lot of flavors to take into consideration. Not only are the wings sauces dramatically different at various heat levels, but there are also a variety of other sauces that would need to be included: garlic parmesan, whiskey barrel, tequila, barbecue, et. al.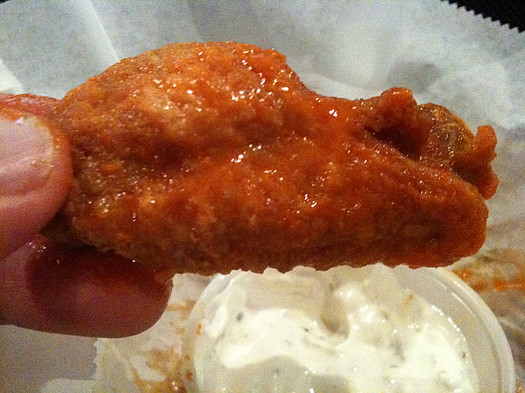 The Ruck excels at the classic Frank's and butter version. I take mine medium crispy. Some might argue that wings should be blisteringly spicy with heat that makes one's eyes tear up, sinuses burn, and lips ache. There is some strange macho bravado that comes with trying to consume the peppers with the highest Scoville score.
The funny thing is that these blazingly hot foods often come at the expense of flavor. The medium spicy wings at The Ruck are pleasantly piquant. They pack a slow and lustrous burn. Maybe more of a smolder. And while I could tolerate more heat, their "hot" cranks up the dial by relying on what tastes like a hefty dose of black pepper, which detracts from the aged cayenne pepper and butter flavor I seek in a Buffalo wing.
Some iconoclasts prefer the Ruck's hot barbecue wings, but I can't say I fully approve. It's the medium wings at The Ruck that exist within the sweet spot of heat and flavor.
Still, a great sauce is only as good as the wing that it coats. The Ruck puts out some large and meaty wings. Their frying produces the crisp skin and juicy interior that are required for serious consideration.
And they don't stop there. Blue cheese dressing is made in house, from a secret recipe. It's rich and thick with large chunks of cheese. This is not the sweet and thin supermarket stuff that barely has a whiff of funk and is mostly cheap mayonnaise. I'd swear this is sour cream studded with cheese and herbs, because it is thick and tart and powerful stuff.
The carrots and celery are nothing to sneeze at either.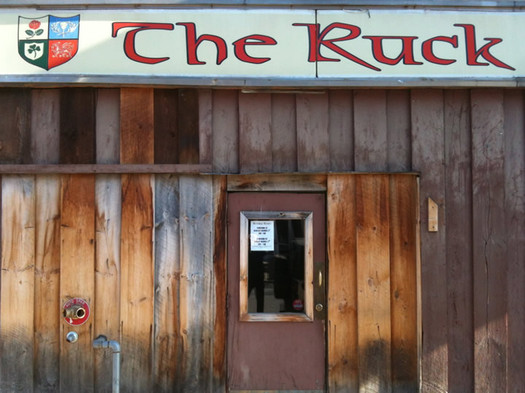 An order of 10 wings is $8 unless you happen to come on wing nights, which are Monday and Wednesday from 7 pm-1 am, when the same order will only set you back $5. Ordering 20 wings will save you a buck from their regular menu price, but that's madness unless you are eating with at least four people.
Wings are sauced fried foods, and their quality declines rapidly with time. Your best bet is to order what you can quickly consume, and then order some more. Even if there are two of you, and you would each like to eat 10 wings apiece, you are better off splitting two staggered orders of 10 than one order of 20. The difference in taste and texture is well worth that extra $.50 without a doubt.
If you want wings for lunch, you can swing by The Ruck on Wednesday, Thursday or Friday when they open at 11 am or on Sunday when they open at noon. It may be a little odd to visit this dark and virtually windowless beer bar in the light of day, but the wings are totally worth the trip.
Daniel B. is the proprietor of the FUSSYlittleBLOG.
Earlier on AOA:
+ Basil City and the PB&J chicken wing
+ Eating the buffalo chicken wing cupcake from Coccadotts
Find It
The Ruck
104 3rd Street
Troy, NY 12180
Hi there. Comments have been closed for this item. Still have something to say? Contact us.