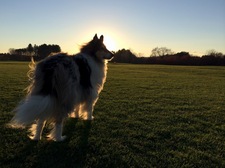 C emails:
I was hoping to get some recommendations from AOA readers on a reasonably priced kennel for our sweet 9 year old golden. He's a big boy, at about 100 lbs, but super mellow and easy going. ...
We'd like to find a place that's not going to cage him all day. Some place where he can socialize with other dogs and have a little vacation, just like us!
A similar question came two years ago, but things change. And C mentions that one of the places they're interested in -- Camp Bow Wow ("makes me laugh just to type it!") -- appears to have opened since then.
The part of C's question that caught our eye was the bit about finding a place that will allow dogs to get out and socialize and maybe roam around during the day.
So, got a suggestion? Please share! And a sentence or two about why you're recommending a certain place can be a big help.
Hi there. Comments have been closed for this item. Still have something to say? Contact us.