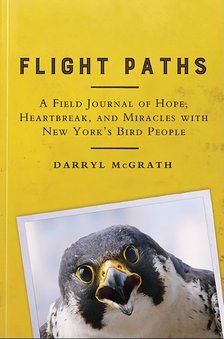 The University Club in Albany is hosting a talk with journalist (and Albany resident) Darryl McGrath this Tuesday about her new book Flight Paths: A Field Journal of Hope, Heartbreak, and Miracles with New York's Bird People. Book blurbage:
In the late 1970s, the peregrine falcon was heading toward extinction, a victim of the pesticide DDT. Flight Paths tells the story of how a small group of New York biologists raced against nature's clock to bring these beloved birds back from the brink in record-setting numbers..
In a narrative that reads like a suspense tale, Darryl McGrath documents the rescue project in never-before-published detail. At Cornell University, a team of scientists worked to crack the problem of how to breed peregrine falcons in captivity and then restore them to the wild.
McGrath interweaves this dramatic retelling with contemporary accounts of other at-risk species. She worked alongside biologists as they studied these elusive subjects in the Northeast's most remote regions, and the result is a story that combines vivid narrative with accessible science and is as much a tribute to these experts as it is a call to action for threatened birds.
The evening will start with a meet-the-author reception at 6 pm on Tuesday, May 3. McGrath's talk starts at 7 pm. And there will be a book signing afterward. The event is free to attend, though registration is required. Copies of Flight Paths will be available for $20.
Earlier on AOA: Birding in Washington Park