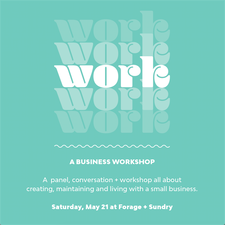 Forage+Sundry in Troy is hosting a business workshop for "makers, creatives, artists, and entrepreneurs" on May 21. It will be led by Tess Palma-Martinez of Forage+Sundry, Colie Collen of Flower's Scout, and Caroline Corrigan of Caro Studio and Fort Orange General Store. Blurbage:
Are you thinking of starting your own business? Have you already started your own business, but it's kind of scary? Do you want to start a business, but you don't know what it is? There's a lot to figure out!
Join Tess, Colie and Caroline (Forage+Sundry, Flowerscout and Caro Studio/Fort Orange General Store) in a 3 hour business workshop! Over the past few years, we have found ourselves in the role of Business Ladies. After much trial and error we are ready to share some secrets with you!
We will cover- Getting Started, Marketing, How to Handle Competition, Originality and Etiquette, and so much more. Bring your ideas for a morning of inspiration, networking, brainstorming, and... dare we say it... wisdom!
The workshop is Saturday, May 21 from 10 am to 1 pm. It's $65 to attend. That includes tea, snacks, a gift, and 15 percent off in the store during the workshop.
Earlier on AOA:
+ Follow up: Fort Orange General Store
+ A big check for Flower Scout