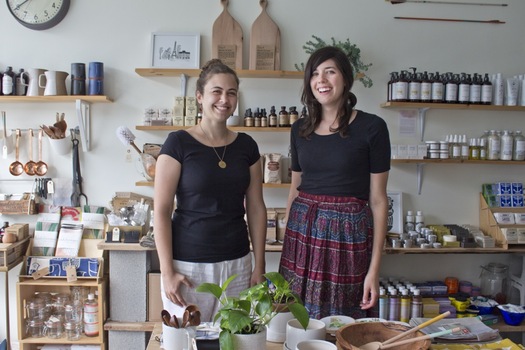 By Lauren Hittinger
AOA is taking things a little easy this week for summer break. So we thought it'd be a good time to catch up with some local businesses we've covered during the last year (or so) and find out how things are going.
Today we're checking back with Fort Orange General Store (FOGS), a small lifestyle shop that opened on Delaware Ave in Albany last May. FOGS is owned and operated by friends Caroline Corrigan and Katy Smith, who remain committed to sourcing wares from working artists, and who care a lot about their local community.
When we first visited with FOGS, Corrigan told us:
"People will come to Fort Orange because we aren't a big box store! We offer items are that are a little different and special. It's a great place to buy a thoughtful gift. If you care about where your products are coming from, and about investing in local business, this is a great place for you."
After about 14 months in business, Corrigan and Smith have a lot to say about paying attention to customers, sorting through potential products to carry, and what happens when people ask who's the owner.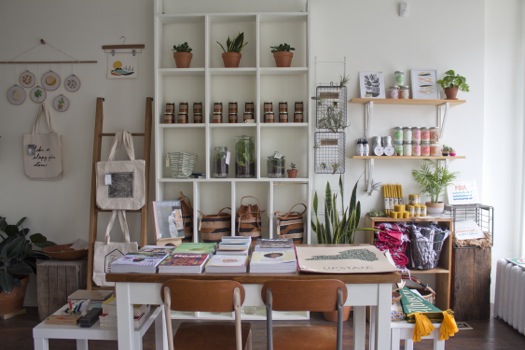 What's happened over the last year?
Smith: Wow. Well, we had a very exciting first year. Obviously we had no idea what to expect, so from that standpoint it has been a wild success. We've met a lot of really wonderful people. We have been able to work with over 150 artists and small companies, a lot of them local that stop in and visit us pretty regularly. We've made a lot of friends. We've hosted eight, now nine, craft and DIY workshops.
Corrigan: And we have several more booked for the future. Once a month we do them now. We have collaborated with a bunch of great businesses like Brew, the Albany Distilling Company, and the Spectrum, and also some Troy businesses, too. We did a pop up market with Superior Merchandise and we work with Flower Scout all the time, so we've been able to partner with a lot of great movers and shakers.
And this also one of those things that we forget to brag about, but we also were featured on Apartment Therapy as one of top new lifestyle shops.
Smith: Whatever that may mean, we are it!
Corrigan: And we've got a good following on Instagram now, with over 5,000 followers. That's been a huge outlet for us. A lot of people find out about us that way. And we have an employee.
What have you learned since opening?
Corrigan: You gotta be flexible when you do something like this. It's really important to pay attention to the way customers feel in your space and get a sense of what it's like from the public standpoint. We had a pretty sharp vision when we opened, but we've made a lot of changes to adapt to what Albany is interested in and what they want to support. The response has been positive, but it's kind of like the shop is always going to be a work in progress. It's never done. And we try really hard to stick to our vision, but it's important to make sure we're a good fit in our neighborhood and in our city.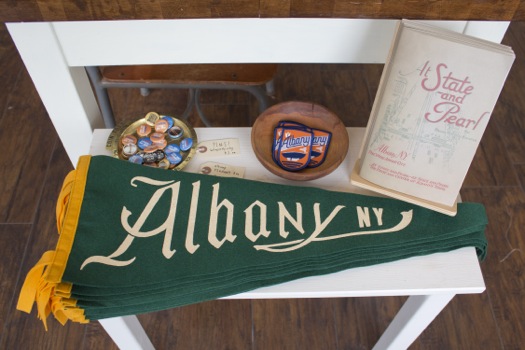 What has surprised you -- either about the people or about running your own business?
Corrigan: I'm surprised that people like it a lot...
Smith: (laughs) That's what I was going to say, but then I thought, 'That's not the thing to say.'
I'm surprised by the sheer volume of people who approach us asking to put their products and projects in our shop from all over the country and the world.
Corrigan: There are tons of amazing people making everything under the sun. Now more than ever. It's overwhelming because we're not that big of a place. Sometimes it's awesome, but it's also overwhelming because there are so many people we'd love to include in the shop, but we're just one room.
What has frustrated you?
Corrigan: A modern, hip, lifestyle shop is not what people are used to seeing around here. So sometimes people are sort of shocked when something that's handmade is expensive. And you sort of have to educate people on why things cost a certain amount. You can feel like a broken record, but you also have to defend you artists. That's what we're doing -- representing people. We can't say, 'Wow, that is a lot of money, isn't it?' We have to explain why things are special, which is usually easy to do.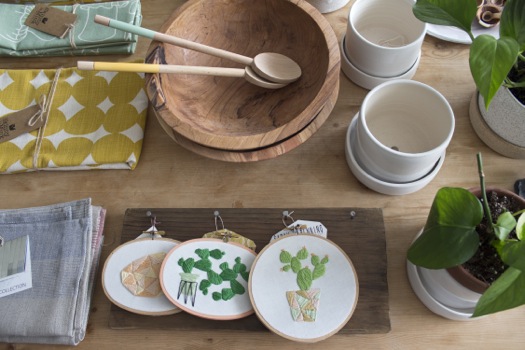 Smith: It's hard to explain that there's a person on the other end that's making that thing. Everybody wants local and they want handmade and they want quality, but it's then hard to reconcile that with price.
What's something that has felt like a win?
Corrigan: I love when people ask 'Who's the owner?' and we say 'We are.' And they say 'Oh.' Particularly if it's a man (laughs). It is really fun. People are often surprised to see that we opened this business ourselves. They assume there's someone else, and we're just young girls that work here. So whenever we get to tell people that, it's awesome.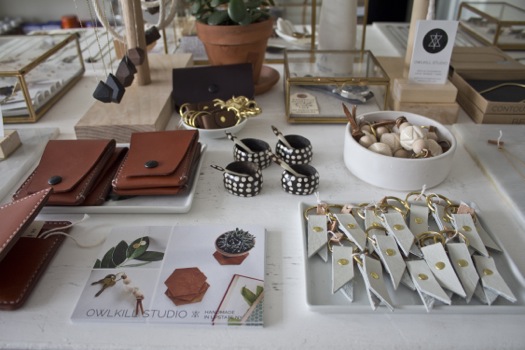 What's next for you?
Smith: We're just going to keep doing what we're doing. Making the shop a little better and getting new and exciting artists in here. Find out what the people of Albany want from us and try to provide it.
I'd like to keep hosting some more fun collaborations and cocktail tastings and workshop events. So if there's anything you want us to do, people of Albany, let us know. And keep your eyes peeled for some fun events this fall.
This interview has been lightly edited and condensed.
____
Lauren Hittinger writes about shopping, crafting, and living well on a small budget at The Thrifty Ginger.
More follow-ups from this week:
+ Bread and Honey
+ Follow up: Collar City Hard Pressed
Find It
Fort Orange General Store
296 Delaware Avenue
Albany, NY 12209
Hi there. Comments have been closed for this item. Still have something to say? Contact us.